Why Penelope Featherington From Bridgerton Looks So Familiar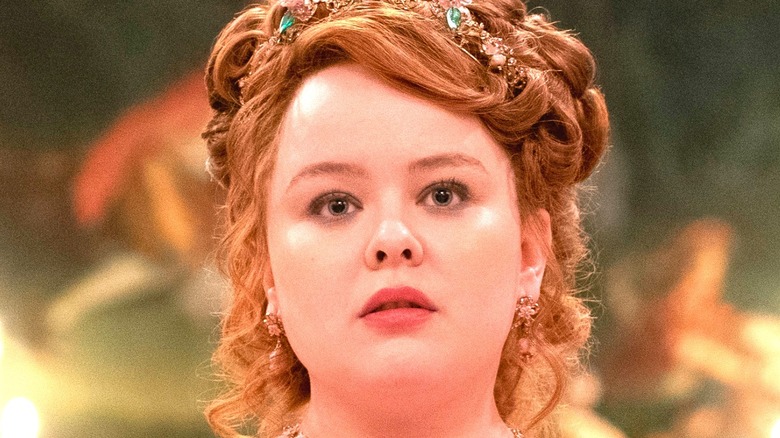 Liam Daniel/Netflix
When "Bridgerton" hit Netflix on Christmas Day 2020, the series was an instant hit, quickly becoming the streamer's most-watched series — an accomplishment that was only dethroned by "Squid Game" (via Fortune). "Bridgerton" fever arrived only three years after Netflix signed an exclusive development deal with Shonda Rhimes, the television powerhouse behind "Grey's Anatomy," "Scandal," and "How to Get Away with Murder." For her first Netflix release, Rhimes channels "Gossip Girl" in Regency-era England. The series follows two wealthy families — the Bridgertons and the Featheringtons — as their daughters vie for suitors during London's competitive social season.
Behind the scenes is Lady Whistledown, voiced by Dame Julie Andrews, who keeps the city's rumor mill churning. At the end of Season 1, it is revealed that Lady Whistledown — spoilers incoming! — is none other than Penelope Featherington, the seemingly meek youngest of the Featherington clan. Nicola Coughlan, who plays Penelope, has been more than game to dish about the big reveal on Twitter, where she's confirmed and denied any hints that bubbled up over the course of "Bridgerton" Season 1. Coughlan will return as Penelope for the much-anticipated second season of "Bridgerton" when it airs on Netflix on March 25. Though Penelope is one of Coughlan's biggest roles yet, here's where "Bridgerton" fans may have seen the actress before.
She honed her period piece chops in Harlots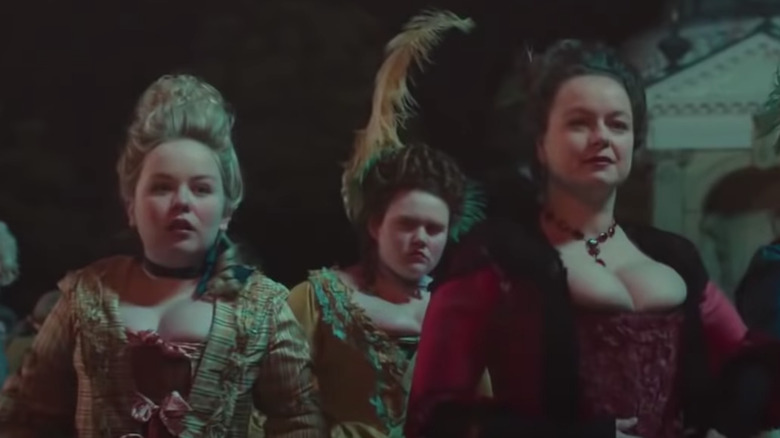 Hulu
Before starring in the 19th century bodice-ripper "Bridgerton," Coughlan appeared in bygone London in "Harlots." Set in the 1760s, "Harlots" follows the brutal rivalry between brothels run by Margaret Wells (Samantha Morton) and Lydia Quigley (Leslie Manville). The British-American drama ran for three seasons between 2017 and 2019 before it was canceled by Hulu.
In "Harlots," Coughlan played Hannah Dalton for seven episodes (via IMDb). Despite her small role alongside giants like Manville and Liv Tyler, Coughlan was a constant champion of the series, frequently talking it up on social media. When, following its cancellation, the series re-aired on BBC Two, Coughlan sung the show's praises on Twitter: "It is a true benchmark for other period dramas in terms of diversity, and on top of this, the whole thing was entirely written, produced and directed by women." Later she added, "Very grateful to have been a small part of such a class show."
Nicola Coughlan starred in Derry Girls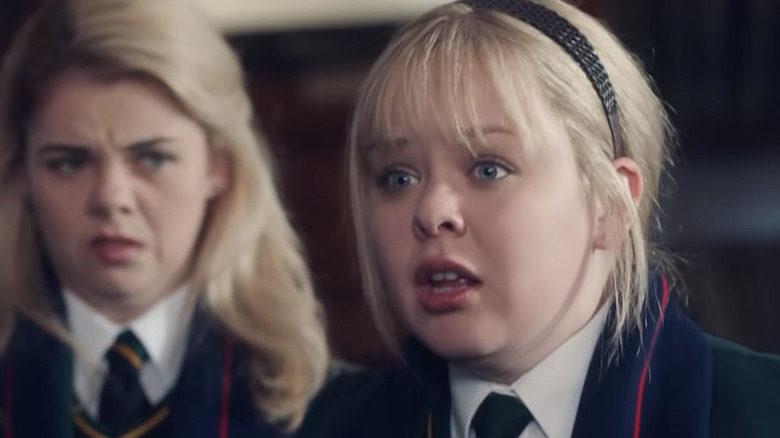 Channel 4/Netflix
Written by Northern Irish writer Lisa McGee, "Derry Girls" follows five teenagers in mid-'90s Derry. Amid the political tumult of the late-era Troubles, the series looks at teenage preoccupations like prom, the British boy band Take That, and daily life at Our Lady Immaculate College secondary school. "Derry Girls" premiered on Channel 4 in 2018 to critical acclaim. Thanks to its availability on Netflix, the series has also picked up an international following.
Despite already being in her 30s upon joining "Derry Girls," Coughlan is believable — and hilarious — as the anxious, doe-eyed Clare. "It's a very truthful age," Coughlan told The Guardian about playing a teenager. "Your emotions are very much on your sleeves." Despite the studious Clare's willingness to snitch on her friends, Coughlan brings an endearing charm to the role. She also delivered one of the Season 1 highlights when she came out, proudly asserting, "I'm the wee lesbian!"
Fans can look forward to revisiting Clare, Erin, Michelle, Orla, and James when "Derry Girls" returns for a third season. According to McGee, Season 3 will be the series' last. Per Metro, the showrunner confirmed that "It was always the plan to say goodbye after three series." After Coughlan filmed her final episode in December, she took to Twitter to say farewell to the series. "Goodbye Derry Girls, it's been quite a ride," she posted alongside a polaroid from the set.