The Penelope Moment That Went Too Far On Bridgerton Season 2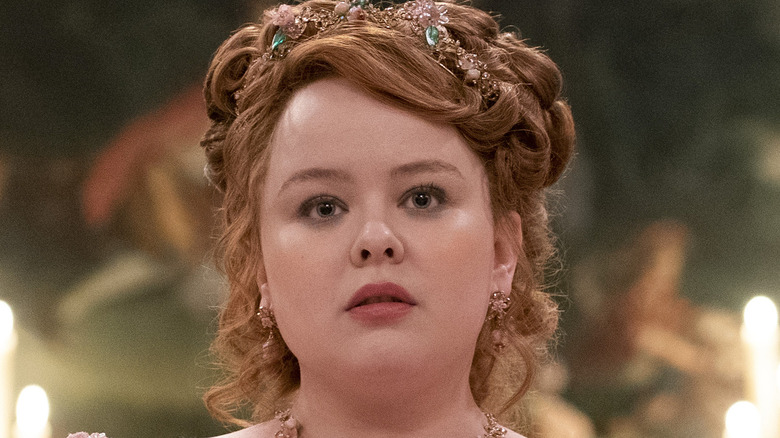 Liam Daniel/Netflix
Contains spoilers for "Bridgerton" Season 2.
Season 2 of the Netflix series "Bridgerton" finds the young women and men of the London ton once again engaging in a season of spirited social engagements in hopes of making a marital match. Staying true to his word in the Season 1 finale, Viscount Anthony Bridgerton (Jonathan Bailey) is hunting for a bride but is determined to take love out of the equation. Also thrust unwillingly into the marriage market is Eloise (Claudia Jessie), who makes her official debut and continues to show no interest in matrimony.
Season 2 follows Anthony as he attempts to woo the affection of this season's "Diamond of the First Water," Edwina Sharma (Charithra Chandran), a task inadvertently complicated by her older half-sister Kate (Simone Ashley). Elsewhere, Queen Charlotte (Golda Rosheuvel) uses the unsuspecting Edwina to try and uncover the identity of Penelope Featherington's (Nicola Coughlan) alter ego, gossip columnist Lady Whistledown (voiced by Julie Andrews). Knowing that Penelope wields the pen and the power to influence the hearts and minds of London's Regency-era elite infuses even more intrigue into Season 2 as the youngest Featherington finds it increasingly difficult to keep up her musings under the prying eyes of best friend Eloise, Queen Charlotte, and the nosy monarch's new spy.
Penelope proves to be more manipulative than in Season 1, bribing Madam Delacroix (Kathryn Drysdale) to aid her in her endeavors, stepping up her antagonism of the queen, and discouraging Eloise from pursuing a love interest. All of the duplicitous behavior catches up with her, and there's one moment that goes too far even for the seemingly unflappable Lady Whistledown.
Penelope manipulates Eloise into giving up her friendship with Theo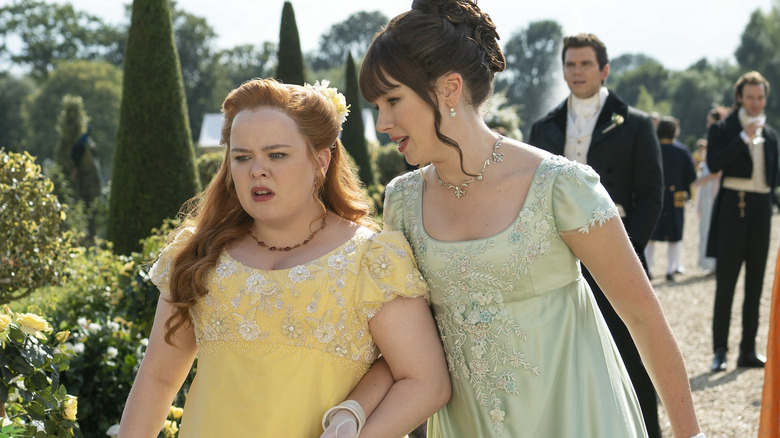 Liam Daniel/Netflix
After Penelope's Lady Whistledown reveals that Eloise is consorting with political radicals, Ms. Bridgerton suffers another blow by her best friend's hand. When Penelope discovers Eloise and Theo Sharpe (Calam Lynch) are still communicating and growing closer to uncovering Lady Whistledown's identity, Penelope lies to Eloise, telling her that servants have been gossiping about her relationship with the lower-class printer. Penelope warns Eloise that if Lady Whistledown were to spread this news, it would be one scandal too many for the Bridgertons to endure. Even worse, Penelope tries to convince her best friend that Lady Whistledown has done her a favor by not outing her relationship with Theo.
Penelope's actions show how ruthless she can be when keeping her secret, the only one she feels worthy of protecting. She takes from her dearest pal something she values more than a sterling reputation. "I ended my friendship with Theo because of you. One of the only good things in my life because of your self-serving manipulation," Eloise tells Penelope after she learns of her friend's many deceptions.
Penelope believes she's helping Eloise when she reveals to the ton her friend is pursuing her political passions. However, she only does so after Eloise threatens to pretend to be Lady Whistledown. Penelope fears that her best friend, who now disdains the woman she once admired, will destroy her legacy. Viewers can debate whether some of the youngest Featherington's misguided actions are, in fact, well-intentioned. Still, there's no denying that using Theo against Eloise is an act of cruel desperation on Penelope's part.