Who Is Bridgerton Season 2 Episode 1 Dedicated To?
In December 2020, Netflix and Shondaland captured the zeitgeist with "Bridgerton," a romantic drama series set in Regency-era England. Complete with grand sets, exquisite costumes, and orchestral covers of famous pop numbers, "Bridgerton" became an instant hit.
Created by Chris Van Dusen and based on the novel, "The Duke and I," by Julia Quinn, the first season of the period drama introduces London and its high-society families, who gather each year to find matrimonial matches for their young heirs. One among those families, and central to the show's narrative, is the Bridgerton family, who finds the perfect match in a Duke (Regé-Jean Page) for its eldest daughter Daphne (Phoebe Dynevor) in Season 1. This, however, is not the end of the "Bridgerton" saga.
Like Quinn's books, the creators always intended to return with stories of the other Bridgerton siblings — eight of them to be exact. Enter: "Bridgerton" Season 2, whichi finally premiered on Netflix after what seemed like an eternal wait. Fans who rushed to watch the first episode of the second season may be wondering about a brief dedication. For those curious about the person behind that dedication, we've got you covered.
The first episode of the season is dedicated to Marc Pilcher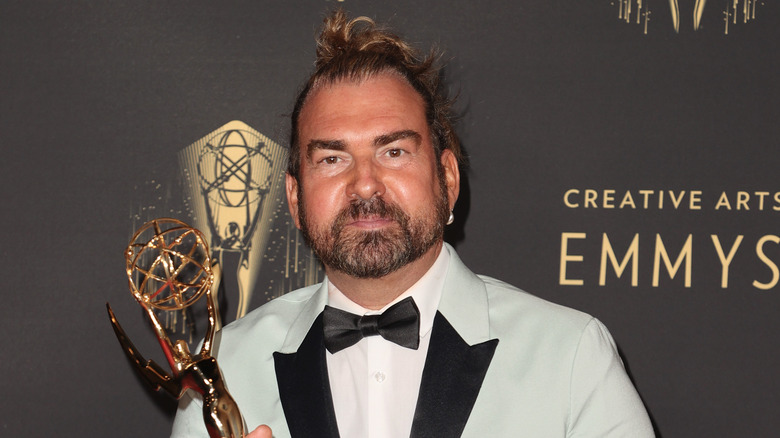 Kevin Winter/Getty Images
The COVID-19 pandemic has had a huge impact on the film and television industries. Beyond the production delays and financial losses, the pandemic claimed lives of the people who lent their creative talents to several shows and movies over the years. The first episode of "Bridgerton" Season 2 is dedicated to one such loss: Marc Pilcher, the show's hair stylist and makeup designer. Pilcher died in October 2021 from complications due to COVID-19, just weeks after bagging his first Emmy for Season 1 of "Bridgerton" (per CNN).
In its premiere season, the hairstyles of characters on the show certainly made a statement. From Queen Charlotte's (Golda Rosheuvel) larger than life wigs to Daphne's elegant hairstyles (which Pilcher, in an earlier interview with Glamour, revealed was based on Audrey Hepburn's look in the film "War and Peace"), each character's look was discussed in great detail.
Before working on "Bridgerton," Pilcher was an Academy Award-nominated hairstylist who worked on projects like "Mary Queen of Scots," "Downton Abbey," "My Week with Marilyn," "The Invisible Woman," and many more. With a legacy that defined so many memorable looks over the years, it was only fitting that the "Bridgerton" creators decided to honor Pilcher's legacy with the dedication.
"Bridgerton" Season 2 is currently streaming on Netflix.