This Look At Cobra Kai's Dallas Dupree Young As Miles Morales Is Flat-Out Jaw-Dropping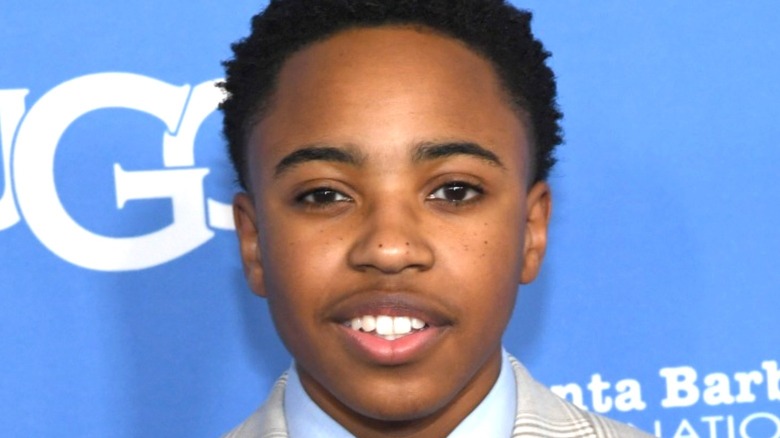 Sarah Morris/Getty
The latest junior high recruit from the San Fernando Valley to join the "Cobra Kai" universe is Kenny Payne, portrayed by Dallas Dupree Young. Kenny made his debut in Season 4 as the goofy yet confident new kid who was the victim of Anthony LaRusso's (Griffin Santopietro) incessant bullying. He ends up seeking out self-defense training from Robby Keene (Tanner Buchanan) and takes John Kreese (Martin Kove)'s merciless tactics of fighting to heart. 
Kenny's story is just beginning on "Cobra Kai," as his character will seemingly get revenge against his tormentors in future episodes, but Young has made quite a splash in Hollywood in just a few short years. You may recognize the actor from his TV roles in shows like "The Good Place," "Shameless," "Cousins for Life," and "Mixed-ish" or his film work including 2018's "Ready Player One" (via IMDb). Some Marvel fans noticed that the "Cobra Kai" newbie could be a perfect fit to bring a beloved comic character officially into the Marvel Cinematic Universe. 
Dallas Dupree Young is a natural Miles Morales
Some fans of the Netflix teen drama previously took to Twitter to express that Young would be the perfect actor to bring Miles Morales into the MCU. More recently, Instagram artist @clements.ink posted a visualization that made the fans' dream a reality. The image has Young totally embodying the new-age Spider-Man hero. Fans have already seen his action skills in "Cobra Kai," so he's in the position to portray a hero in the near future. 
It's yet to be determined when (or if) Morales will officially enter the MCU. Fans quickly fell in love with him after Marvel Comics introduced the character in 2011. Morales made his film debut in "Spider-Man: Into The Spider-Verse," so a live-action film would be the natural next step. But now that fans can literally see what it would look like for the actor to take on the role, it's even easier to imagine it coming to fruition.