Why Kenny From Cobra Kai Season 4 Looks So Familiar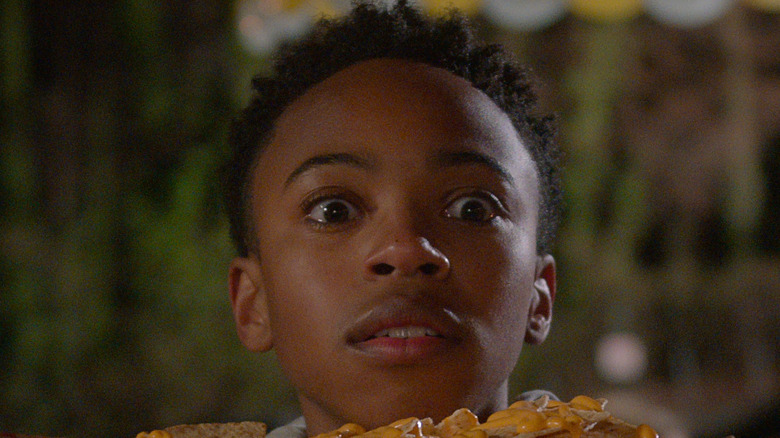 Netflix
Every season of "Cobra Kai" welcomes at least one new troubled youth of the San Fernando Valley to a karate dojo. Season 4 introduces audiences to Kenny, a bullying victim of Anthony LaRusso (Griffin Santopietro). Anthony's attacks on Kenny range from catfishing to physical abuse and emotional taunts. The ensuing torment motivates Kenny to seek out self-defense training, where he is mentored by Robby Keene (Tanner Buchanan) and other Cobra Kai senseis. While Anthony later comes to regret his actions and apologizes, Kenny remains haunted by their encounters and is unrepentant after attacking Anthony both in the school library and locker room. By the end of the 4th season, it's clear that the teachings of Terry Silver (Thomas Ian Griffith) and John Kreese (Martin Kove) have had a major impact on young Kenny. It seems likely that Season 5 will continue his story.
Kenny is played by Dallas Dupree Young. If you're a baseball fan, you might recognize Young from his resemblance to his older brother, Eric Young Jr., or his father, Eric Young Sr. Both the actor's father and older brother are former Major League Baseball players. However, if you've been watching television for a few years by now, you've probably also seen Young in several short, but memorable roles in TV series like "The Good Place," "The Mayor," "Shameless," or "The Fosters." Young has appeared in a number of guest spots in a variety of other television series and also starred in Nickelodeon's "Cousins for Life." While he has mostly appeared on television, Young hasn't been entirely confined to the small screen, even making a blink-and-you-miss-it appearance in Steven Spielberg's "Ready Player One" (via IMDb).
Here's a quick look at some of the roles you may recognize this young actor from.
He played Young Uzo on The Good Place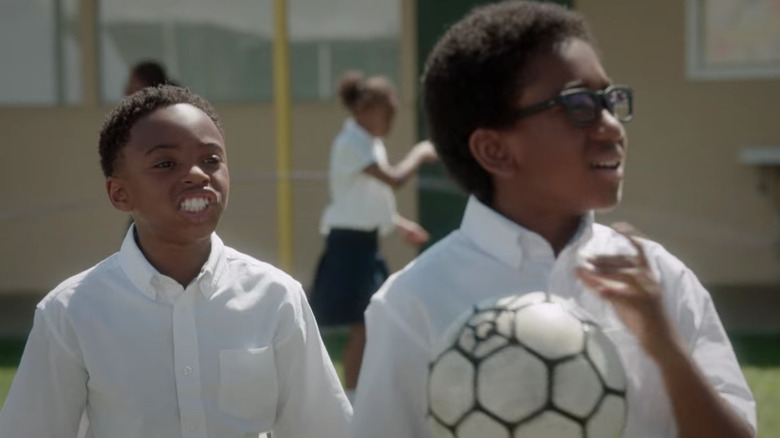 NBC
In 2017, Young made his third on-screen appearance and first network television role in a single episode of "The Good Place." Throughout "The Good Place," Chidi Anagonye (William Jackson Harper) struggles to make decisions in a timely manner. Whereas Eleanor (Kristen Bell) is more prone to throw caution to the wind and simply take her chances with the wrong selection, Chidi feels an overwhelming need to weigh all possible implications of each and every choice, often to his detriment. 
In Season 1, Episode 10 ("Chidi's Choice"), Young appears in a flashback sequence as an elementary-aged Uzo, a lifelong friend of Chidi, played in the segment by A.J. Hudson. In the scene, Uzo implores Chidi to pick a teammate for a soccer game at recess. "Chidi, just pick," Uzo says. "Come on Chidi, pick someone up."
Despite his friend's insistence and the obvious nuisance he is causing for his classmates, Chidi insists that he is must continue to think about it. "Don't pressure me, Uzo," Chidi says. "I have to consider all the factors." After listing a number of potential decision-making factors, Chidi admits that he is vexed by the choice. Uzo responds, "You're always vexed, Chidi." Chidi's continued inability to make a decision wastes so much time that the bell rings and recess is over before the game can even begin. "Congratulations, Chidi," Uzo says. "You filibustered recess."
Dallas Dupree Young was in one episode of Shameless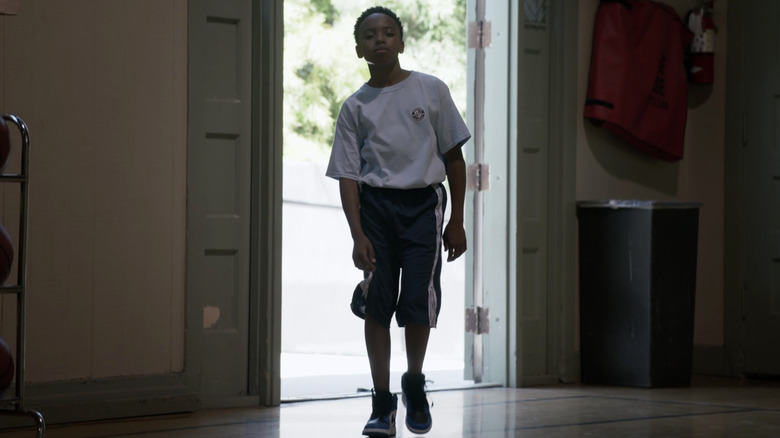 Showtime
"Shameless" Season 8, Episode 4 ("F**k Paying It Forward") was directed by Regina King, but that's not the only anecdote that sets this one episode out from the other 139 episodes of the series. This episode also features Young as a student at the same school as Liam Gallagher (Christian Isaiah), the youngest member of the riotous Gallagher family.
In a scene funnily similar to Young's guest spot on "The Good Place," a group of students is forced to pick teammates for a basketball game. While "The Good Place" sees our primary protagonists forced to draft their classmates, "Shameless" sees the protagonists take on the position of draftees. Brenan (Benjamin Plessala) chooses Liam first and while Liam seems happy just to be picked, the opposing team's captain, Dorian (Blake Altounian), is immediately upset that he didn't get an opportunity to draft Liam. However, Dorian doesn't protest for long as Young quickly enters the scene as De'Andre, a new student at the school. De'Andre steals all attention away from Liam, strolling onto the basketball court with maximum confidence. Dorian quickly says, "I pick him," while Brenan's request to change his pick is quickly denied by his teacher. We have to imagine that Dorian and Brenan would have moved even faster if they knew that two members of Young's immediate family are legitimate professional athletes.
He was an Elementary Kid in Ready Player One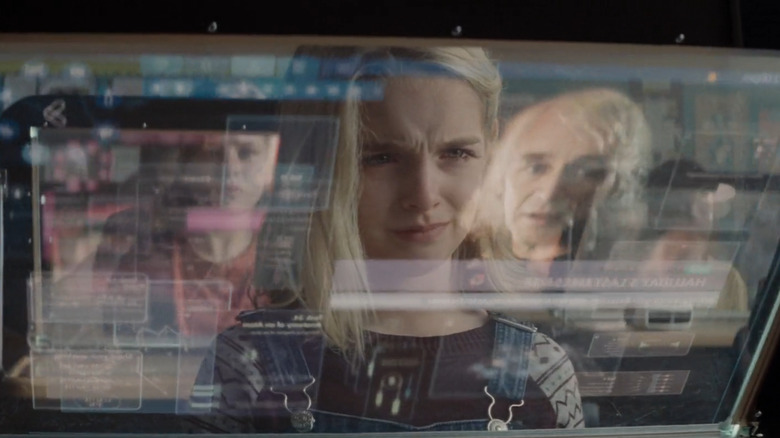 Warner Bros. Pictures/HBO Max
According to IMDb, Young also played the unnamed role of "Elementary Kid" in "Ready Player One." We rewatched Steven Spielberg's adaptation of the Ernest Cline novel and, amidst a plethora of Easter eggs, we couldn't spot Young featured prominently anywhere. It's possible that his closeup was cut, but we think we know exactly where he is supposed to appear in the film. It's hard to pick him out, but he is most likely one of the elementary students saddened by the death of James Halliday (Mark Rylance) early in the film. This scene sets up the rest of the movie and includes a number of other young actors that eagle-eyed fans will surely recognize. 
Mckenna Grace, also credited in the film as "Elementary Kid," cries as Halliday's video reports his death and explains the contest. At only 15 years old, Grace is one of the most accomplished actresses of her age, having already made appearances in projects as varied as "Captain Marvel," "Annabelle Comes Home," "The Haunting of Hill House," "Ghostbusters: Afterlife," and "The Handmaid's Tale" (via IMDb). For her role in "The Handmaid's Tale," Grace earned a 2021 Emmy nomination for Outstanding Guest Actress In A Drama Series. 
Perhaps these poor students could have stood a chance against Parzival (Tye Sheridan) and Artemis (Olivia Cooke) if they had only learned some karate moves from their classmate.
Dallas Dupree Young starred on Cousins for Life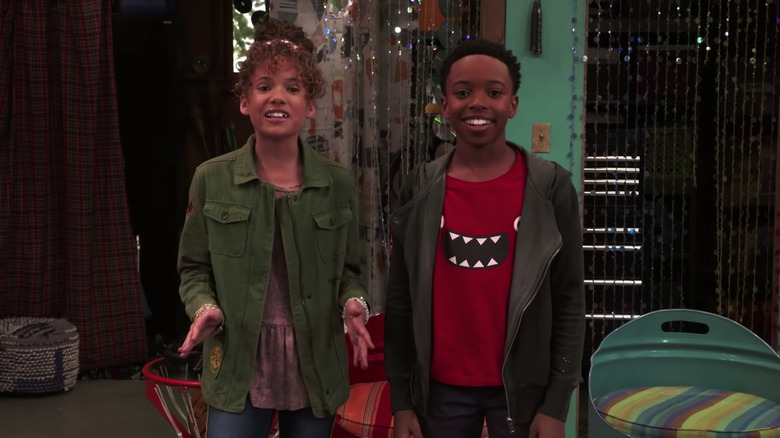 Nickelodeon/YouTube
Prior to his role in "Cobra Kai," Young was arguably best known for his series regular role on Nickelodeon's "Cousins for Life," in which he played a 12-year-old named Stuart, one of the eponymous cousins at the center of the series. Trailers for the series released on YouTube show that Stuart is known for his great personality and adventurous spirit, creating humorous inventions that perplex his cousins, including a motorized mini-fridge and toilet. Young co-starred on the series with Scarlett Spencer as Ivy, Ron G. as Lewis, Micah Abbey as Leaf, and Ishmel Sahid as Clark (via IMDb).
According to IMDb, "Cousins for Life" only lasted for a single season of 20 episodes on the children's television network, but the series also offered Young the opportunity to headline his first television series. While the show certainly hasn't attracted the type of attention that Young's role on "Cobra Kai" is sure to, it was nonetheless an important step in the young actor's career.