Fans Think This Fake No Way Home Trailer Is Basically The Amazing Spider-Man 3 Teaser We Deserve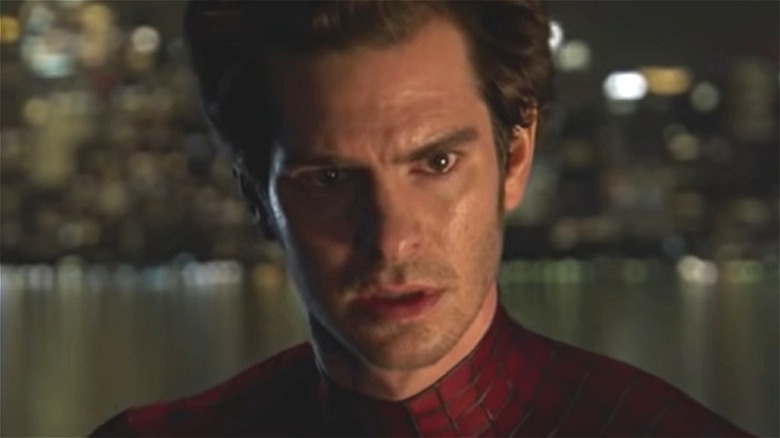 Sony Pictures/Marvel Studios
After months of anticipation, speculation, rumors, and hopes, "Spider-Man: No Way Home" hit the big screen in December of 2021. Not only did it pick up the pieces from "Spider-Man: Far From Home," which saw Peter Parker (Tom Holland) framed for the death of Mysterio (Jake Gyllenhaal) and have his life subsequently derailed, but it gave Spidey fans so much more. Aside from featuring a cavalcade of legendary villains — portrayed by equally legendary actors –, it brought both Tobey Maguire and Andrew Garfield's Spider-Man incarnations into the Marvel Cinematic Universe fold.
From 2002 to 2007, Maguire featured as Spider-Man in a trilogy directed by Sam Raimi. His take on the webhead helped bring superhero movies further into the mainstream and prove the character's viability at the box office. As a result of both, Garfield had the chance to take the baton in 2012 for a cinematic franchise of his own with director Marc Webb at the helm. Dubbed "The Amazing Spider-Man," this series only lasted for two installments before Holland took over in the MCU. While many didn't hide their disinterest in Garfield's duology, some stood by it and held out hope for a third entry someday.
Post-"No Way Home," fan desire for an "Amazing Spider-Man 3" has grown exponentially, and as evidenced by a recent post by Sony itself, the company has taken notice.
Fans hope Sony is planning another Amazing Spider-Man movie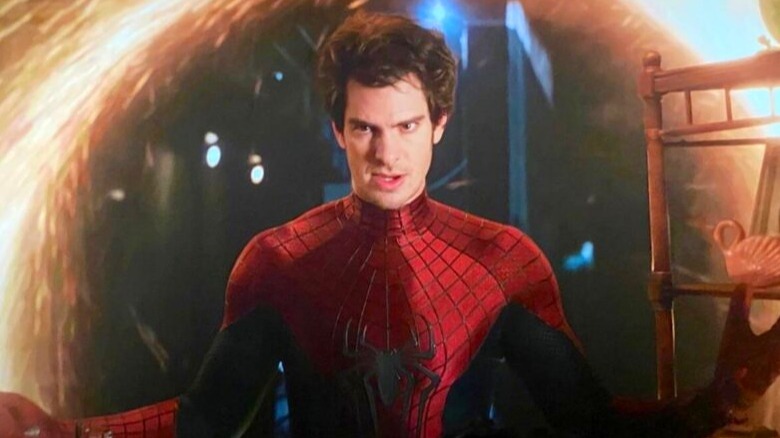 Sony Pictures/Marvel Studios
To celebrate the digital home release of "Spider-Man: No Way Home," the Sony Pictures Entertainment YouTube channel put together a fun video centered on Andrew Garfield's Spider-Man. Adorned with the cheeky subtitle "The Amazing Peter #3," the clip serves as a recap of the character's journey up to this point. He fell in love with and later lost Gwen Stacy (Emma Stone), found his identity as the web-slinger, defeated multiple foes, and wound up in the MCU timeline to team up with two variants of himself. Given the title and overall presentation, though, some fans feel there's more to the story here.
"No way. Amazing Spider-Man 3 teaser by @Sony ?! #amazingspiderman3," wrote Twitter user @TheBrink77, voicing their hope that the "Amazing Peter #3" video is something of a teaser for another "Amazing Spider-Man" flick. @HarzSpam adds, "This gotta be a small hint or something... they can't be doing this to us. #TASM3," accompanied by some telling screenshots from the clip that point to it being a trailer of some kind. Getting straight to the point, @alex_z_640 passionately wrote, "GIVE MY GOAT ANDREW A THIRD MOVIE #MakeTASM3" — a sentiment that numerous other Twitter users shared as well.
At the time of this writing, Sony hasn't announced plans for more "Amazing Spider-Man" films, with much of its attention going to the likes of "Morbius," "Kraven the Hunter," and "Madame Web," among other projects. Hopefully, for those wanting to see Andrew Garfield don the red and blue once again, Sony will reply to their pleas in a more direct way sometime soon. For now, though, all we can do is wait and see.