Twitter Can't Stop Roasting Sony's Latest Madame Web Casting News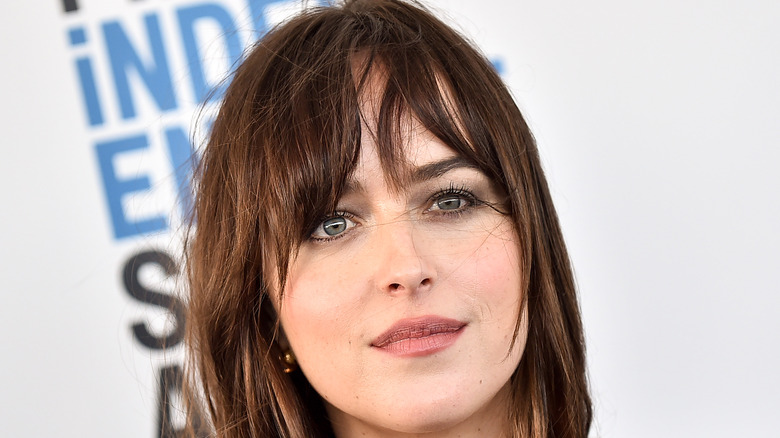 DFree/Shutterstock
Ever since the December 2021 release of "Spider-Man: No Way Home," fans of the famous webslinger have been eager to learn more about where Sony might take the franchise next. Today, we have an answer to that question, just maybe not quite the one most people expected. 
According to Deadline, "Fifty Shades of Grey" actress Dakota Johnson is set to take on the lead role in "Madame Web," a film centered on the character of the same name from the "Spider-Man" comics. Word about a "Madame Web" movie was first announced in September 2019, but we haven't heard much about it since then. According to Marvel Fandom, Cassandra "Madame" Web first appeared in "Amazing Spider-Man" #210, an issue of the series released in August 1980. Though she is depicted as an elderly woman in the comics, Deadline reports that insiders expect this to change during the process of transferring the character to the big screen.
Details on the project are scarce, but we've known for sometime that "Jessica Jones" director S.J. Clarkson will lead the project in her theatrical film debut. According to IMDb, Clarkson has a long history in television direction. To name only a few, Clarkson has directed episodes of "The Defenders," "Succession," "Life on Mars," and "Dexter." "Morbius" scribes Matt Sazama and Burk Sharpless also wrote the screenplay for the upcoming film (via Variety).
Unsurprisingly, Twitter had a strong reaction to this news, giving life to many memes and a bevy of retweets. 
Some Spider-Man fans think Dakota Johnson is an odd choice
Much like when DC announced that Robert Pattinson would take on the role of Batman, Twitter mobs were quick to point to Johnson's prior film history with a skeptical eye. Comicbook.com writer Chris Killian tweeted a picture of Johnson during an intimate scene of "Fifty Shades of Grey" and jokingly added the comment, "Breaking! First look at Dakota Johnson as Madame Web." The post received more than 1,500 likes and over 100 retweets.
Other responses to the news referred to the age difference between the character portrayed in the comics and 32-year-old Johnson. @not_alf responded to Variety's tweet with a picture of Madame Web's elderly comic book counterpart, sarcastically calling the resemblance "uncanny." In another tweet, Patrick Willems quote retweeted Deadline's story and noted that this particular role might be unnaturally easy. "Nice move on Dakota Johnson's part finding the one superhero role you don't need to get in shape for because Madame Web's whole deal is she sits in a chair and never does anything ever," Willems said.
@LeCinephiles also joked that Ellen DeGeneres had been cast as the villain in the film, an obvious reference to DeGeneres and Johnson's viral interview from November 2019 (via YouTube). 
Neither Deadline nor Variety gave any indication of a production or release date schedule for the film, but Twitter will surely have plenty more jokes to send around when that information comes out.