15 Shows Like And Just Like That... Fans Should Watch Next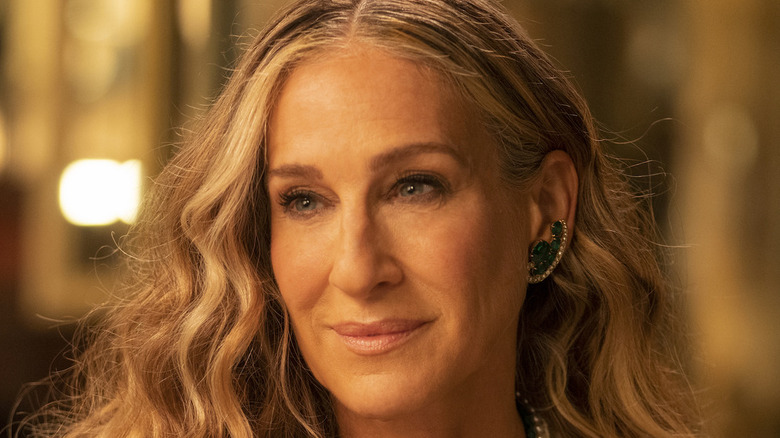 Craig Blankenhorn / HBO Max
And just like that, Carrie, Miranda, and Charlotte, now in their fifties, are back on the screen –– and making New York City their playground once again.
Sarah Jessica Parker, Cynthia Nixon, and Kristin Davis reprised their roles as the three empowering female characters (who were, unfortunately, not joined by Samantha as Kim Cattrall didn't return in her beloved role) on "And Just Like That..." nearly two decades after the last episode of genre-defining "Sex and the City" ended. If you're like us, then you ate up the first batch of episodes of "And Just Like That..." and are patiently awaiting Season 2. In the meantime, there are plenty of shows like "And Just Like That..." viewers can check out.
Though sequel/revival series "And Just Like That..." isn't a completely identical show to the iconic "Sex and the City," which spanned six glorious seasons and 94 episodes, as well as spawned two big-screen movies, the comedy-drama refreshingly introduced new characters. It created, at long last, a more diverse show than the original. But alas, while audience members wait for the 2nd season, here are 15 shows like "And Just Like That..." fans should watch next.
Emily in Paris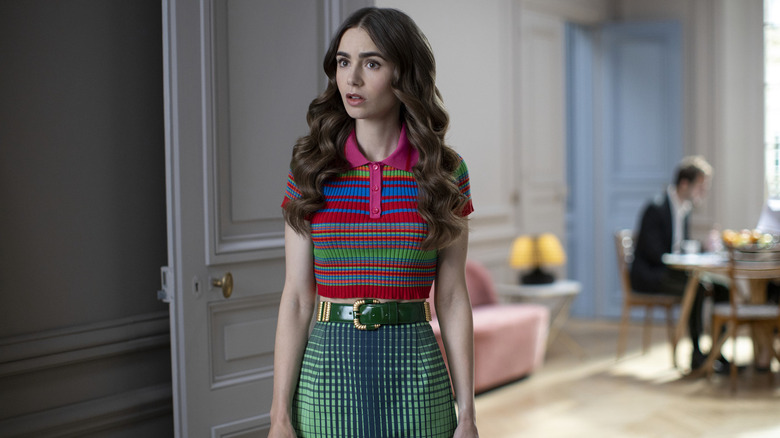 Carole Bethuel/Netflix
Though "Emily in Paris" gives off "And Just Like That..." vibes, its events are even more far-fetched. Yet the familiar mood may or may not have something to do with the fact that the shows share the same creator, Darren Star, who also created "Sex and the City."
All the same, the comedy-drama follows Chicago native Emily Cooper (Lily Collins), a marketing expert who unexpectedly receives a job offer to work in Paris. This is the makings of a dream come true fairy tale –– if only Emily spoke French and didn't uproot her entire life to make the career jump. Perhaps worst of all, her fellow coworkers at Savoir, the marketing firm Emily works for, aren't as excited as Emily is to bring her American perspective to the company. Luckily, the over-the-top elements are pumped into the series and mostly everything works out for Emily –– at least through the show's first two seasons, that is. Then again, Emily's love life can be, at times, chaotic.
Friends
"Friends" doesn't need an intro as it's as iconic of a New York City-inspired show as the legendary "Sex and the City." But if you haven't seen it or need something to watch while you wait for more "And Just Like That..." episodes to arrive, it's the ideal series.
The sitcom puts the spotlight on six friends –– Rachel, Ross, Monica, Chandler, Phoebe, and Joey –– who all live in a marvelous NYC apartment complex at one point or another, which is important considering the said apartment complex almost acts as another character of the series. This group of friends tries to navigate the trials and tribulations of balancing work, love, and life in their twenties and thirties. But perhaps its biggest draw is the humor, which should be expected as the ensemble cast consists of Jennifer Aniston, David Schwimmer, Courteney Cox, Matthew Perry, Lisa Kudrow, and Matt LeBlanc.
Though audiences don't need another reason to watch "Friends," it's always a fantastic show to revisit. If you desire to witness a hilarious friend group in which each member follows their dreams while living in an apartment they could probably never afford in real life, then you found the ideal series.
Girlfriends' Guide to Divorce
"Girlfriends' Guide to Divorce" zaps its main characters with a dose of reality, at least when compared to similar shows in the genre, that is. But, don't fear, as the characters are just as glamorous, interesting, and likable. And the comedy-drama does, for all it's worth, focus on a recently separated woman, Abby McCarthy (Lisa Edelstein), which heavily relates to Carrie Bradshaw's journey in Season 1 of "And Just Like That..." Even if their circumstances are a bit different, they're similarly dealing with heartache, separation, and, well, they're writers.
Based on the "Girlfriends' Guides" book series by Vicki Iovine, Abby, a self-help author, finds comfort in her friends, which is uncannily similar to Carrie, Miranda, and Charlotte on "And Just Like That..." Though there are many messages to take away, "Girlfriends' Guide to Divorce" reminds audience members that life is a maddening roller-coaster, yet it's a whole lot easier to handle when you have a loving and supportive friend group by your side.
Girls
"Girls," in so many ways, feels like a direct spin-off of "Sex and the City" –– if the characters were to enter the real world and all aspects of TV magic were taken away. "Girls," after all, centers around a writer who also finds solace in her friends –– and the early twenty-somethings try to navigate love and their careers in New York City. Yet the way they pilot these issues, as well as mental health and quarter-life crisis, helps "Girls" stand out on its own. Oddly, the ensemble cast is, at times, unbearable as the characters are entitled, self-centered, and their own worst enemies, but this is a somehow refreshing change of pace from the show's predecessors.
Created by and starring Lena Dunham, the series kicks off with aspiring writer Hannah being cut off financially by her parents. Perhaps most intriguing of all is how lost the characters feel –– in their relationships, careers, and all other aspects of life –– as this can be eerily similar to the real world. Think of "And Just Like That..." if the characters were younger and just finding their footing in The Big Apple.
Gossip Girl
"Gossip Girl" features lavish characters who are bursting at the seams with privilege, yet these personas are brought back down to Earth when an omniscient blogger named Gossip Girl begins to reveal their deepest and darkest secrets. If you're craving strong –– albeit messy –– female camaraderie, then you'll love Serena van der Woodsen (Blake Lively) and Blair Waldorf's (Leighton Meester) relationship as they're best friends one moment and sworn enemies the next. This fascinating duo, along with the other characters, proves that living in Manhattan's Upper East Side has its perks, but it's not lacking its complications. That sentiment especially rings true when everyone is seemingly out to get one another.
If audience members desire an updated version of "Gossip Girl," then they can also catch the reboot series, which focuses on a new batch of characters living in the same universe. "Gossip Girl" is soapy, deceptive, and entrancing –– in all the right ways. And it doesn't hurt that the series uses the New York City skyline as its background, similar, of course, to "And Just Like That..." and "Sex and the City."
How I Met Your Father
The long-anticipated wait for the "How I Met Your Mother" spinoff series, "How I Met Your Father," is finally over. Though it, naturally, has the same setup as "HIMYM," as the series puts the limelight on a group of friends doing their best to make their riveting dreams come true in New York City, "How I Met Your Father" replaces Ted Mosby's story with Sophie's. And, unlike "And Just Like That...," the lovely and remarkable Kim Cattrall (we still miss Samantha and we can't get over it) stars as the narrator and a more seasoned version of Sophie. Cattrall's Sophie tells her son the story of how she met his father through the eyes –– and adventures –– of Hilary Duff's Sophie.
Follow along as Sophie and her thriving group of friends try to figure out typical twenty-to-thirty-something issues, such as their careers, relationships, and discovering what they truly want out of life. And if you're still craving this sentiment, then "How I Met Your Mother" is always available for viewing pleasure, too.
Love Life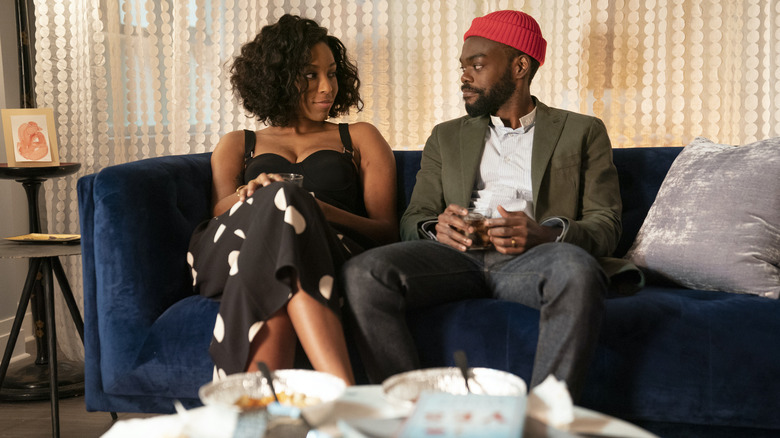 Sarah Shatz/HBO Max
"Love Life" takes a more realistic approach with its story and characters –– at least when compared to shows like "Sex and the City" and "And Just Like That..." by extension. In Season 1, Darby Carter (Anna Kendrick) is placed in a less privileged and sophisticated New York City (though the lights still shine bright) as she has a less glamorous job and smaller apartment. "Love Life," however, is an anthology series that follows the main characters along the rocky road that's their first to last relationship, highlighting a new character each season. Season 1 follows Kendrick and Season 2 passes the torch to William Jackson Harper. Their dating histories are accompanied by ups and downs but are inevitably injected with a more realistic ending rather than an all-out romantic comedy farewell.
If you crave yet another show about NYC, then "Love Life" will help you live out the lifestyle through some pretty awesome characters –– all while taking viewers on an adventure that might have them reflecting on their own dating history, whether they live in a big city or not.
New Girl
"Similar to "How I Met Your Father" and "Friends," "New Girl" is a sitcom through and through, yet it still focuses on some pretty incredible female characters nonetheless. Most notably, of course, are Jessica "Jess" Day (Zooey Deschanel) and Cece Parekh (Hannah Simone). Jess is vivacious and one of a kind while Cece is a sassy fashion model –– despite their differences, the two make the perfect duo.
The series follows Jess moving into a loft with three guys –– Nick Miller (Jake Johnson), Winston Schmidt (Max Greenfield), and Winston Bishop (Lamorne Morris) –– after a heart-stealing breakup. Naturally, "New Girl" follows this group of friends as they change jobs, relationships, and overall live out their eager and dream-filled lives in their early thirties. Though the series doesn't take place in New York City like "And Just Like That...," Los Angeles is a great substitution and a splendid backdrop for a sitcom.
Sex and the City
"Sex and the City" is an obvious choice. The series, after all, kicked off a new genre by placing female characters –– and their love lives –– in the mainstream. It also spawned two films, a prequel series, and, of course, a sequel series in "And Just Like That..."
"Sex and the City" is iconic for endless reasons. Before this show graced HBO, female empowerment and sexual expression didn't really find their way to the television screen –– at least when lead women characters were involved, that is. It features four fabulous women, Carrie, Miranda, Charlotte, and Samantha, making New York City their playground as these female leads tackle their love lives, careers, and friendship. And, unlike "And Just Like That...," "Sex and the City" stars the lovely Samantha Jones (Kim Cattrall). Samantha is an invaluable member of the "Sex and the City" group as she's arguably the most sexually confident, least judgmental, most carefree, a strong businesswoman, to boot, and she embodies the true meaning of the series.
But alas, "Sex and the City" is the perfect show to watch while you're waiting for more "And Just Like That..." episodes.
Starstruck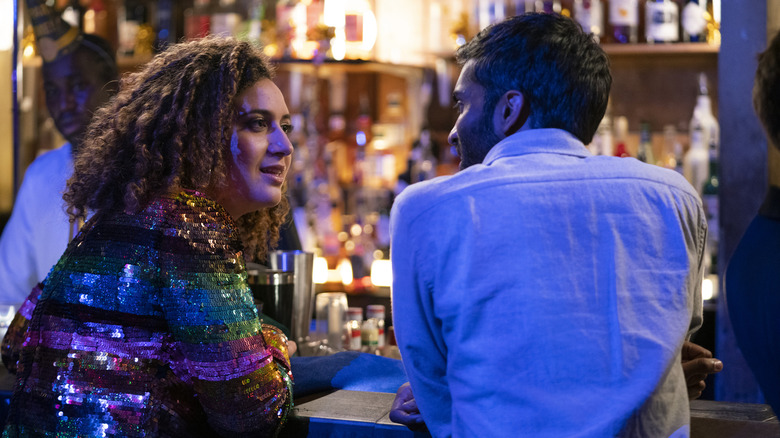 Mark Johnson/HBO Max
"Starstruck" might share some of the same elements with "And Just Like That..." –– such as focusing on a woman's career and sex life while living in a big city –– yet it has a totally different feel and vibe. And in no way is that a bad outcome as Starstruck's first season was met with high praise.
The screwball comedy follows Jessie (Rose Matafeo), a 20-something New Zealand woman who finds herself trying to live her best life in London. Unlike its predecessors, "Starstruck" takes a more pragmatic approach with its main character as Jessie works at a movie theater and moonlights as a nanny –– her professions, to say the least, aren't as chic as a sex columnist as she's juggling not one but two dead-end jobs. Yet that doesn't stop Jessie from having a lavish New Year's Eve where she eventually has a one-night stand with a man who she soon finds out is famous.
The Bold Type
"The Bold Type" follows three BFFs who all work at the same women's magazine (Scarlet) together. Yet the comedy-drama is so much more than that as the three leading ladies struggle with relationships, identity, and the trials and tribulations that tend to accompany working at a fast-paced and global publication. Jane Sloan (Katie Stevens), Kat Edison (Aisha Dee), and Sutton Brady (Meghann Fahy) also just so happen to live in New York City, a setting that seemingly makes fictional characters' stories more interesting.
Audience members will get some serious "Sex and the City" vibes as the three fab women also make NYC their resort. Though their working lives are at the forefront, loyalty and romance also play into the theme. "The Bold Type" is inspired by the real-life and career of former editor-in-chief of Cosmopolitan magazine Joanna Coles. Coles also serves as an executive producer of the series. So, in a way, a fantastical column and career are turned in for a realistic magazine company. And that's not to say Carrie Bradshaw isn't a superb writer with epic stories detailing her sexual escapades –– it's just that everyone will forever wonder how she could afford her Manhattan digs by only writing one column a week.
The Carrie Diaries
If you've ever wondered what Carrie Bradshaw's life looked like before coming to Manhattan, then you're in luck –– because there's a TV series for that. "The Carrie Diaries" follows an adolescent Carrie Bradshaw (AnnaSophia Robb) and her eventual introduction to New York City. Though the series only lasted two seasons, it's intriguing to see Carrie dance all over the 1980s while she juggles high school, an internship, a secret job, and the big city lights.
Whether you're an avid Carrie Bradshaw fan and devoured "Sex and the City" and "And Just Like That..." episodes or you've only seen "And Just Like That...," "The Carrie Diaries" gift audience members with the knowledge of why Carrie is the way she is (which is simply delightful). And some much-deserved background history that wasn't present in older versions of the character is finally unveiled. All the same, the more Carrie Bradshaw, the better. Spoiler alert: A young Samantha also makes an appearance.
The Marvelous Mrs. Maisel
Miriam "Midge" Maisel (Rachel Brosnahan) goes from New York City housewife to a stand-up comedian after her husband tells her he's unhappy and had an affair with his secretary. Though that might sound like the makings of a tear-jerking story, "The Marvelous Mrs. Maisel" is hilarious, upbeat, and Brosnahan fires on all cylinders as Midge.
Midge's life is sort of on the same trajectory as Carrie Bradshaw's as both of their existence is blown up. That said, while Carrie's life is turned upside down on "And Just Like That..." as a result of her husband's passing, Midge discovers a special talent, not to mention an entirely different world. As she goes from a Jewish housewife and a mother of two to a stand-up comedian who's hustling with the best of them –– and also discovering what nightlife in the late 1950s and early 1960s entails. Though Midge takes center stage, there are plenty of other notable characters that make this period comedy-drama stand out, such as Alex Borstein's portrayal as Midge's manager Susie Myerson.
The Morning Show
"The Morning Show" very well could be the least comparable show to "And Just Like That...," but that's mainly because of the differences in genres. As "The Morning Show" is a drama through and through and "And Just Like That..." is flooded with comedic elements and lightheartedness. Nevertheless, "The Morning Show" follows strong female characters –– who don't always see eye to eye –– in Alexandra "Alex" Levy (Jennifer Aniston) and Bradley Jackson (Reese Witherspoon). Though actor and comedian Steve Carell is a big-ticket draw, his Mitch Kessler character is a far cry from the Michael Scott persona on "The Office."
"The Morning Show" can be hard to watch given the visited topics and the authenticity that's pumped into the show. To no one's surprise, the dynamite cast brings it in all the right ways. It's enthralling to see these characters performing in the newsroom, their day-to-day lives, and the chaos that tends to come with being famous anchors who deliver the morning news during chaotic times.
Younger
Also produced and created by Darren Star, "Younger" feels welcomingly similar to his other creations ("Sex and the City" and "And Just Like That...") as the comedy-drama follows a 40-year-old woman, Liza Miller (Sutton Foster), who lies about her age to get a leg up in the publishing industry and her romantic life. Against all odds, "pretending" to be 26 works in her favor as she seemingly turns back the clock, restarts her life, and takes a "Sex and the City"-like journey in New York City. Though there can only be one "Sex and the City" –– and by extension "And Just Like That..." –– "Younger" does its best to recreate the show's sentiment. Yet it brings its refreshing take on the genre and the world of the publishing industry.
Ultimately, there is a myriad of perfectly splendid TV series viewers can tune into while waiting for the new "And Just Like That..." season. Needless to say, fans are in good company with these 15 impressive shows.