Why Matthew Stafford's New AT&T Commercial Has The Internet Buzzing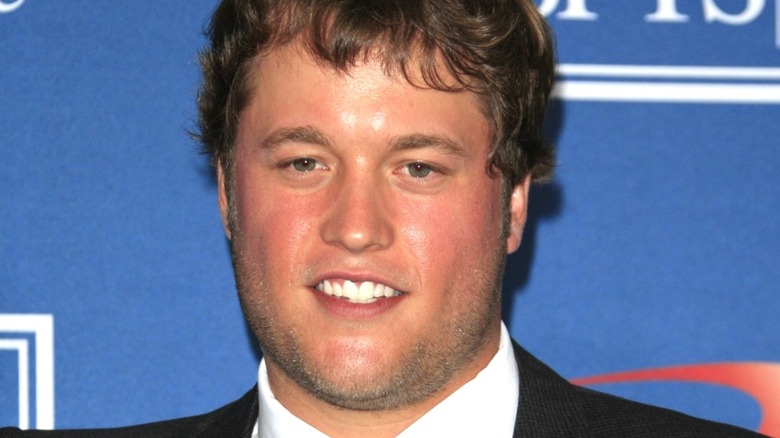 Phil Stafford/Shutterstock
Getting a well-known celebrity to star in a commercial is always a bit of a risk for a company to make. If the commercial is done well, a high-profile celebrity's appearance in it can go over swimmingly and not only manage to charm the viewers watching at home, but also increase their awareness of whatever product the ad is selling. On the other hand, if the commercial isn't particularly fun, charming, or creative, then it can end up being seen as a failed or embarrassing project for every party involved.
Fortunately, that doesn't seem to be the case for AT&T and football star Matthew Stafford. Coming off his recent Super Bowl LVI victory with the Los Angeles Rams, Stafford has teamed up with AT&T on a new commercial that not only pays fun homage to a pivotal decision he made in his own life but also efficiently manages to sell the ad's product.
In the days since its release, the ad has earned quite a lot of attention online from football fans, and it's not hard to see why.
Matthew Stafford's AT&T commercial references his important NFL past
Matthew Stafford's AT&T commercial runs just 31-seconds-long, but it manages to pack quite a bit into its relatively short runtime. The ad centers on an AT&T employee named Lily as she teaches Stafford how to handle in-store phone trades, telling him about how AT&T customers can trade certain old phone models for new ones. Their conversation takes a fun, meta turn when Stafford asks, for clarification, if the deal means that people can trade in an old phone that they've "had for 12 years and loved every minute of" in exchange for one that is better suited for their current lives.
As the ad's final moment, which sees Stafford breaking the fourth wall by looking to the commercial's camera and winking, confirms, Stafford's lines are all in reference to his decision in 2021 to leave the Detroit Lions for the Los Angeles Rams. His assertion that a customer will "never forget" their old phone even if they enjoy "immediate success" with their new one is, in other words, a message to Detroit Lions fans everywhere that he still holds a lot of affection for his old team. Understandably, the ad is going over well with football fans right now.
On Twitter, @aharris016 tweeted, "Whoever came up with the Matthew Stafford commercial for @ATT is [a] pure genius. One of the best I've [seen] in a long time," while @WillBradshaw24 wrote, "That Matthew Stafford AT&T commercial is top tier." Echoing those sentiments, @realEthanPalm called the commercial "marketing genius." Elsewhere, @JGreenwich admitted, "I lowkey love the Matthew Stafford AT&T commercial and I'm not sorry."
All of which is to say that it looks like Matthew Stafford's new AT&T commercial has worked out quite well for both parties.