Why Dwayne Johnson's Super Bowl 2022 Intro Has Twitter So Divided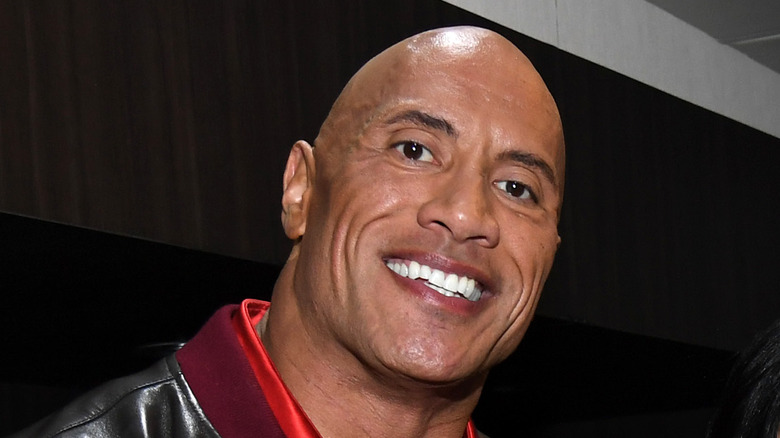 Kevin Mazur/Getty Images
Super Bowl XLVI — the first Super Bowl to take place in Los Angeles since 1993 (via Los Angeles Almanac) — is currently seeing the Cincinnati Bengals take on the LA Rams. Given the fact that the big game is taking place in the heart of the entertainment world, they've pulled together a lot of star power to make the highest-rated US sporting event (via SportsMediaWatch.com) even more popular than usual. One of those stars who kicked off the action right at the beginning was Dwayne "The Rock" Johnson.
For two minutes, Johnson took the field to give a rousing introduction the likes of which probably has Bruce Buffer worrying about his job security. As a wink and a nod to long-time fans of his WWE days, he channeled his old wrestling persona with such fervor that you'd hardly believe he was retired from the sport. Viewers had a lot to say about it on social media — and as you might expect, people have some polarizing opinions.
Many Twitter users enjoyed it; others thought it was too cringe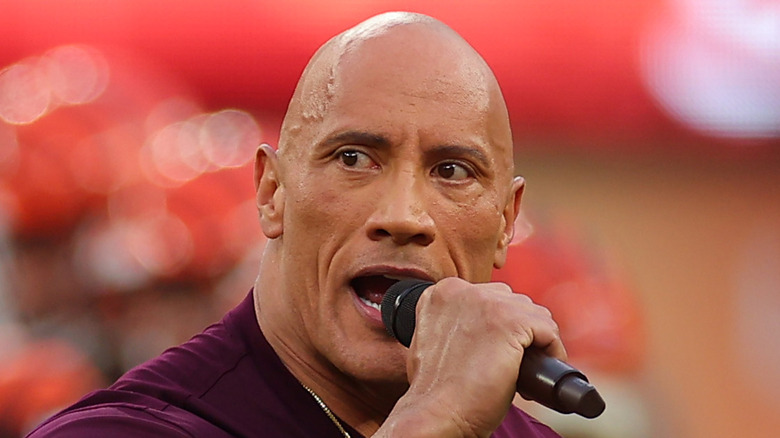 Kevin C. Cox/Getty Images
There was a heap of praise on Twitter for Johnson and his introduction, especially from those who miss his wrestling persona. @sportsbrain celebrated the performance, declaring "My guy the Rock channeling his old days. I love it." to which at least one fellow user, @jendyfriend, followed up with "That was not Dwayne Johnson. That was The Rock!" @BaseballRyan42's praise was simple and succinct: "@TheRock did an amazing job kicking off The #SuperBowl..." 
But there was plenty of criticism too, especially from those replying to the @NFL Twitter account praising the performance. Some replied to the tweet calling Johnson's intro "Too cheesy!" (@skhayes1); "No. Unnecessary. Just start the game. Also, are those polyester pants?" (@76Gordon); and "I could have lived with out that" (@pez1963). 
Indeed, the most common criticism of the performance came from people who couldn't hear Johnson over how loud his outfit was. @FootballKYDBA pointed out that "@TheRock was dressed like the interior of a 1985 Cadillac Fleetwood earlier ..." Whether you loved Johnson's intro or hated it, you can't deny that he brought energy and enthusiasm to the biggest sporting event of the year.