The Walking Dead's Ross Marquand Finally Explains Aaron's Ominous Nightmare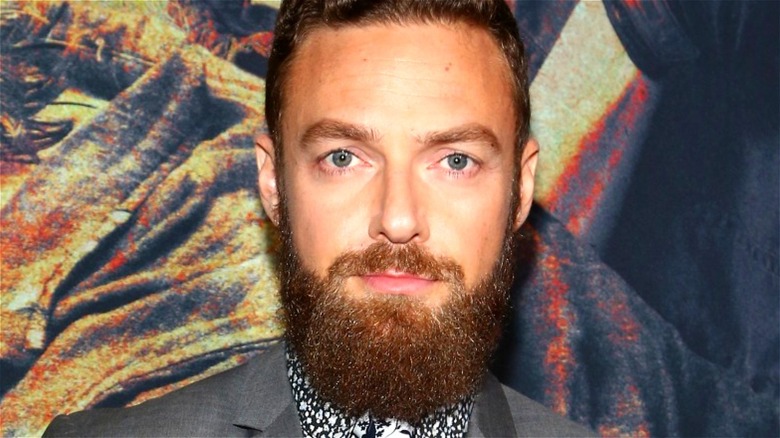 Tommaso Boddi/Getty
For "The Walking Dead" actor Ross Marquand, playing a zombie apocalypse survivor for nearly an entire decade has been something he's grown accustomed to, even though he's left in the dark about a lot of things half the time. There are countless battles against walkers as well as nonstop communal warfare and politics, and now, in Season 11, Marquand's Aaron has been working out an ominous dream he had in Episode 5, which could spell trouble for the character during the final episodes.
In Aaron's dream, the character is seen trying to protect his daughter, Gracie, while walking through a wooded area back to Alexandria. He fights off several threats, including walkers and Whisperers, before eventually getting surrounded and killed, leaving Gracie's fate unknown. Fans have long feared that the sequence is ultimately foreshadowing what's to come during the final episodes of "The Walking Dead." Here's what Marquand has to say about it...
Aaron's nightmare was an indication of his worst fears
According to Ross Marquand, the nightmare sequence that Aaron experiences in Episode 5 is ultimately an indicator of the character's worst fears and what he hopes won't come of himself and Alexandria. "I think like any dream, it's an indication of where your subconscious mind is at," he told ComicBook. "Aaron is definitely terrified for the future of Alexandria and his daughter and for all the people in it."
Overall, Aaron's "main goal" following the show's Whisperer saga is to rebuild things and "make sure that he leaves that community stronger and more sustainable than how he found it," Marquand said. But if he isn't able to do this, then things could go severely wrong — and fast. "If he's not able to succeed in doing that, his daughter's life is at risk," Marquand explained. "He just wants to provide the very best and most sustainable future for his daughter and everyone else who lives in Alexandria. And it's clearly keeping him up at night." New episodes of "The Walking Dead" are slated to air each Sunday night on AMC and are also available to stream a week early on AMC+.