Zach Braff Discusses The Cheaper By The Dozen Dance-Off And His Dream For A Scrubs Reunion - Exclusive Interview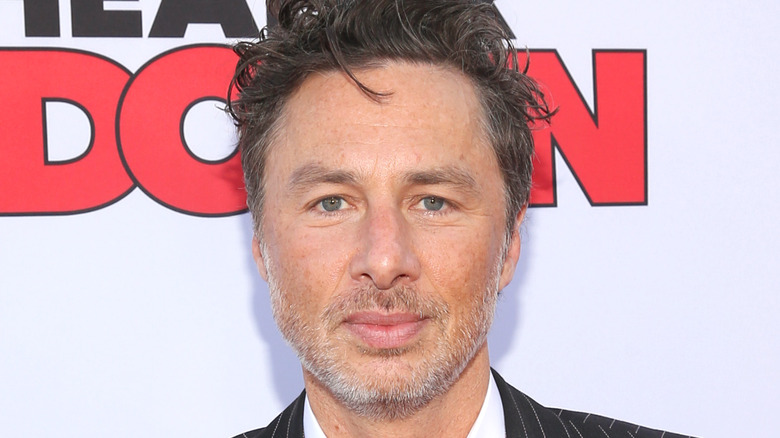 Jesse Grant/Getty Images
It may be hard to believe, but the hit series "Scrubs" has been off the air for more than a decade now, having ended its original run in 2010 after nine seasons. At the center of the medical comedy was Zach Braff, who played rising physician and persistent daydreamer J.D.
It's a role that has come to define Braff, who has since gone on to appear in "Oz the Great and Powerful," the self-made "Wish I Was Here," and "Alex, Inc." His latest film, "Cheaper By the Dozen," is a reboot of the iconic franchise that started with the 1950 original and includes the early 2000s remake and sequel that starred Steve Martin. This time around, the story involves a multiracial, blended family — the Bakers — that runs a restaurant and sells their own "Hot, Sweet and Savory" sauce. The movie, which also stars Gabrielle Union and Erika Christensen, is now streaming on Disney+.
During an exclusive interview with Looper, Braff dished on what it took to nail all the right moves for an onscreen "Cheaper By the Dozen" dance-off against co-star Timon Kyle Durrett, how it feels to walk in Steve Martin's shoes, and what he'd definitely like to see J.D. doing if a "Scrubs" reunion ever happens.
Zach Braff trained with a 'hip-hop coach' for his big dance scene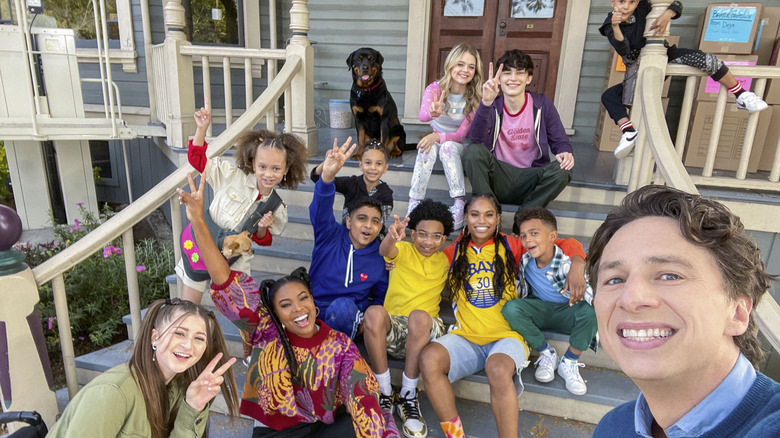 20th Century Studios
After watching the movie, my biggest question for you is: Did you do much training for the dance-off or are those natural moves?
I could not dance at all. I said to the producers, "I need to start early." They sent a hip-hop coach — which, of course, exists in Hollywood — and this amazing choreographer came over my house and she started cranking music, and we were dancing around my gym and feeling it out. Some of that stuff takes practice, like learning the moonwalk. Then, we went into a full two weeks of dance rehearsal for the whole enchilada, with the real professional dancers. Even though we had practiced so much, I was still really nervous when we had to do it in front of all the background [extras] and the crew. I practiced a lot ... The only thing I didn't do is the split, I have to admit. The double did the split because they were like, "Do you think you could do the split?" I was like, "No, no, no. That's going to be the dance double doing the split."
Now, by taking this role, you're going to get a lot of comparisons to Steve Martin. How does it feel to be walking in his shoes, and did his performance influence your performance at all?
To be honest, I didn't see the [2003] film because I was too old to be the target demo for those movies when they came out, and I didn't want to watch them beforehand because he's a comic god to me. I thought I'd be too neurotic in my head if I was trying to emulate him at all. I'm very honored to have the baton passed to me. Our movie is very different, and I think the character is quite different, so I wasn't trying to emulate him at all.
Raising ten kids onscreen hasn't turned him off of being a dad in real life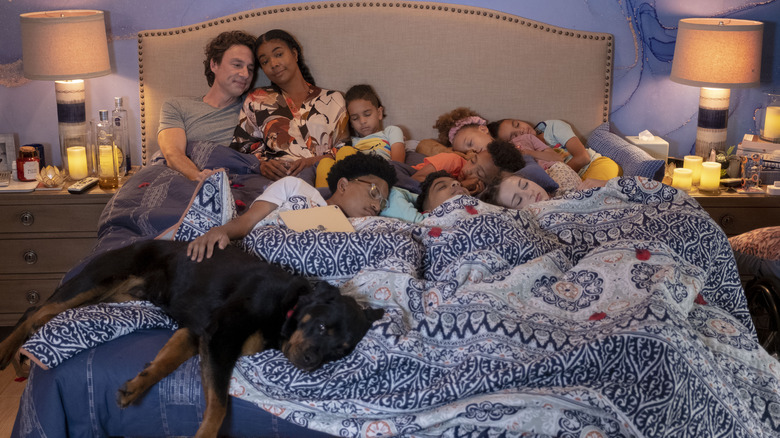 20th Century Studios
What was it like working with Gabrielle Union? Any funny or memorable moments from the set with her?
We bonded. She's so smart. She's such a savvy businesswoman. She was like the mom of the whole set because, while I was over playing with the kids and getting them all riled up, she'd be like, "Hey, everybody calm down. Zach, let's calm him down." She's amazing. I'm in awe of how much she takes on with her family and her businesses and her acting career. She's a real inspiration.
Now, correct me if I'm wrong, but you don't have any kids. How did you get into the spirit of becoming a parent? Where did you draw inspiration from?
I have lots of nieces and nephews that I love having in my life, and friends' kids. I love kids. I'd like to have a few of my own one day, but it's easy for me. I'm a kid myself, probably forever. It comes naturally to me.
He hopes long-running Scrubs joke Dr. Acula sees the light of day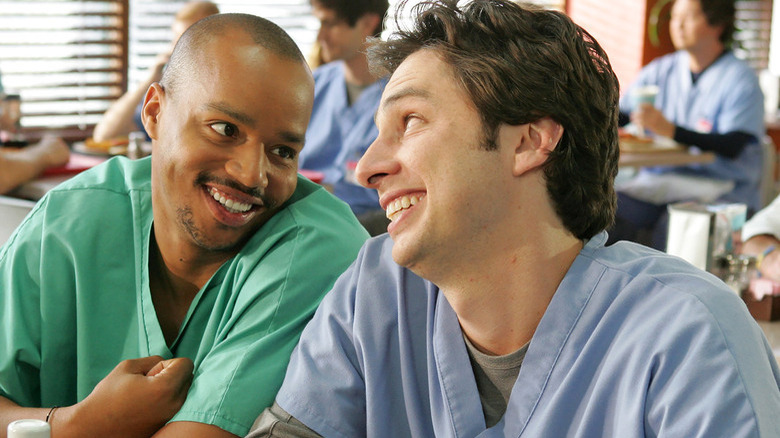 You recently reunited with Donald Faison for a T-Mobile ad, which has everybody in a tizzy about a "Scrubs" reunion. I know everybody asks you about a larger reunion of the series, but let me ask you this: If there was ever a reunion or a reboot, where do you hope J.D. and Turk are in their lives? What would be your dream storyline?
Maybe they're private doctors together. My dream storyline — I always say this every time a reporter asks me — is ... you know how much they wanted to make their independent movie, "Dr. Acula"? My dream is that, somehow, they come into some money and they finally get a chance to execute their lifelong dream of being independent filmmakers and making the "Dr. Acula" Dracula movie. That's one thing I think definitely needs to be in the show.
What do you think J.D. would think of your "Cheaper By the Dozen" character, Paul Baker? Do you see similarities between them?
I think they'd be good friends. I think they'd be buddies. This character is not as goofy. He has some silly aspects, and this movie isn't as broad of a comedy as "Scrubs," but I think that both characters really like to laugh and are dreamers. They're both big dreamers.
"Cheaper By the Dozen" is now streaming exclusively on Disney+.