Is There A New Law And Order: Organized Crime Episode On Tonight? (March 24, 2022)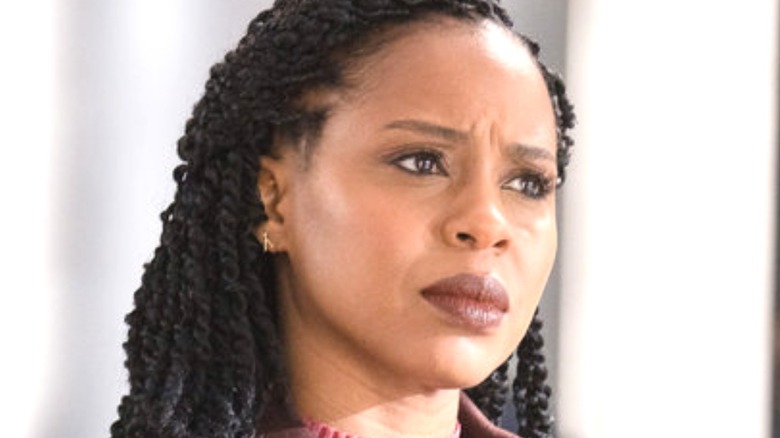 Virginia Sherwood/NBC
Like "NCIS" before it — which began as a spinoff of a military procedural called "JAG" — the original version of long-running legal drama "Law & Order" is similarly eclipsed by spinoff series "Law & Order: Special Victims Unit." In fact, "SVU" is so formidable that it's not only bigger than its progenitor, but most other TV shows, eventually becoming the longest non-animated drama to air on primetime in TV history.
"Law & Order: Organized Crime" is the latest spinoff to join the franchise. At the series' center are Olivia Benson (Mariska Hargitay) and Elliot Stabler (Christopher Meloni), both of whom were previously well-known to viewers of "SVU." In a sense, then, "Organized Crime" is less of an entirely new entry into "Law & Order" canon but a companion series to the already gargantuan "SVU," given that the two shows share some principal characters.
New episodes of "Organized Crime" have aired weekly for much of the time since the show premiered in April of 2021, with its biggest break amounting to just under four months between the end of Season 1 and start of Season 2 (via IMDb). Fans, then, are likely looking forward to continuing certain story threads spotlighted in Season 2, Episode 16 — which aired on March 16 — as soon as possible. However, it turns out regular viewers will have to wait longer than usual for the next new episode to premiere.
There will not be a new episode of Law and Order: Organized Crime on March 24, 2022
According to NBC's online schedule, "Law & Order: Organized Crime" will air in its usual timeslot on Thursday, March 24 at 10 PM. However, the network's synopsis of the episode reads, "Stabler's loyalty is put to the test at work and at home," which vaguely describes events from prior in the season, rather than how viewers might expect Season 2's currently ongoing storylines to continue. NBC's page for "Organized Crime," meanwhile, mentions that the show "returns April 7," confirming both that the episode airing on March 24 is a rerun, and that fans will have to wait two more weeks for Season 2, Episode 17 to premiere.
While three weeks may be a longer wait than usual for habitual "Organized Crime" viewers, the new episode premiering on April 7 will be a big one. Just under a month prior to its airing, NBC announced that it will feature "Special Victims Unit" mainstay and original "Law & Order" (before he was written off the show) cast member Dann Florek as Captain Donald Cragen in a rare appearance since he left the regular "SVU" cast.
Fans can witness Florek's return, which will likewise mark the return of "Organized Crime" from a weeks-long hiatus, when Season 2, Episode 17 airs on April 17 at 10 PM / 9 PM CST.