Is There A New Chicago Fire Episode On Tonight? (March 23, 2022)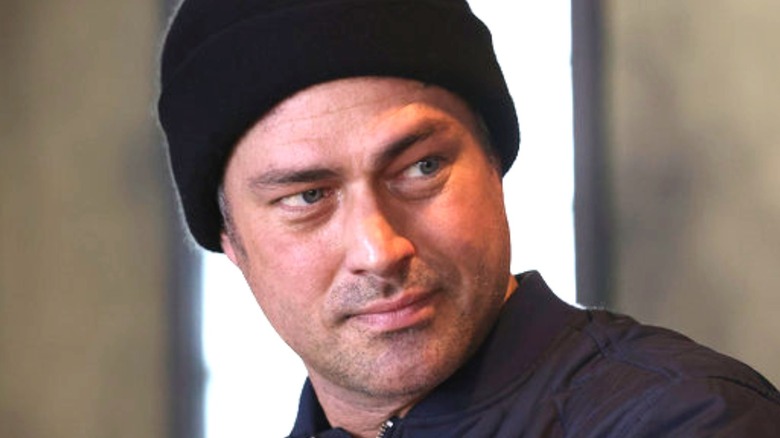 Adrian S. Burrows Sr./NBC
The 10th season of NBC's incredibly popular drama series "Chicago Fire" is currently in full swing, and last week's episode made it clear that this season is heavily focused on the shifting dynamics within Firehouse 51. The episode (which was appropriately titled "Hot and Fast") saw paramedics Violet Mikami (Hanako Greensmith) and Evan Hawkins (Jimmy Nicholas) trying desperately to hide their relationship from the rest of the Chicago Fire Department — to little avail.
The two were spotted sharing a kiss on the job by a nearby ambulance, and it seems their days as a couple could be coming to an end very soon. Meanwhile, firefighter Joe Cruz (Joe Minoso) has seemingly adopted an immigrant boy named Javi (Carlos S. Sanchez). Javi is a victim of an apartment fire whom Cruz saves earlier in the episode, and it's implied by Immigration Services that Javi will have trouble finding a home. By the end of the episode, Mikami's, Cruz's, and Hawkins' futures are all up in the air — which no doubt left many fans waiting with bated breath to see what the next episode will bring for the characters.
Chicago Fire is taking an unprecedented two-week break
Unfortunately, it seems like fans will have to wait a while to find out what happens to the members of Firehouse 51 because there is no new episode of "Chicago Fire" this week. The next episode of the series, titled "Keep You Safe," is set to premiere on April 6, although the reason for this two-week hiatus remains unclear. The series had previously taken a multi-week break to make room for NBC's coverage of the Winter Olympics, and to take another extended break so shortly afterward is certain to ruffle some feathers among the series' more dedicated fans.
What's more, it appears that the entire "One Chicago" franchise will be taking a break alongside "Chicago Fire" since "Chicago Med" and "Chicago P.D." have also had their next episodes pushed back to April 6 (via Reel Chicago). Fans of the entire One Chicago franchise will no doubt be frustrated by the reruns set to come during the next two weeks, especially considering the fact that last week's episode left us worrying about a slew of characters across all three shows. One has to hope that this hiatus will be the last in a season that has been filled with delays and breaks from the very beginning.