The Ending Of Euphoria Season 2 Explained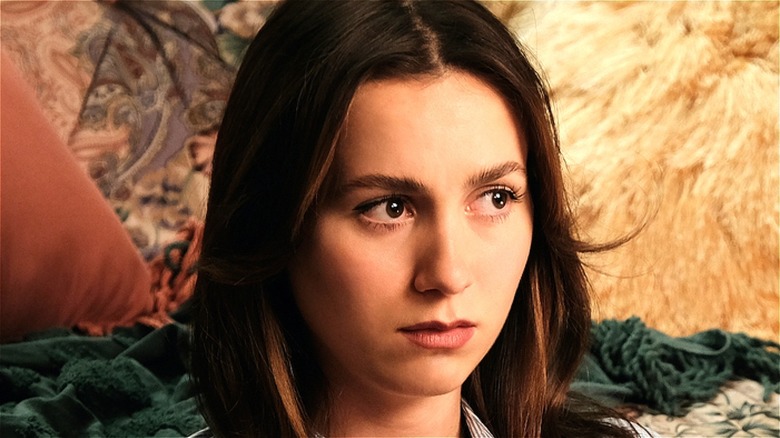 Eddy Chen/HBO
After a long-anticipated arrival, "Euphoria" Season 2 has now met its end. The season sees the growth and downfall of many of its characters as it explores not only the ups and downs of high school, but the ups and downs of trauma and addiction. "Euphoria" is unafraid to explore characters in their best and worst moments. The characters are complex, and therefore, not always perfect. 
The second season takes viewers on a rollercoaster of emotions, with Cassie (Sydney Sweeney) and Nate (Jacob Elordi) sneaking around, Rue (Zendaya) relapsing, Lexi (Maude Apatow) and Fezco's (Angus Cloud) budding romance, and much more drama and tension. All of this culminates in the high school play "Our Life," written and directed by Lexi, which plays out over the season's final two episodes. The play revisits past events of "Euphoria" while also introducing new information from the characters' pasts, as Lexi's play is written about herself and the other main characters from her perspective. 
However, Lexi's play is not the sole focus of the season's closing episodes. Let's take a look at what the characters experience in the season finale, and what it means for "Euphoria" going forward.
Characters are able to patch things up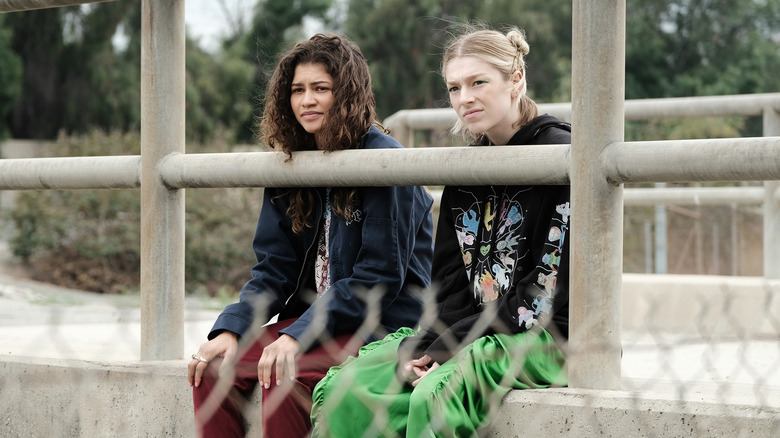 Eddy Chen/HBO
A large plot point of this season is the relationship between Maddy (Alexa Demie) and Cassie, as Cassie starts sleeping with Maddy's abusive ex-boyfriend Nate. This reaches a boiling point when Cassie storms the stage during Lexi's play. Maddy then also jumps on stage and starts beating up Cassie, before the two seemingly reconcile in the school bathroom.
It is unclear whether or not the two are friends again, but they are at least communicating. This shows character growth for Maddy, who previously keeps going back to Nate but has now seemed to move on. There is some development here for Cassie as well. In Season 2, she goes fully off the deep end, destroying her relationship with her best friend just for the attention of a guy. The big confrontation during the play helps her finally see the error of her ways, and going forward, viewers can maybe expect Cassie to focus on herself and practice more self-love.
Another relationship that faces strain in Season 2 is between Rue and Jules (Hunter Schafer) who have a falling out after Jules learns of Rue's relapse. This is brought to her attention by their new friend Elliot (Dominic Fike), who Jules cheats on Rue with. In the finale, however, we see a now sober Rue forgive Elliot and later kiss Jules on the forehead, implying that she has forgiven her as well. Seemingly, the next season will explore Rue's newfound hope in trying to stay clean and sober. Rue's future is not all sunshine and rainbows though, as she still is unaware of Jules cheating and has not paid back drug dealer Laurie (Martha Kelly) for the drugs she's supposed to sell.
Characters face the legal consequences of their actions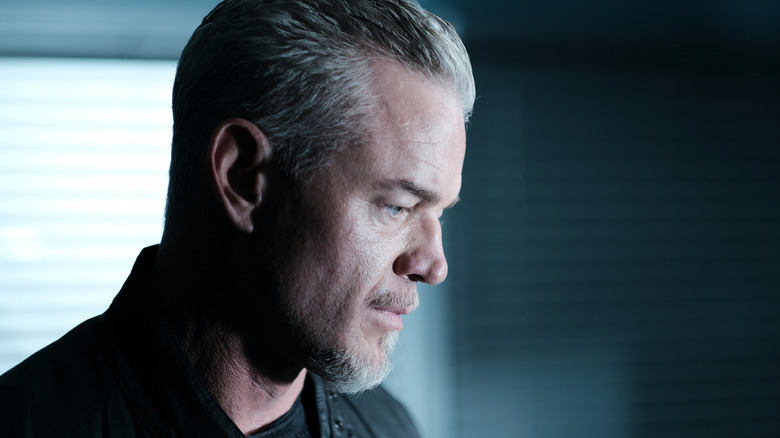 Eddy Chen/HBO
As viewers may recall, Nate's father Cal (Eric Dane) keeps recordings of his sexual encounters, which is highly illegal, and exponentially worsened by the fact that some of these encounters involve underage girls. Thankfully, this storyline meets a satisfying climatic point in the final episode. After leaving Lexi's play, Nate finds his father and the two talk before Nate reveals that he has tipped off the cops about Cal's illegal behavior. This leads to Cal finally being taken by the police. As of now, Nate has faced off against his father and won, but this storyline is bound to be further explored in Season 3, as Jules is among those in Cal's tapes. There is a possibility that this information may leak out now that Cal has been arrested, however, it's possible Jules can avoid that, as Nate gives her the DVD with the recording on it earlier on.
The storyline involving Fezco and Ashtray (Javon Walton) in the finale is probably one of the saddest across the entire show. Earlier in Season 2, Ashtray kills drug dealer Mouse (Meeko) to protect Fezco. In the finale, Custer (Tyler Chase) is at Fezco's apartment wearing a wire, in an attempt to get Fezco's admission to aiding in Mouse's murder. Unfortunately, this doesn't play out well, as Ashtray commits another murder, now killing Custer to protect Fezco. The police then show up, and viewers are left heartbroken as Ashtray shoots a police officer, leading to the police fatally shooting him in return. All the while, Fezco has to watch this go down. In the next season, Fezco's plotline will likely be a bit somber, as he deals with the loss of Ashtray, a boy he essentially raises. 
Characters come into their own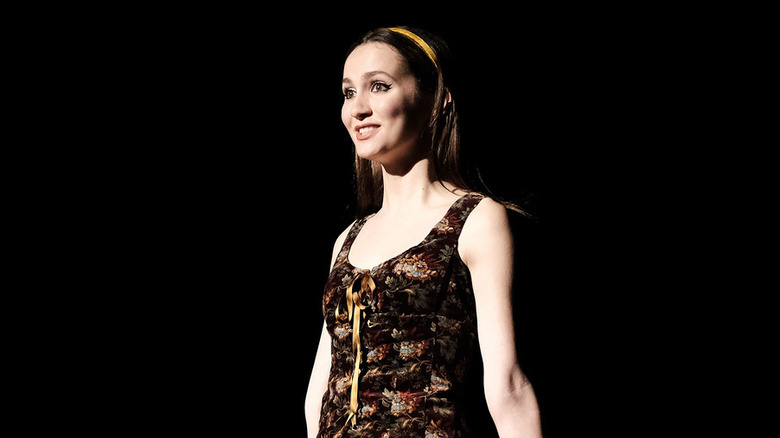 Eddy Chen/HBO
During the finale, Nate storms out of Lexi's play, hurt by a somewhat offensive depiction of his sexuality, which he has been struggling to understand. He calls Lexi's depiction of him "homophobic," which suggests that he isn't necessarily offended by her inclusion of him in the play, nor the possibility of him being attracted to men, but rather, he's offended because it seems that she (and others) are making fun of him for it. This shows character growth for Nate, as it's the first time he openly acknowledges his sexuality in this manner and it might signify some acceptance. 
In particular, Lexi has one of the most interesting character arcs in "Euphoria" Season 2. During Season 1, while being a main cast member, she's still somewhat of a secondary character. Her character growth this season is really beautiful, as she begins to come into her own and find her voice. Viewers see her emerge and gain a whole new sense of confidence. An aid in her journey is the romance brewing between her and Fezco, as he's the first person to not only give her that sort of attention, but give her the time of day and encourage her. 
When the show returns for a third season, Lexi's storyline will probably include the aftermath of her play, since it very openly displays many of the characters' lives. However, Lexi is much more outspoken now, so she will probably be able to handle the backlash, and the character is likely to have a more central role in Season 3. 
Euphoria Season 2 questions all of the characters' morals
A big overarching theme of "Euphoria" Season 2 is the morals of its characters. The show does not claim that any character is perfect, nor a monster, but fans often find the characters questioning whether or not they are a good person. Cassie quite literally questions this, saying in Episode 1, "I don't know if I'm a good person," while Rue's mother Leslie (Nika King) says, "You're not a good person Rue," during their fight after she confronts Rue about her relapse. However, during the final episode's last moments, Rue expresses that she's not sure if she is or can be a good person, but the hope that this is possible is what's keeping her going. This hope will potentially help her hold on to her sobriety.
This topic of morality hits a climax during Lexi's play. Seeing their lives acted out on stage puts a mirror up to many of the characters that they cannot look away from. They are confronted with the harsh reality of who they are, and they now have to deal with these truths. This echoes something Fezco tells Lexi earlier in the season, saying, "Some people need to get their feelings hurt sometimes." This is arguably the biggest theme of "Euphoria" Season 2, and now the characters will have to deal with their baggage and tough choices in the next season.