The Untold Truth Of The Morbius Movie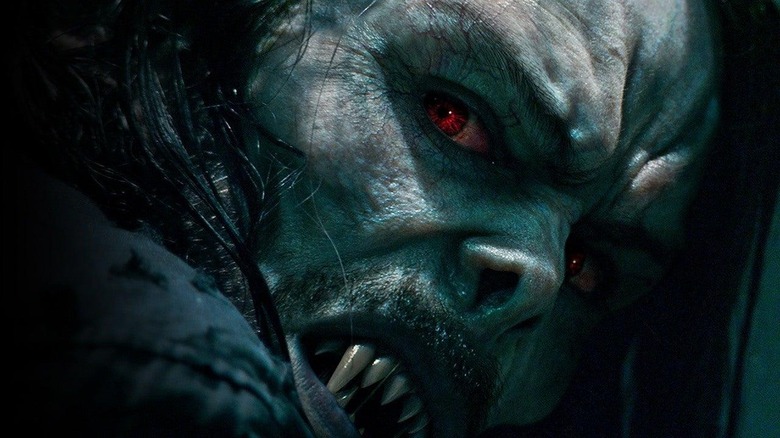 Sony Pictures Releasing
In the wake of the two "Venom" movies solidifying Sony's Spider-Man Universe as a viable enterprise, Sony was bound to do further adaptations of characters from Spider-Man's deep bench of supporting players. This is where "Morbius" comes into play, an adaptation of the vampire character of the same name from Marvel Comics lore. First debuting in "The Amazing Spider-Man" #101 in 1971, the character became popular enough in the comics to spawn his on-again-off-again solo series before also generating appearances in various Marvel-themed video games and animated TV programs. Given the ubiquity of this character, a "Morbius" movie was practically an inevitability, especially with his film rights landing at franchise-hungry Sony.
However, while the popular Morbius character may be well-known by the public, there are lots of facets of his first solo movie that are far less ubiquitous in public discourse. From the earlier Marvel film that Morbius was initially set to premiere in, to the hunt for a "Morbius" director to the real-world people that inspired the lead characters of "Morbius," the pathway to a "Morbius" movie has no shortage of compelling secrets. As Sony's Spider-Man Universe expands further with the introduction of vampires, expand your own knowledge of "Morbius" by taking a bite of the film's untold truth.
Morbius was supposed to be in Blade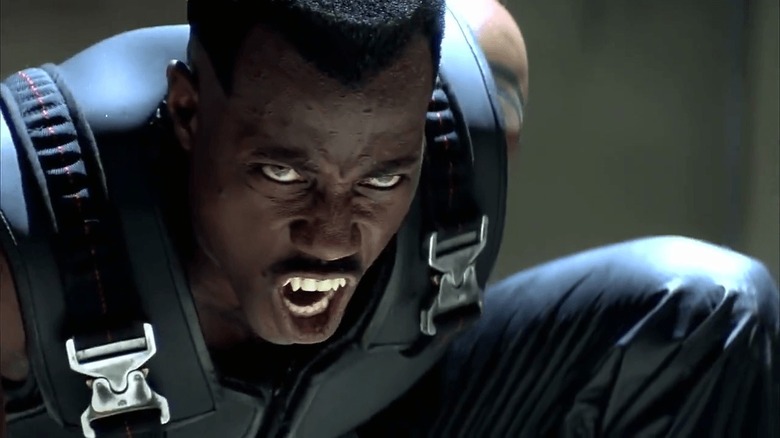 New Line Cinema
Decades before Jared Leto's take on Morbius graced the silver screen, the Living Vampire was meant to debut in a cinematic form in a project headlined by another Marvel vampire mainstay: Blade. While no traces of Morbius existed in the final cut of the 1998 feature "Blade," that doesn't mean the character was always meant to be excluded from this project. Morbius's presence here was originally meant to come in the form of an alternate ending that would've teased a sequel.
As broken down by Bloody Disgusting, a filmed conclusion for "Blade" would've added an extra beat in the titular vampire hunter's final conversation with the character Karen. As the two wrap up their exchange, Karen would observe that Blade is "on the clock" while the camera would then reveal the duo were being watched by a shadowy figure. This individual was none other than Morbius, with this scene indicating that "Blade" was originally planning to tee up the idea of a sequel centered on a showdown between Blade and Morbius. In an extra fun beat, Morbius here was portrayed by "Blade" director Stephen Norrington.
While Norrington was gung-ho about the idea of centering a second "Blade" adventure on this showdown, he eventually left "Blade 2." This allowed Guillermo del Toro to swoop in and take over the production with his ideas, but ended these initial plans to bring Morbius to the big screen.
The unmade Artisan Entertainment Morbius movie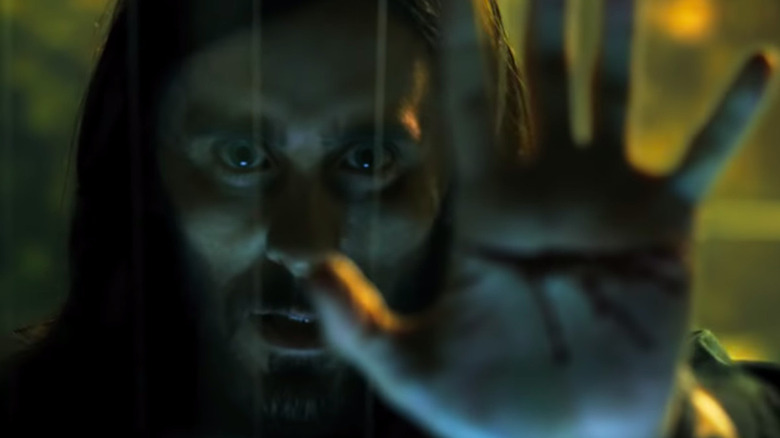 Sony Pictures Releasing
In 2000, Marvel was in a radically different place in terms of its movie ambitions. "Howard the Duck" and the first "Blade" were the only major live-action theatrical releases adapted from widely known Marvel Comics characters, and pivotal adaptations like "Spider-Man" were still years away from existing. In May 2000, two months before "X-Men" would increase the viability of Marvel on the big screen substantially, Variety reported that Marvel had announced a new deal with Artisan Entertainment to produce a slew of movies adapted from its comics.
This deal would give Marvel slightly more control over how its properties got adapted into movies while Artisan Entertainment got a splashy deal with a buzzy media company. Among the many projects announced as being in development for movie theaters through this deal was a feature starring Morbius, the Living Vampire. While the Artisan/Marvel deal would move into various stages of production onto movies starring The Punisher and Iron Fist, there was never any further momentum on this iteration of a "Morbius" movie, including who might write it and what kind of genre it would inhabit. 
Still, the fact that a "Morbius" film was announced in the same press release as prospective solo titles for characters like Captain America and Black Panther indicated that people way back when saw the figure as viable for a big-screen outing.
Jon Watts wanted to use Morbius as a Spider-Man villain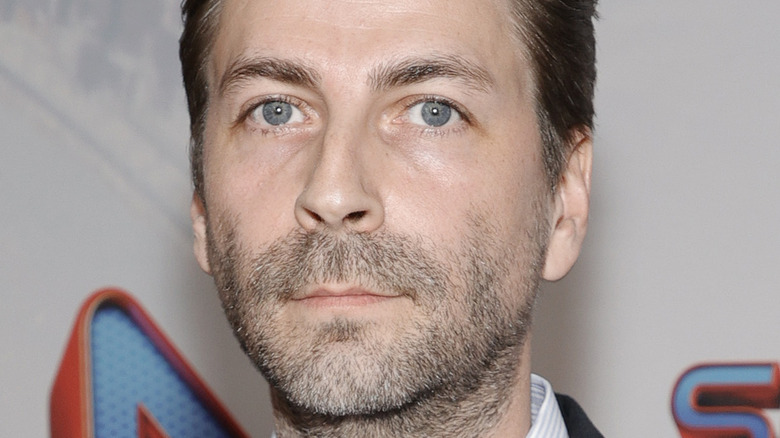 Amy Sussman/Getty Images
With "Spider-Man: Homecoming" working both critically and at the box office in its mission to relaunch Spider-Man as a viable solo superhero star, talks immediately began on a sequel. With this project slated for a July 2019 release date, everyone involved in "Homecoming" had to hit the ground running on getting this project out in time. This meant that the "Homecoming" and eventual "Spider-Man: Far from Home" director Jon Watts was openly discussing his ideas for who could be the villain for the next feature, even while he was promoting "Homecoming."
While talking to We Got This Covered, Watts was asked about the possibility of Spider-Man duking it out with Morbius in his next adventure. While noting that a blood-sucking vampire was a "dark" concept, he also expressed admiration for the vampire side of the Marvel Comics mythos. He also noted that introducing Morbius could be a foolproof way to integrate Blade into a potential "Homecoming" sequel, a concept that Watts seemed quite eager about. Morbius playing into a Tom Holland "Spider-Man" movie would've also allowed these titles to explore territory unexplored in earlier "Spider-Man" features, which never even referenced vampires. 
Of course, Morbius never showed up in "Spider-Man: Far from Home," with Mysterio serving as the central foe of that movie. Still, Watts expressing excitement over the concept of Morbius and Spider-Man going toe-to-toe was a harbinger of this vampire's eventual ascension to big-screen stardom.
Antoine Fuqua almost directed Morbius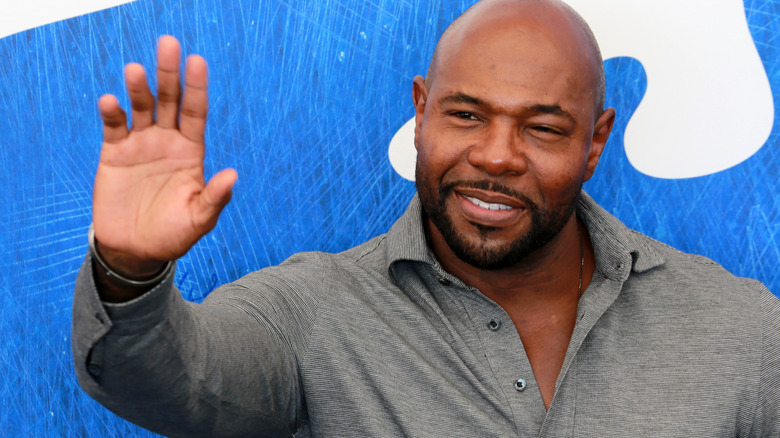 Matteo Chinellato/Shutterstock
Once "Morbius" was finally getting off the ground, it was time for Sony to find a director to handle the project. For this assignment, the studio looked at an eclectic group of artists, including Antoine Fuqua. Though not a household name, Fuqua has been responsible for hit movies ranging from "Training Day" to "Olympus Has Fallen." He's also the director of the "Equalizer" movies, a lucrative franchise for Sony. Already having provided a number of successes for the studio, it's easy to imagine why Fuqua would be eyeballed for a project like "Morbius."
In April 2018, Fuqua referenced his name being in contention for "Morbius" in an interview with JoBlo, where the filmmaker commented that he wasn't officially signed on for the blockbuster. Despite showing interest in "Morbius," Fuqua passed on the opportunity and moved on to other endeavors like "Infinite" and "The Guilty." With this reliable genre movie filmmaker out of contention, Sony returned to its hunt for the perfect "Morbius" director, eventually culminating in Deadline revealing that Daniel Espinosa had gotten the gig.
Karen Gillan convinced Matt Smith to do Morbius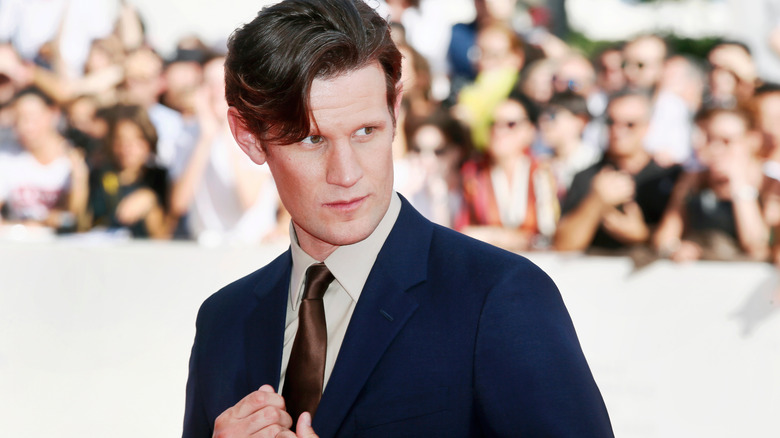 Andrea Raffin/Shutterstock
Matt Smith has not had a great track record with big blockbuster films. For starters, his villainous "Terminator: Genisys" role, initially meant to stretch on for multiple movies, wound up going nowhere once that feature flamed out at the box office. Then, Den of Geek reports, there was the time he was pursued for a big role in "Star Wars: The Rise of Skywalker" before the part disappeared completely. Given how he's been burned so often by these productions, it'd be understandable if Smith turned his back on any further offers to join such costly endeavors. Despite these past experiences, though, Smith ended up joining "Morbius" in the role of Milo, a friend to the titular character who is also suffering from a blood disease.
Smith has often been courted for superhero movie roles, but Milo in "Morbius" was the one that finally grabbed him for multiple reasons, as he explained to the Los Angeles Times. Key among them was a conversation Smith had with former "Doctor Who" co-star Karen Gillan, who has plenty of experience with superhero fare thanks to her time playing Marvel Cinematic Universe staple Nebula. Once Gillan encouraged Smith to embrace the role, the actor felt a lot more comfortable tackling Milo. It also helped that Smith was a fan of "Morbius" director Daniel Espinosa's previous works as a filmmaker. With these elements in play, Smith was gung-ho to return to the world of big blockbuster fare.
Tyrese Gibson's multi-film commitment to his Morbius character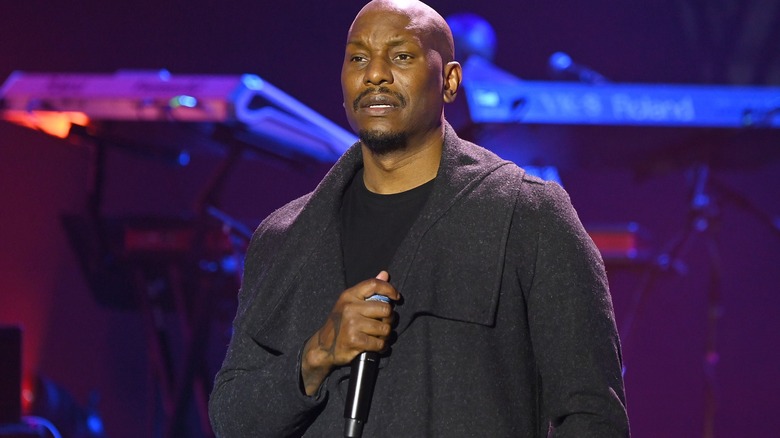 Paras Griffin/Getty Images
Tyrese Gibson is very familiar with both blockbuster movies and the idea of playing a blockbuster character over multiple films. In franchises like "Transformers" and "Fast & Furious," Gibson has shown up to reprise his respective roles on multiple occasions, with the latter series making use of the performer for six separate installments. This makes it no surprise that his "Morbius" role of FBI agent Simon Stroud (a character who originated in the comics) was never planned as a one-off. Gibson has made it apparent that there are expansive plans to follow Stroud over multiple movies across Sony's Spider-Man Universe franchise.
Gibson made this clear in an Instagram post where he announced that he'd joined the "Morbius" cast by clarifying that he was signed on for three separate movies. In a later interview with Maxim, Gibson further expanded on the role by noting that he considered Stroud to be a superhero, a role that excited him since he'd always previously played mere mortal characters in any media related to superheroes. Given that this version of Stroud is as superheroic as the titular lead of "Morbius," it's no wonder Sony would want Gibson around for several movies, nor that this actor would be so visibly excited about this role.
Kurt Cobain inspired this version of Morbius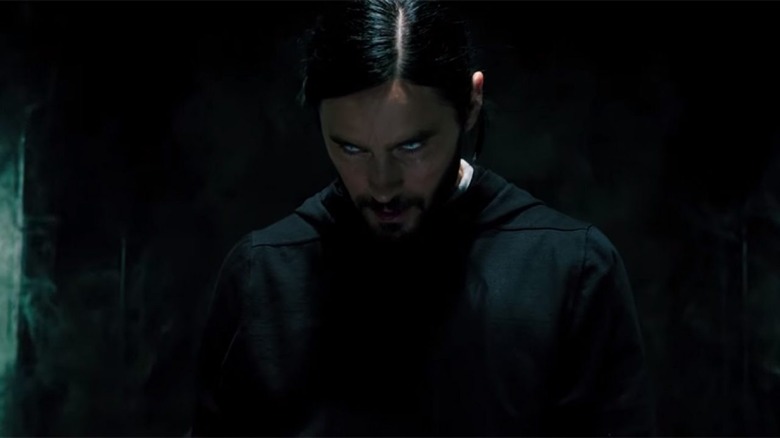 Sony Pictures Releasing
The fact that Morbius isn't as iconic of a Marvel Comics character as Spider-Man or Doctor Octopus may have left some Sony marketers feeling a touch nervous. However, this comparative obscurity meant there was more room for the makers of "Morbius" to exercise their creativity when making this movie. Without dozens of previous "Morbius" movies to live up to nor a global fanbase for the character to worry about enraging, director Daniel Espinosa and company could focus on making the film they wanted to make.
This included their primary creative direction for the character of Morbius, which, as Espinosa revealed, was heavily influenced by musician Kurt Cobain. In the January 2022 issue of Empire magazine, Espisona revealed that he'd always been a fan of Morbius from the comics, and part of that came from the character's attitude, as he was unabashedly himself. Morbius's ability to eschew others' perceptions of him led to Espinosa associating this anti-hero with Cobain, a comparative point that apparently informed the interpretation of Morbius into a live-action film character. It may not be an obvious reference point for this Spider-Man foe, but Espinosa clearly saw Morbius as evoking a "teen spirit" with his similarities to Kurt Cobain.
Adria Arjona's political inspiration for her Morbius character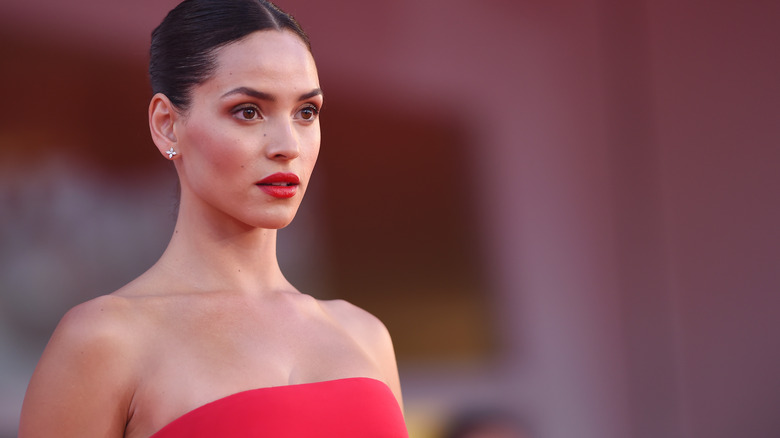 Stefania D'alessandro/Getty Images
Adria Arjona's "Morbius" character Martine Bancroft, the love interest to the film's titular vampire, comes directly from Marvel Comics, where she served the exact same role to that universe's version of Morbius. However, she's not a lastingly famous character and hasn't become a massively important figure in Marvel Comics lore. This meant bringing her to life would require extra inspiration from Arjona, as she couldn't just lean on the source material to give Bancroft personality. As it turns out, Arjona instead found herself molding the character primarily after congresswoman Alexandria Ocasio Cortez.
"I remember seeing an interview with AOC and thinking, everything about her is Martine," Arjona explained, per CBR. "She's youthful, she's fun, she cares about the way she looks, but she cares even more about what goes into her brain. She's passionate; when she speaks, you can tell she's done her research; she's going to be listened to, no matter who is in front of her. So she was my starting point, a nice way to start my engines." She also noted that the fact that Bancroft is so important to Morbius and serves as his "rock" further helped to define her role, while also expressing amusement at how different character was from the performer's naturally "goofy" personality. These qualities all solidified the finer points of a portrayal of a Marvel Comics character that even die-hard fans might not be innately familiar with.
Jared Leto believes Morbius is remisncent of himself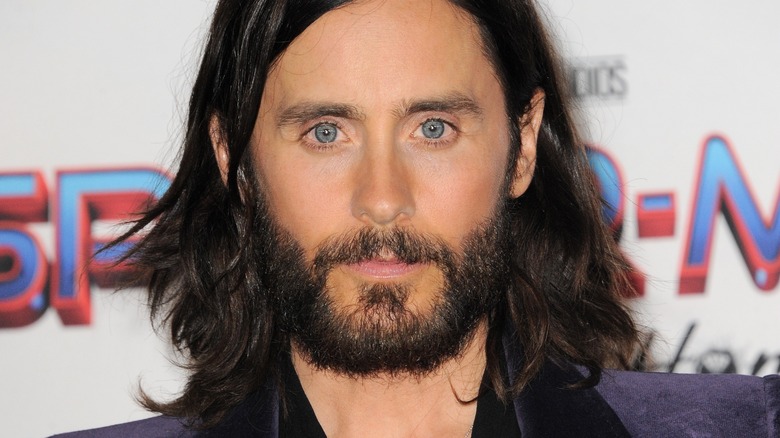 Tinseltown/Shutterstock
Often, Jared Leto portrays characters that are wildly different from who he is as an everyday person. Just think of Leto's "House of Gucci" character, where he donned heavy prosthetics to portray someone that was balding and had an enormous stomach. Ditto his "Suicide Squad" take on the Joker, which required Leto to be covered in tattoos and wear a shiny metal grill on his teeth. For "Morbius," Leto was portraying a vampire who devours human blood, but, surprisingly, this character was the rare one that the actor saw as hewing closer to reality than fiction.
While talking with John David Washington for Variety, Leto mentioned that he found portraying Dr. Michael Morbius a challenge. This was not due to the demands of extreme stunts or prosthetics, but because the character's everyday body language and speaking style were closer to his behavior than the typical roles he plays. Though it may sound strange at first, it does make some sense. The whole point of the Moribus character is for him to be an everyman who eventually can become a ravenous beast. To emphasize that contrast, Leto would have to tone down the heightened touches that defined his "Dallas Buyers Club" performance, among others, in depicting the initial pre-vampire form of Dr. Michael Morbius. This could explain why Leto felt a little more rooted in reality with the lead role of "Morbius" — even if he is playing a blood-sucking superhero.
Why did Jared Harris join Morbius?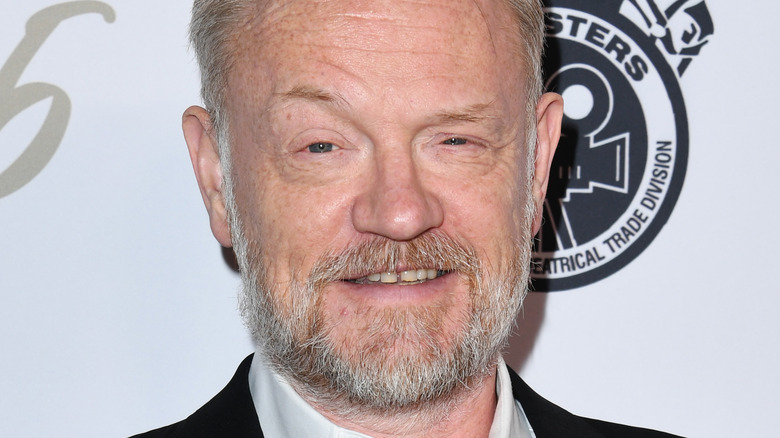 Jon Kopaloff/Getty Images
Jared Harris, who plays Morbius's mentor Emil Nikols, is one of the most prolific figures in the buzzy cast for "Morbius." Harris has been acting for decades and has long been an acclaimed character actor. However, his notoriety has only increased in recent years thanks to his forays into prestige television. The likes of "The Crown," "Foundation," and "Chernobyl" have all afforded Harris an opportunity to not only explore complex characters but also score major awards nominations. Given the kind of projects he's most famous for appearing in, it's understandable to query what brought him around to appearing in a superhero movie starring a vampire.
Speaking to Collider, Harris noted a key reason for joining the project was that he would get to work with Matt Smith again after they collaborated on "The Crown." Having formed a bond during the shooting of that program, Harris was eager to reunite with the former "Doctor Who" leading man. Additionally, comic books had been an integral part of Harris's childhood, including issues featuring Morbius, and they'd instilled in him a fondness for comic book movies. Getting the chance to appear in a production like "Morbius," then, was a natural choice for Harris.
Why Daniel Espinosa was right for Morbius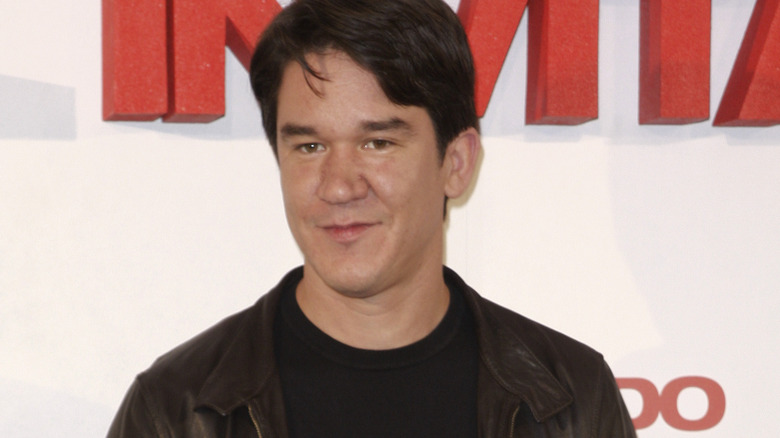 Shelly Wall/Shutterstock
After a long hunt, "Safe House" director Daniel Espinosa was selected to be the director of "Morbius." Variety notes that the filmmaker was coming off his work on another Sony tentpole project, "Life," which ensured that Espinosa was familiar with the studio and the prospect of working in genre cinema heavy on visual effects. Still, given that he's far from a household name, it's understandable to ponder why Espinosa was the right choice for the role.
None other than "Morbius" cast member Jared Harris, though, has championed Espinosa as a perfect person to handle this superhero film. Speaking to Collider, Harris noted that the ideal element for a blockbuster director was to deliver on the spectacle, but to also ground everything in something recognizably human and rooted in everyday emotions. He also observed that committing to delivering something fresh and new was also integral to being an optimal filmmaker in these contexts, and this is another quality that Harris associated with Espinosa. Though Espinosa may not be as familiar of a name to everyday moviegoers as Jordan Peele or Christopher Nolan, Harris' confidence in his abilities to fulfill the obligations of a blockbuster director make it clear why Sony secured him for "Morbius."
The various release dates for Morbius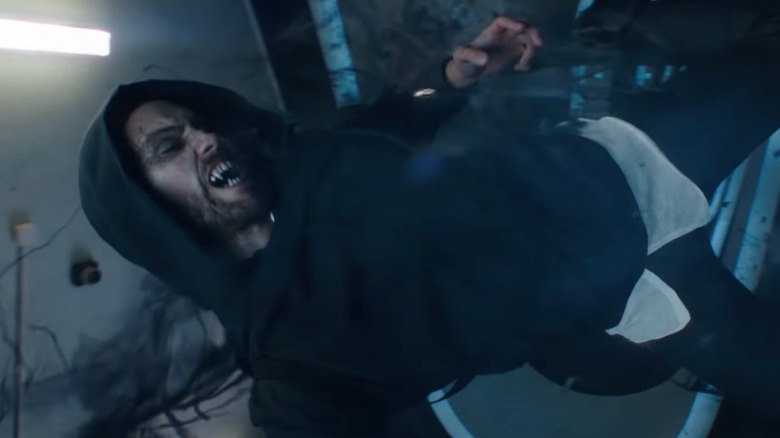 Sony Pictures Releasing
Like many blockbusters released after March 2020, the COVID-19 pandemic has constantly impacted the release date for "Morbius." Initially, Deadline reported that this project was set for a July 31, 2020 date. This slot would've put in the July month that worked out so well for the first two Tom Holland "Spider-Man" movies, while also giving it the end of summer corridor that aided the box office runs of "Guardians of the Galaxy" and "Suicide Squad." A few weeks into the pandemic, though, The Hollywood Reporter revealed that Sony had delayed the project to March 19, 2021. Eventually, before the start of 2021, "Morbius" was further postponed to October 8, 2021.
The latter date situated the title for an early October launch, the same corridor used to great effect for the massive box office run of "Venom" in 2018. However, this would never come to pass, as Sony would quickly delay "Morbius" further by giving it a January 2022 date, per Screen Rant. This already pushed the feature a whopping 18 months after its original release date and ensured it would be released well after Sony projects like "Venom: Let There Be Carnage" that started principal photography long after "Morbius." This Jared Leto star vehicle would get one final delay just three weeks before its planned January 2022 bow, when Deadline announced that "Morbius" would go out on its eventual final release date of April 1, 2022. With that, the release date saga for "Morbius" came to a close.