The Best Sam Elliott Movie Of All Time According To IMDB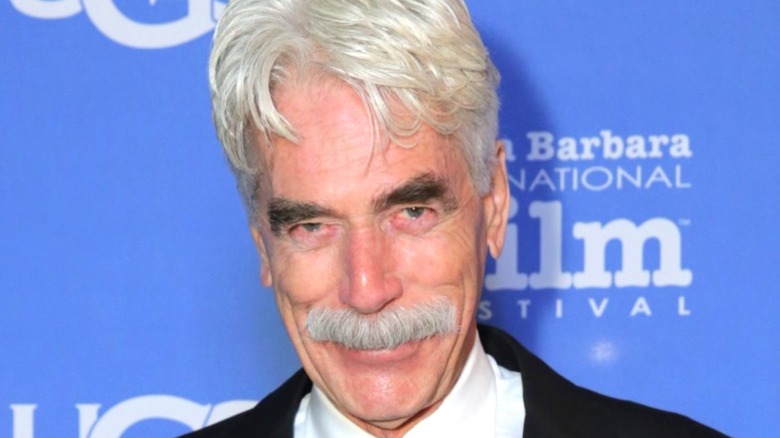 Rebecca Sapp/Getty
Veteran screen actor Sam Elliott's most recent role was playing Shea Brennan, the beleaguered guide tasked with leading a group of European immigrants from Texas to Oregon on "1883." After Brennan's wife and daughter die of smallpox, he embarks on the journey that chronicles how Yellowstone ranch owner John Dutton's (Kevin Costner) ancestors make their way to Montana, hoping to get one last look at the Pacific Ocean before committing suicide.
Elliott's acting career spans five decades and includes one Oscar nod and two Emmy nominations. In addition to "1883," his TV credits include the Netflix series "The Ranch" (which he also produced) and "Grace and Frankie," as well as FX's "Justified," and Peacock's "MacGruber." Elliott's film resume includes "Road House," "Tombstone," "Ghost Rider," "Up in the Air," and "A Star Is Born."
The 77-year-old actor's acting resume is comprised of everything from TV movies and miniseries to family-friendly-fare to animated features. While fans are sure to have a favorite Elliott film, IMDb ranks one movie as his best of all time.
IMDb ranks The Big Lebowski as Sam Elliott's best film of all time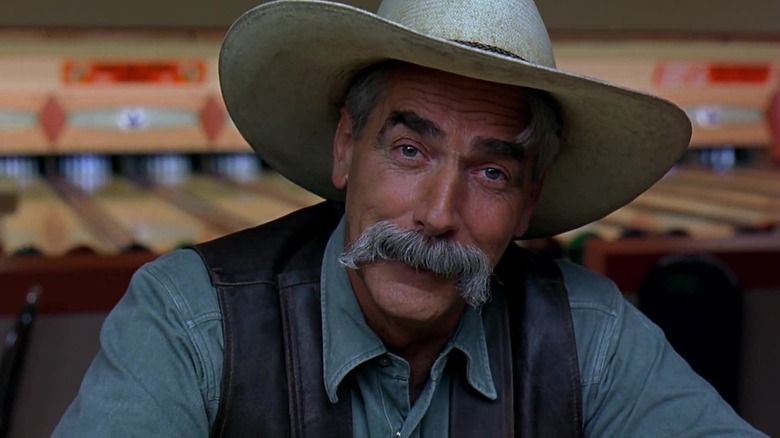 Universal Studios
According to IMDb, "The Big Lebowski" is the best Sam Elliott movie of all time. The crime comedy, directed by Joel and Ethan Coen ("Raising Arizona," "Fargo"), also stars Jeff Bridges, John Goodman, Julianne Moore, Steve Buscemi, and Philip Seymour Hoffman.
The movie chronicles the misadventures of Bridges' "The Dude," a man with a passion for bowling and White Russians. A case of mistaken identity and the pursuit of a new rug thrusts The Dude into a world inhabited by inept criminals and a kidnapping scheme gone awry. Elliott plays "The Stranger," a cowboy type who serves as the movie's narrator. Although "The Big Lebowski" was a box office disappointment, grossing just under $47 million worldwide (via Box Office Mojo). It was a critical success (the movie has an 83% approval rating among critics on Rotten Tomatoes), and in the years following its 1998 release, the film has become a cult classic.
In a 2019 interview with Entertainment Weekly, Elliott recalled that when the script for "The Big Lebowski" came his way, he "was never going to be thought of as anything else other than a laconic cowboy." Elliott felt "boxed in." However, Elliott walked away from the experience with a different perspective. "So, I went from feeling boxed-in, into just realizing how thankful I was that that was the box I was in, because it just led to all this other great work," he told Entertainment Weekly.