How Jesse Lee Soffer Got Ripped To Play Jay Halstead On Chicago P.D.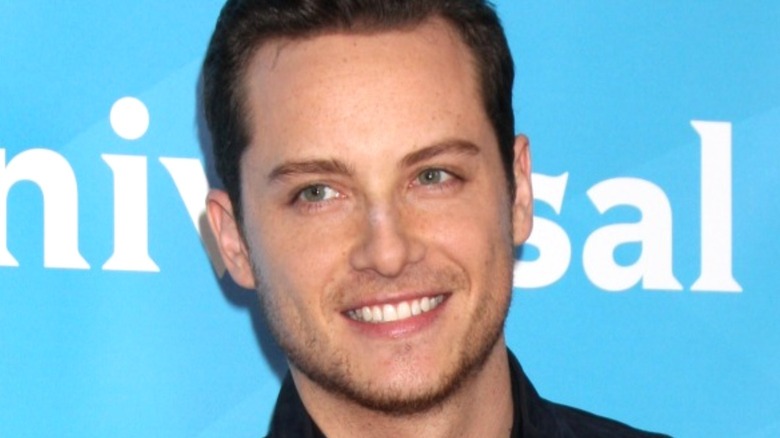 Kathy Hutchins/Shutterstock
Jesse Lee Soffer has been part of Dick Wolf's "Chicago" franchise since he first appeared in the Season 2 premiere of "Chicago Fire" in September 2013 as police officer Jay Halstead. When "Chicago P.D." aired as the first spin-off of "Chicago Fire" just a few months after Soffer's first episode, the actor went with it, taking the Halstead character to "Chicago P.D." as a detective with the 21st District's intelligence unit. Since the police procedural series first aired, Soffer and Halstead have been integral parts of the "Chicago" universe. He has appeared in 180 "Chicago P.D." episodes, dozens of crossover episodes with "Chicago Fire" and "Chicago Med," and Halstead even crossed over into two "Law and Order: SVU" episodes in 2014 and 2015 (via IMDb).
Soffer is an athletic actor and likes to do as many of his own stunts as production will allow him to: he once told DuJour Magazine that he was allowed to use live shotgun ammunition to shoot the hinges off a door, and said he would go as far as to flip a car in a chase sequence if NBC and "Chicago P.D." producers would let him. The "Chicago" television universe is certainly action-packed; as Soffer told DuJour, minor injuries to cast members and stunt doubles are not uncommon. Fortunately, Soffer knows how to act the part and actually look it due to a strict physical exercise regimen.
Jesse Lee Soffer says his lifting routine puts all food 'on the green-light list'
Jesse Lee Soffer told Men's Journal that he works out and lifts weights at the Performance Training Systems gym in Chicago at least three times a week. Specifically, the 37-year-old actor said he deadlifts, squats, and pushes a weighted sled at the end of each workout, utilizing what he calls a "5/10/15 program": completing five repetitions of an exercise at a heavy weight, 10 reps at a medium weight, and 15 on a lighter weight. These lifting routines are taxing on the body; Soffer noted that he can "barely get through it."
Of course, most people simply cannot maintain this kind of exercise routine if they do not eat enough to allow for such a high rate of calories burned. This works out well for Sommer, who notes that he wants to look "like a guy who eats steak and potatoes" in order to look the part of a Chicago police officer. He told Men's Journal that "everything is on the green-light list," when it comes to his diet.
"I try to stay away from carbs, but it can get cold in Chicago, and some sort of fettuccine Bolognese is right up my alley," he said "That's why I try to get to the gym as much as possible!"
Soffer told Men's Journal he was quite the athlete growing up. He played soccer, basketball, and rowing crew while he attended Connecticut boarding school the Gunnery, but never focused primarily on building muscle until he took the "Chicago P.D." role.