Who Plays Philipa On Bridgerton?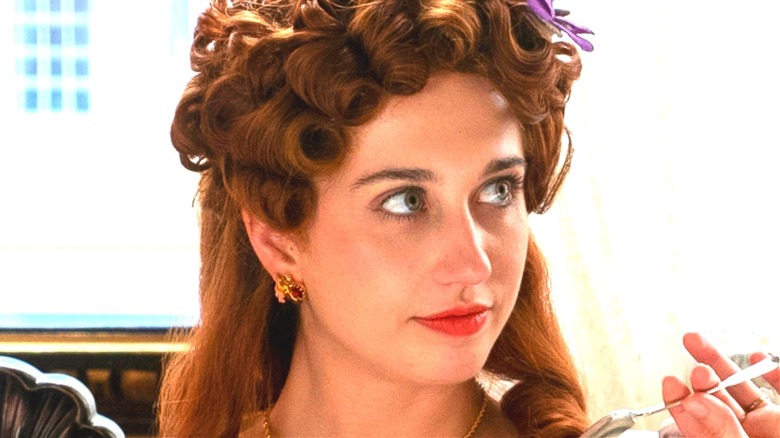 Liam Daniel/Netflix
"Bridgerton" has quickly become one of the most popular shows on Netflix. In fact, according to Complex, "Bridgerton" is the second-most-watched show on the streamer, following only behind last year's smash hit release, "Squid Game." The show is based on Julia Quinn's series of novels and is a romantic drama chronicling the romantic lives of its lead characters in Regency-era London. Beyond that, however, the show incorporates an added twist by setting its story in an alternate, racially-integrated version of the real-life history that it depicts.
Much of the popularity of "Bridgerton" can likely be traced back to its endlessly charismatic and diverse cast of characters. With that in mind, one notable personality on the show who consistently stands out is that if Philippa Featherington. Philippa is the middle daughter of the Featherington family who engages in courtship with Albion Finch (Lorn MacDonald). Though she's a fan-favorite character on the show, not all viewers knows who actually plays Philippa on "Bridgerton." With that in mind, it's the time to take a look at the actress who brings this character to life.
Bridgerton's Philipa is portrayed by Hariet Cains
Philippa Featherington from "Bridgerton" is portrayed by English actress Harriet Cains. At 28 years old, Cains originally hails from Nottingham, England, where she trained during her younger years (per LeftLion). She has been working professionally as an actress since 2012 with an IMDb credits list consisting of 13 total roles, with her first on-screen role in the short film "Human Beings. As of early 2022, her roles have been primarily focused in the television world, with no major Hollywood features to her name.
"Bridgerton" is arguably the most prominent role that Harriet Cains has taken on thus far in her career. That said, she has worked on some other major projects in addition to the Netflix hit. Other significant credits on Cain's resume include "Hollyoaks Later," on which she appeared in four total episodes, as well as her role as Jem Walker on "In the Flesh," her role as Louisa on "Safe House," and her performance as Jade in "Line of Duty."