The Best Time Eddie Cahill Broke Character On CSI: New York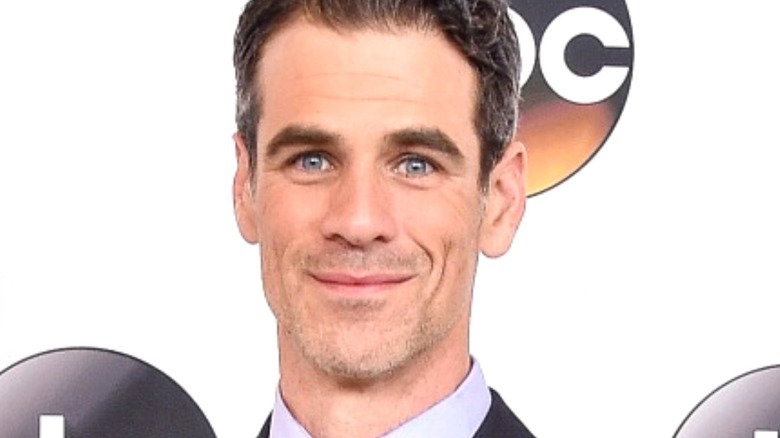 Mike Windle/Getty
Considering the gruesome murders that are at the center of most episodes of the "CSI" franchise, one might picture gloomy cast and crews putting the crime procedurals together, but sometimes a good laugh is what we all need, no matter what's being discussed. The "CSI" franchise continues to this day with "CSI: Vegas," a sequel the original series, but the spin-off shows "CSI: Miami" and "CSI: NY" also managed to make a splash during their respective 10 season runs on CBS. 
While "CSI: Miami" took a larger-than-life approach to the world of crimes and centered on David Caruso's bizarre, but endlessly appealing role as Detective Horatio Caine. "CSI: NY" had an equal heavyweight leading its cast with Gary Sinise, but also plenty of other colorful characters rounded out the team, many of them displaying a short New York attitude and grit that helped the show stand out from its sunnier neighbors in Miami and Las Vegas. And certainly, one of the signature characters on "CSI: NY" and one of the funniest was Don Flack (Eddie Cahill). 
The New York cop was never caught speechless and had a sureness needed for his particular personality. It was a specific type of character, and Cahill clearly had fun playing him, breaking character plenty of times during production of the show — with the best blooper coming during what was supposed to be a serious interrogation in Season 9. 
Eddie Cahill broke character while interrogating a suspect
"CSI: NY" fans not only have 10 seasons of material to go through today, but plenty of extra material too giving a glimpse at the behind the scenes making of the series, including gag reels. A blooper reel for Season 9 contains plenty of laughs, but the best from Cahill comes as he and Detective Mac Taylor (Gary Sinise) are questioning a suspect. Cahill makes a move that would be very fitting for his character, attempting to slam a file down on the table between him and the suspect ... except the file completely misses the table. 
After a moment of silence, Cahill sums up his move after nine seasons as the character by saying, "Well, that sucked." He, Sinise, and the rest of the crew immediately break out in laughter. 
Cahill is arguably still best known for his time on "CSI: NY," but he hasn't been wanting for work since the series ended. The actor has appeared in numerous shows, many of them even for his former home of CBS, including "Hawaii Five-0," "NCIS: New Orleans," and "Under the Dome." "CSI: NY" lead Sinise has meanwhile slowed down his acting output, focusing primarily on his charity work on behalf of veterans through the Gary Sinise Foundation. He did, however, lead the short-lived "Criminal Minds: Beyond Borders" and made recent supporting turns in the film "Joe Bell" and Netflix series "13 Reasons Why."