The Best Time Andrew Garfield Broke Character In Spider-Man: No Way Home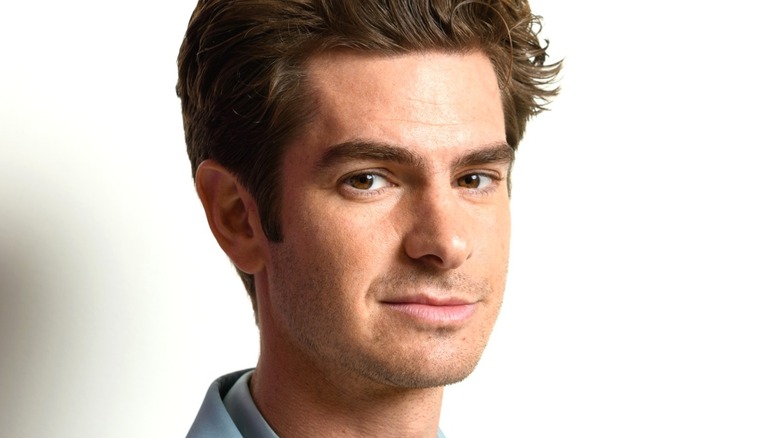 Amanda Edwards/Getty
The cat is finally out of the bag, with most fans now knowing that Andrew Garfield and Tobey Maguire reprise their roles as Spider-Man in "Spider-Man: No Way Home." The two friendly neighborhood Spider-Mans join forces with Tom Holland's Spider-Man to defeat villains of Spider-Man past and restore order to the multiverse. The Marvel film has been met with overwhelming fan support and critical acclaim with it still taking up the number 2 spot on IMDB's Top 250, only recently being dethroned from number 1 by "The Batman." Rotten Tomatoes has not only dubbed the movie "certified fresh," but "Spider-Man: No Way Home" impressively sits at a 93% score from critics and a 98% score from fans.
Marvel movies are packed with action and a healthy dosage of heart and humor to counteract the intensity of what's happening on screen. With those elements, it wouldn't be surprising for bloopers to spawn out of action scene mishaps and failure to deliver comedic lines. That is exactly what happened with Garfield on the set of "Spider-Man: No Way Home." Here is the best time Andrew Garfield broke character in "Spider-Man: No Way Home."
Andrew Garfield goofed around with Tobey Maguire
In a blooper reel, Andrew Garfield can be seen goofing around on the set of "Spider-Man: No Way Home." The main victim of his comedic antics is fellow wall-crawler Tobey Maguire. At the beginning of the video, we see Maguire standing on set in front of a blue screen seemingly ready to film the final face-off between the Spider-Mans and their villains. Garfield slowly enters the shot from behind Maguire, sweetly wrapping his arms around Maguire. The crew and the two Spideys start to laugh as Garfield pulls away from Maguire.
This is not the only moment of Garfield fooling around with Maguire caught on camera. The last clip of the reel shows the two friendly neighborhood heroes standing next to each other filming a scene. Maguire looks visibly concerned as he still seems to be wrapped up in the scene. Garfield however, stares at Maguire breathing extremely heavily almost as if he's angry or hyperventilating. Then, the actor then breaks character and starts laughing. Garfield is apparently quite the comedian on set. The rest of the blooper reel shows more fun slip-ups like Garfield dropping his Spider-Man mask mid-scene and Tom Holland trying not to laugh delivering lines. It looks like the three Spider-Mans had a great time together on set.