The Legendary Actor Who Inspired Stewie's Voice On Family Guy
An infant supervillain often armed with laser guns and dastardly plans to kill his mother Lois (Alex Borstein), Stewie Griffin (Seth MacFarlane) became the breakout character of the series when "Family Guy" premiered in 1999 on Fox. Stewie is fiendishly intelligent, able to invent new technologies and manipulate his family members, but he's often stymied by his size and status as a developing baby. Over the course of the long-running animated sitcom, Stewie's ambiguous sexuality becomes more of a character trait, and he also forms an unlikely love-hate bond with Griffin dog Brian (MacFarlane), in part because they're smarter than the other Griffins. In "Brian and Stewie," both characters even admit that they do love each other as good friends. 
In a 2010 Paley Center interview, host Bill Maher observed that Brian's voice requires the least vocal performance work from MacFarlane, but Stewie needs a different inflection entirely from MacFarlane's smooth baritone. Here's more about the famous stage and screen actor who helped to inspire Stewie's clipped English accent.
Rex Harrison is one of the sources for Stewie Griffin's voice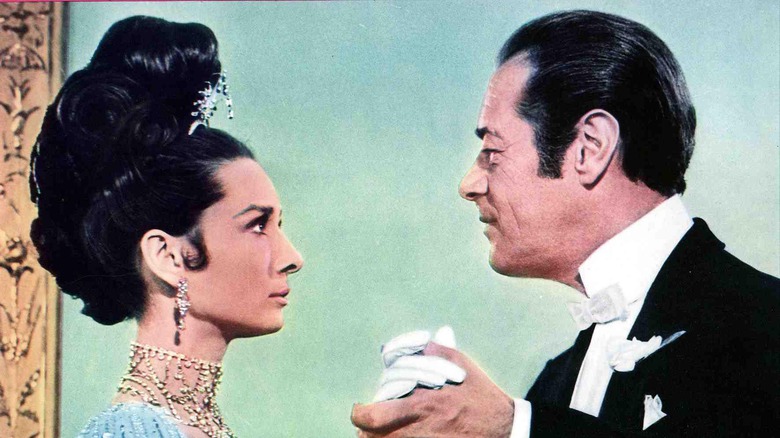 United Archives/Getty Images
Seth MacFarlane told Maher in 2010 that as "a big musical fan," English actor Rex Harrison playing the fussy, demanding Professor Henry Higgins in "My Fair Lady" was always a standout role to him. A Tony and Academy Award winner for playing Higgins on both stage and screen, Harrison also appeared in films like "Cleopatra," "The Ghost and Mrs. Muir," and the title role of "Doctor Doolittle." As MacFarlane points out, Harrison was also, like Stewie, closeted, later inspiring one of the character's more famous lines.
The future "Ted" star and director said that "in college, I had ... worked up an impression of Rex Harrison in order to get girls." MacFarlane's impersonation then became the basis for the voice of Stewie Griffin when he developed "Family Guy." "There was something about [Harrison] that I found amusing and ridiculous," MacFarlane told Fresh Air in 2012, "and so I came up with the idea to put Rex Harrison's voice in the body of this baby. And thus Stewie was born." 
Stranger inspirations for animated sitcoms have happened though. After all, few people know after all that "Simpsons" creator Matt Groening named Homer after a character in the Nathaniel West novel "The Day of the Locust" (via Smithsonian).