What You Likely Never Noticed About Isabel May's Makeup In 1883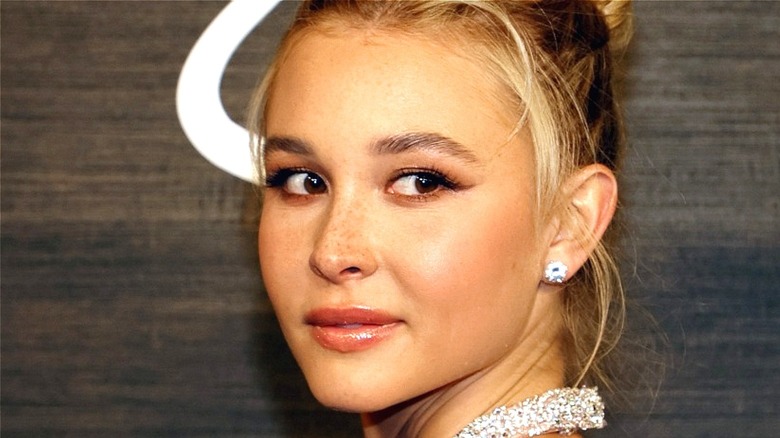 Ethan Miller/Getty
Actress Isabel May plays Elsa Dutton on "1883." The prequel to Taylor Sheridan's "Yellowstone" chronicles how John Dutton's (Kevin Costner) ancestors make their way from Texas to Montana during the Great Westward Expansion. James Dutton (Tim McGraw), his wife Margaret (Faith Hill), son John (Audie Rick), and daughter Elsa join a wagon train comprised of European immigrants led by Shea Brennan (Sam Elliott) and Thomas (LaMonica Garrett).
The series, narrated by Elsa, chronicles the settlers' hardships as they journey along the Oregon Trail. In an interview with The Hollywood Reporter, McGraw stated that Sheridan is "a stickler for authenticity." The writer-producer-creator paid meticulous attention to every detail from how the actors rode their horses to set design and costumes. The shoot was a grueling one, and Sheridan told Deadline, getting "1883" to the small screen "involved running multiple editorial teams, 24 hours a day, seven days a week."
Throughout the series, the central characters undergo emotional transformations and physical ones that reflect the harsh living conditions travelers endured for the months-long westward journey. While most TV stars get the perks of a professional hair and makeup team, May revealed her experience on set was very different.
Isabel May didn't wear any makeup while shooting 1883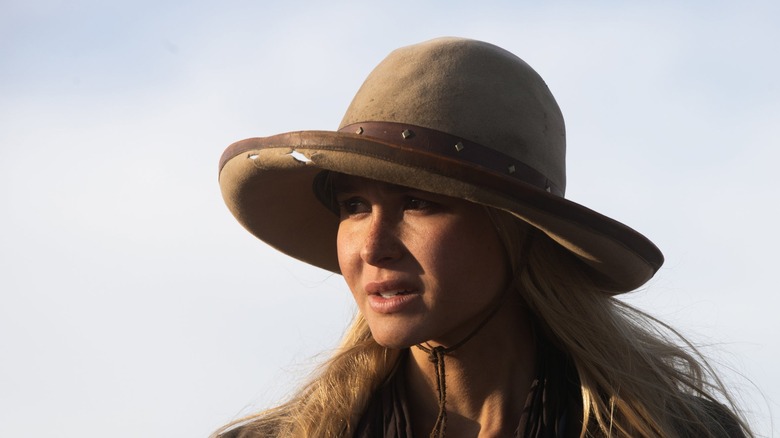 Paramount+
Isabel May told Town and County that shooting during "1883" was anything but glamorous. "We don't wear makeup. We wear dirt. It's like a natural contour. I'm just going to start wearing dirt everywhere I go." However, unlike many young starlets who may complain about the lack of a glam squad, she felt not worrying about her appearance was a positive experience. It allowed her to focus on her performance. "You don't care what you look like. There's none of that ridiculousness, you're just fully invested," May said.
May also wore her underarm hair with pride. "Taylor said from the very beginning, 'I want everything to be authentic.' I mean, women didn't start shaving until the 1920s. He really wanted that to be an aspect of the show, and so I was more than happy to oblige," she said.
There was at least one downside to late 19th-century hygiene. The cast and crew filmed in Texas in triple-digit heat, and May admitted she didn't smell "great," and since she had "never sweated that profusely," the up and comer kept a bottle of deodorant at the ready