This Look At Anya Taylor-Joy As Harley Quinn Is Stunning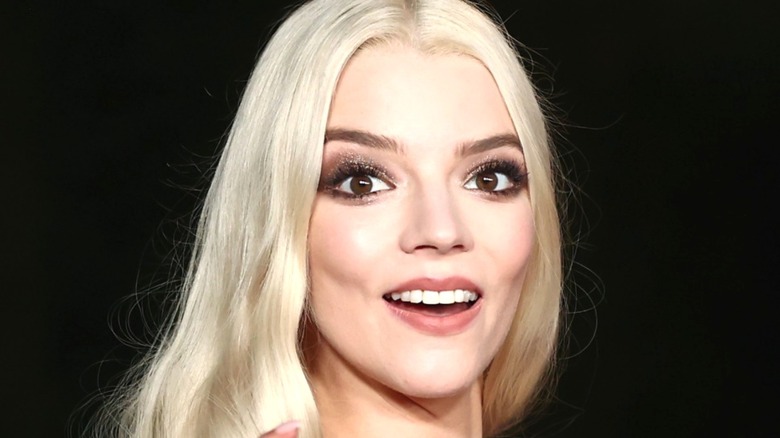 Matt Winkelmeyer/Getty
Sometimes it's fun to imagine what your favorite actor would look like if they took on a famous role. If you've ever imagined Jon Bernthal as Harvey Dent, AKA Two-Face, or speculated about what Carnage might look like months before the 2021 "Venom" sequel, "Venom: Let There Be Carnage," was released in theaters, then you know what it's like to want to see a certain performer in a specific comic book role. Fortunately, there are pieces of fan art online capable of scratching that narrative itch, and that includes images of different actors as one of DC Comics' most iconic characters, Harley Quinn.
Of course, Harley is a comic book character who has been brought to life in live-action form multiple times in recent years by none other than "I, Tonya" star Margot Robbie. After debuting in the role in 2016's "Suicide Squad," Robbie has since appeared as Harley in both 2020's "Birds of Prey (and the Fantabulous Emancipation of One Harley Quinn)" and 2021's "The Suicide Squad," and there's no reason to believe any actor will be replacing her as the character anytime soon.
However, just because Harley Quinn is one of the many beloved comic book characters who actually is currently being played by an actor, that doesn't mean it isn't still fun for fans to speculate about what other performers could bring to the role, such as Florence Pugh, Kiernan Shipka, Dove Cameron, or Chloë Grace Moretz. In this case, one fan on Instagram has transformed none other than Anya Taylor-Joy ("The Queen's Gambit," "The Witch,") into Dr. Harleen Quinzel, and the end result is quite a stunning work of art.
Anya Taylor-Joy could definitely pull off Harley Quinn's look
The above piece of fan art was created by elilusionista.cl, a digital artist who works in multiple mediums, including photography, digital photo manipulations, and traditional art. They are also a tattoo artist. In this instance, their portrait of Anya Taylor-Joy as Harley Quinn, per the images they've included in their Instagram post, is a digital manipulation of a red carpet photo of the actor.
The fan art shows Taylor-Joy covered in Quinn's iconic white face paint with red and blue eyeshadow, while a single tear smears the makeup under her left eye. Quinn's signature black-and-white ruffled costume is also visible in the frame, along with one of her black leather gloves. Over her head, a red neon crown hovers. Meanwhile, barely visible in the background is a pattern of laughter colored in different shades of red and purple.
All of which is to say that the image does a compelling job of selling Taylor-Joy as someone who could play a believable Harley Quinn on-screen. Whether or not that will ever actually happen is, of course, a total mystery. However, if she were to ever play the DC Comics character in a film or TV series, it wouldn't be the first time that Anya Taylor-Joy has stepped foot in the comic book movie genre.
Anya Taylor-Joy has a history of playing iconic characters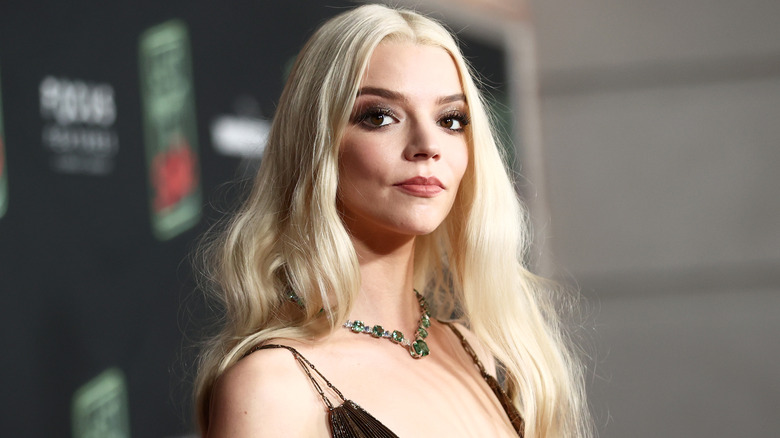 Matt Winkelmeyer/Getty Images
Anya Taylor-Joy made her first foray into the superhero genre when she played Illyana Rasputin AKA Magik in 2020's "New Mutants." While the film itself was not quite as well-received as some of her other projects have been (via Rotten Tomatoes), it didn't steer her away from the world of blockbuster filmmaking. As a matter of fact, Taylor-Joy is currently set to play a younger version of Charlize Theron's Furiosa in a "Mad Max: Fury Road" prequel film centered on the beloved character.
In other words, Anya Taylor-Joy definitely isn't an actor who is afraid of taking on iconic roles, which means there's always a chance that she could try her hand at playing Harley Quinn one day. The offer would, of course, have to be right for that to happen, and one has to assume that's something Warner Bros. would only ever consider doing after Margot Robbie has stepped away from the role. Fortunately for fans of Robbie's Harley Quinn, it doesn't look like they need to worry about that happening anytime in the near future.
However, director Matt Reeves has officially kickstarted a new DC Comics film franchise for Warner Bros. with "The Batman," a movie that is set in a different reality than the DCEU that Robbie's Harley Quinn operates within. Reeves' film does also confirm that a version of The Joker (Barry Keoghan) already exists in the world of "The Batman," so the door has been opened for Reeves to introduce a version of Harley Quinn in a future sequel or spin-off TV show. If he does ever decide to do that, Anya Taylor-Joy is certainly someone worth considering for the role, as this piece of fan art proves.