Domee Shi And Lindsey Collins On Disney And Pixar's Openness To Turning Red's Discussion Of Magical Puberty - Exclusive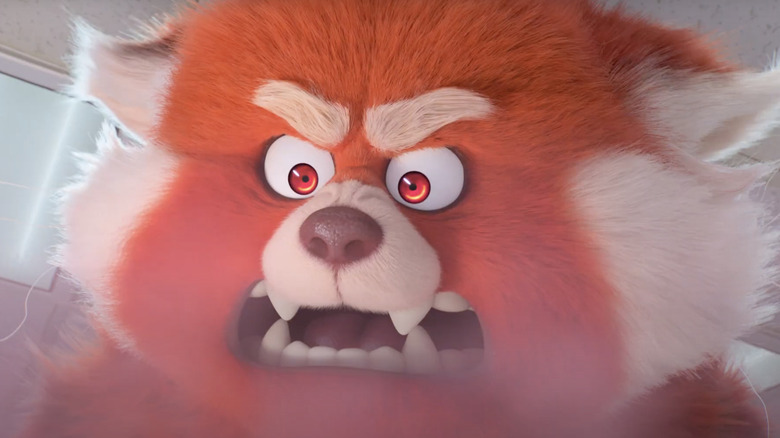 Pixar/Walt Disney Pictures Motion Pictures
Pixar's "Turning Red" breaks the mold in several refreshing ways. For starters, it has a woman-led creative team helmed by director and co-writer Domee Shi. She's joined by Julia Cho, who also wrote the screenplay, as well as Sarah Streicher with a "Story By" credit. Last but not least, there's Lindsey Collins as producer. The result is a far more empathetic film than we typically see in a major Hollywood tentpole that focuses on the changing dynamic between a 13-year-old girl and her mother. 
It's not like other kids' films you'd see in theaters even today. The film has frank, open discussions about menstruation and using pads. It's not often you get a movie about what girls experience going through puberty, and even though the plot centers on how Mei Ling (Rosalie Chiang) turns into a giant red panda, it's honestly one of the most down-to-earth and relatable projects Disney has ever done. 
Since it is such a groundbreaking film, it's only natural to wonder how open Pixar and Disney were about such a project beforehand. According to Domee Shi and Lindsey Collins in an exclusive interview with Looper, the studios were far more open to the idea than one would imagine.
Lindsey Collins says 'there was never hold-back' with making Turning Red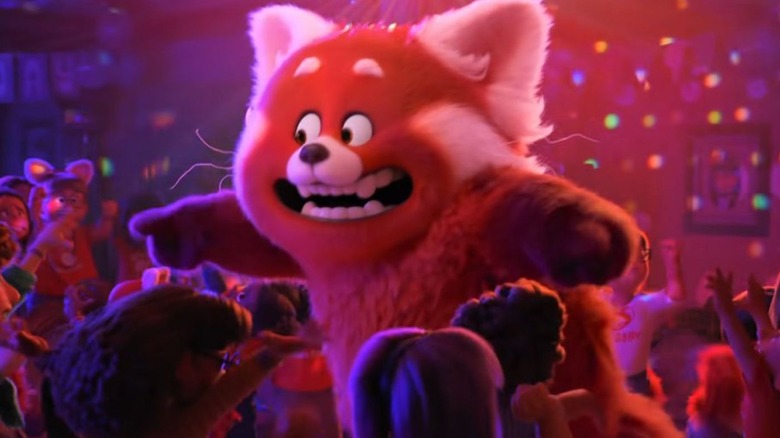 Pixar/Walt Disney Pictures Motion Pictures
Doing something new always comes with its challenges. That's a lesson Mei learns all too well throughout the runtime of "Turning Red." However, when we asked if Pixar or Disney had any reservations to tackling a film about magical puberty, Shi and Collins both stated how open the studios were to the idea. Collins explained, "The pitch was always about magical puberty, and they also knew Domee from 'Bao.' That's the benefit and the curse of working at Pixar, is that everybody knows you. It's not like you can come in and hide in your directorial debut."
Naturally, some changes are going to occur regardless throughout the production process, but the intention of tackling puberty through "Turning Red" was always there. As Collins put it, "There was little specific stuff, but in terms of the bigger kind of intent, there was never hold-back." Shi went on to elaborate, "All of that related to the story we were trying to tell, like all of those risqué elements, the pads ... Crushing on the boys is like ... All of that was so necessary in telling the story about this girl who was coming of age."
The finished product is something that's been warmly embraced by critics and casual audiences alike. It proves how treading off the beaten path can have its rewards.
"Turning Red" is now streaming exclusively on Disney+.