The Real Reason Turning Red Feels So Different From Other Pixar Films
The newest Disney Pixar film, "Turning Red," was just recently released to Disney+ — thus, the film is gaining a lot of attention from fans and critics alike. Directed by Domee Shi, who co-wrote the screenplay with Julia Cho, "Turning Red" introduces Meilin "Mei" Lee (Rosalie Chiang), a 13-year-old Chinese-Canadian girl who discovers that she turns into a giant red panda whenever experiencing a strong emotion — such as anger, excitement or fear — due to her ancestors' mythic connection to the animal. When she calms down, Mei can return to her human form — although with bright red hair instead of her natural black color.
For those of you who have already seen "Turning Red," you may have noticed that it feels quite different from the Pixar movies that came before it. To begin with, in several ways, "Turning Red" is a landmark film in terms of representation, including the major fact that it is the first Pixar film in which the protagonist is of Asian descent (and one of the few, overall, to have a female lead). Additionally, almost every single major character is a female character — Mei has three close female friends, and her entire family (aside from her father) is made up of women.
Here's how "Turning Red" ended up with an entirely different feel compared to what Pixar has given us before.
Turning Red has a woman-led creative team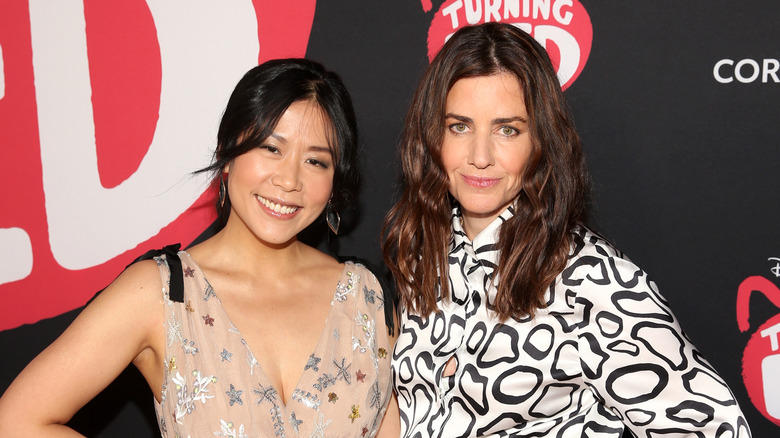 Jesse Grant/Getty Images
As reported by The Wrap, "Turning Red" has a leadership team completely made up of women, including within the art and story departments. And, of course, Domee Shi is the first woman to direct a Pixar film by herself (per CNBC) — the only other instance in which a woman was involved in helming a film was when Brenda Chapman co-directed 2012's "Brave" with Mark Andrews.
With so many women working in pivotal roles behind the scenes, the result is a film that is completely in tune with what it's like to be a teen girl. Not only do we get realistic dialogue amongst Mei and her friends, but we get to see the ways in which middle school crushes — whether it be on their classmates, local high schoolers, or boy band members — play a huge role in a 13-year-old's life. After all, Mei and her friends' urgent desire to see their favorite boy band, 4*Town, live in concert, drives much of the plot forward.
Further, Mei's struggle to balance her shared interests with her friends with what her mother expects of her presents a very real look into what many mother-daughter relationships are like. After all, the story's heart truly lies with the relationship between Mei and her mother Ming (Sandra Oh), something we haven't seen from a Pixar film since "Brave."
If you haven't watched "Turning Red" yet, you'll see right away the effect that an all-women creative team has on the depiction of our protagonist and her relationships with the various women who surround her life. The film can now be streamed on Disney+.