The Most Pause-Worthy Moment In Turning Red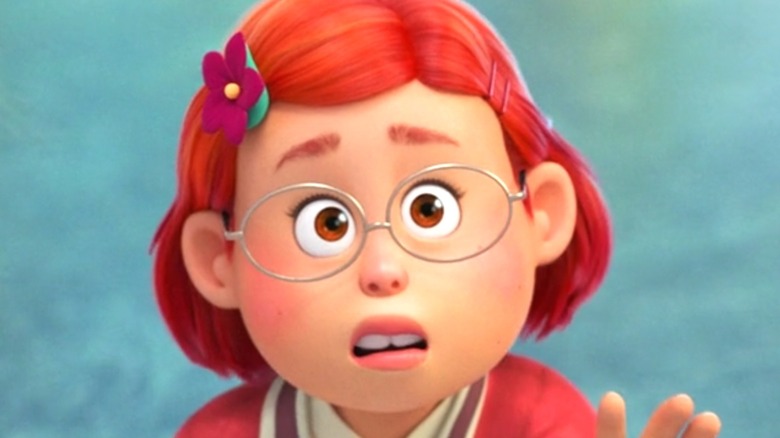 Pixar/Walt Disney Pictures Motion Pictures/Disney+
"Turning Red" is unlike any Pixar film that's come before. For starters, the protagonist is a 13-year-old Chinese-Canadian girl who struggles to find her own identity with what her mother wants her to do. This leads to a frank, open discussion about identity and coming of age. No doubt, a major component of why the film feels so different from anything else that's come out of the studio is that it had a woman-led creative team, including director Domee Shi and producer Lindsey Collins.
However, while "Turning Red" blazes a new trail in a way only it can, you'll still find plenty of the familiar hallmarks that make up a Pixar movie. You'll still find a reference to A113, which is a room number from the California Institute of Arts where legendary filmmakers like Brad Bird attended and has popped up in every Pixar film over the years. Another common thread for the studio is to include a reference to the next upcoming release in each movie. For instance, "Turning Red" had a brief connection with "Luca," and now, the film's paying it forward with a pause-worthy nod to "Lightyear."
The Star Command logo is found on Miriam's skateboard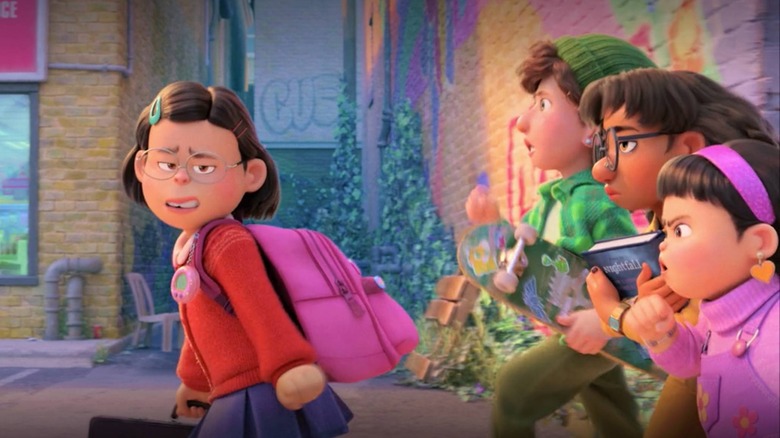 Pixar/Walt Disney Pictures Motion Pictures/Disney+
"Lightyear" drops in theaters later this year on June 17, but for now, "Toy Story" fans will have to make do with a blink-and-you'll-miss-it Easter egg in "Turning Red" that hints at Buzz's place of work. At around the 3:30-mark in "Turning Red," there's a scene where Mei (Rosalie Chiang) is followed by her friends. Miriam (Ava Morse) carries her skateboard with her, and you'll notice a bunch of stickers on the bottom of her board. If you pause right there, you'll see the Star Command logo in blue that's been a fixture of Buzz's outfit since the original "Toy Story."
As fans scour the movie on Disney+ for Easter eggs, this is one you really have to pay attention to, and no doubt plenty of people paused right here to catch it. We're not the only ones who paused to make sure the Star Command logo was legit. Over on Twitter, @Username_Maxwel found several Easter eggs throughout Pixar's latest, including the one on Miriam's board. 
It's far from the only hidden reference you'll find in the flick. If you know where to look, you can also locate nods to "Finding Nemo" and the Pixar short film "Burrow." As tends to be the case, Pixar rewards the most eagle-eyed viewers.