Will Smith's Lowest-Rated Movie You Probably Forgot Existed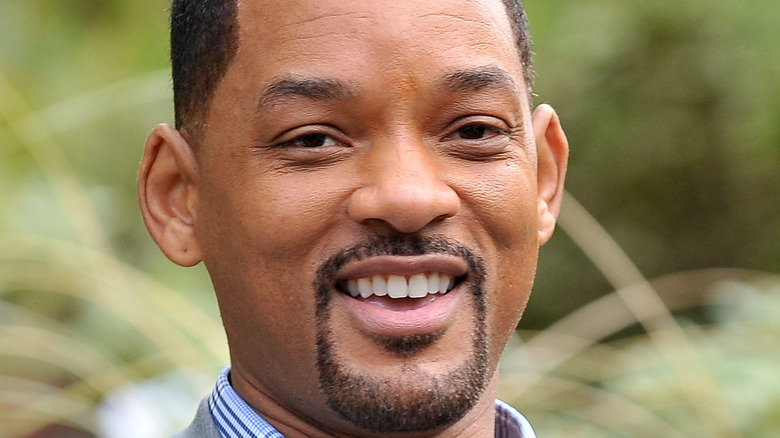 Jerod Harris/Getty Images
It's no secret that Will Smith has been and remains one of the biggest movie stars on the planet. The 53-year-old has been involved in the entertainment industry since the late 1980s, getting his start in music alongside longtime friend and colleague DJ Jazzy Jeff. As most fans of Smith know, he famously got his start on the television series, "The Fresh Prince of Bel-Air," which aired from 1990 to 1996. The show gained a loyal and large fanbase that certainly helped catapult his career into superstardom. The mid-to-late '90s saw Smith lead blockbuster films like "Bad Boys," "Independence Day," "Men in Black," and "Enemy of the State." This continued into the early 2000s, as Smith would be nominated for his first Academy Award in 2001 for his portrayal of famed boxer Muhammad Ali in "Ali" (via IMDb).
His resume would continue to build, starring in iconic movies like "I, Robot," "Hitch," "The Pursuit of Happyness," "I Am Legend," "Hancock," and "Seven Pounds." Smith was nominated again for the Best Actor in a Leading Role Academy Award with his work on "The Pursuit of Happyness" in 2006, and most recently, another for his work as Richard Williams in 2021's "King Richard." Needless to say, Smith is known for making highly successful movies, often because of his performance as an actor.
However, even the best actors in the world appear in films that don't end up connecting with audiences and critics as well as they intended. In 2013, this unfortunately was the case for Smith. Here's what we know about the lowest-rated Will Smith movie that you probably forgot existed.
After Earth is Will Smith's lowest-rated movie
In 2013, Will Smith's son Jaden was starting to make some waves in the entertainment industry, seemingly following in his father's footsteps. Back in 2010, he turned some heads as Dre Parker in the reboot for "The Karate Kid." The movie ended up getting fresh scores from audiences and critics, and Jaden Smith was poised to be another young star in the making.
This was to be furthered when it was announced that father and son would star together in M. Night Shyamalan's "After Earth," a futuristic sci-fi film that would feature Jaden in the leading role. The story follows Jaden's Kitai Raige and his father, Smith's Cypher, after they crash land on Earth over 1000 years after humanity left it and have to fight to survive. Unfortunately, even with an accredited director like Shyamalan behind "After Earth," the movie performed very poorly. It earned only a 12% critic and 36% audience score on Rotten Tomatoes. Not to mention, it only made just over $243 million worldwide on a $130 million dollar budget (via Box Office Mojo). Although this may seem like a lot, it's not nearly enough of a profit for a movie in today's industry.
Fortunately for both Will and Jaden Smith, they picked themselves up relatively quickly. Jaden decided to head down the music route heavily, managing to now have over 7 million monthly listeners on Spotify. Will would quickly bounce back with "Focus" alongside actress Margot Robbie in 2015. Most recently, Smith is set to reprise his role as Robert Neville in "I Am Legend 2" alongside Michael B. Jordan. We'll keep you posted.