The Office Reunion You Might Have Missed On Avenue 5
HBO's "Avenue 5," which is going into its as-yet-undated second season, has been noted from its very unveiling as a series with a lot of pedigree. In addition to the prestige of its mothership network, the sci-fi sitcom boasts the illustrious name of Armando Ianucci as its creator and showrunner. The Italian-Scottish writer, director, and producer is widely known as the brilliant satirical mind behind such acclaimed political comedies as "The Thick of It" and "Veep," as well as films like "The Death of Stalin" and "In the Loop" — the latter of which netted him and fellow writers Jesse Armstrong, Simon Blackwell, and Tony Roche an Academy Award nomination for best adapted screenplay.
A veritable auteur, Ianucci brings his signature dry, jittery, profanity-laden style to each new project, and "Avenue 5," with its story of mayhem on an interplanetary cruise ship, is no exception. Another thing Ianucci productions can always be counted on to offer up is top-shelf casting; the farcical sophistication of "Avenue 5" is augmented by the fact that its ensemble boasts such comedy veterans as Hugh Laurie, Josh Gad, Suzy Nakamura, Rebecca Front, and Lenora Crichlow. In fact, the show's bench of comedic talent is so deep that it even features two actors who used to star on NBC's "The Office" together.
Zach Woods and Andy Buckley both used to star on The Office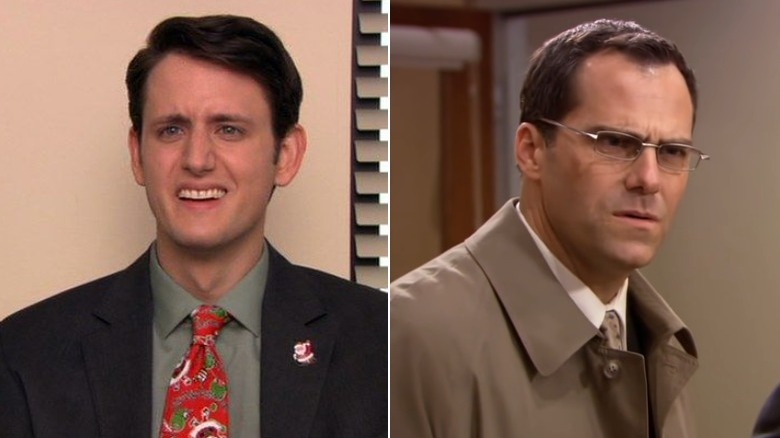 NBC
The American version of "The Office" had a highly rotating ensemble cast, to say the least. Some of the show's most memorable characters entered it after the first season, as is the case for both David Wallace, who joined in Season 2, and Gabe Lewis, a Season 6 addition. David, the CFO at Dunder Mifflin, was a fan-favorite character who appeared on the show in a recurring capacity but always managed to leave his mark on a scene. Gabe, meanwhile, was the coordinating director of emerging regions at Dunder Mifflin's parent company, Sabre, and he is best remembered for his relationship with receptionist Erin Hannon (Ellie Kemper).
The actors for both Gabe and David have since starred in Season 1 of "Avenue 5." Zach Woods, who played Gabe, is a frequent collaborator with Armando Ianucci, having previously starred in "In the Loop" and recurred on "Veep." On "Avenue 5," Woods portrays Matt Spencer, the ship's head of customer relations, who is saddled with the impossible task of getting everyone aboard to stay calm even as an unimaginable crisis mounts. Meanwhile, Andy Buckley, who played David on "The Office," can once again be found leveraging his deadpan delivery and "normal" comic persona in service of a hilariously average Joe. He plays Frank Kelly, a character who mostly exists to provide contrast with his considerably more hot-headed wife, Karen (Rebecca Front).