Josh Gad Confirms What We Suspected About Hugh Laurie's Behavior On The Avenue 5 Set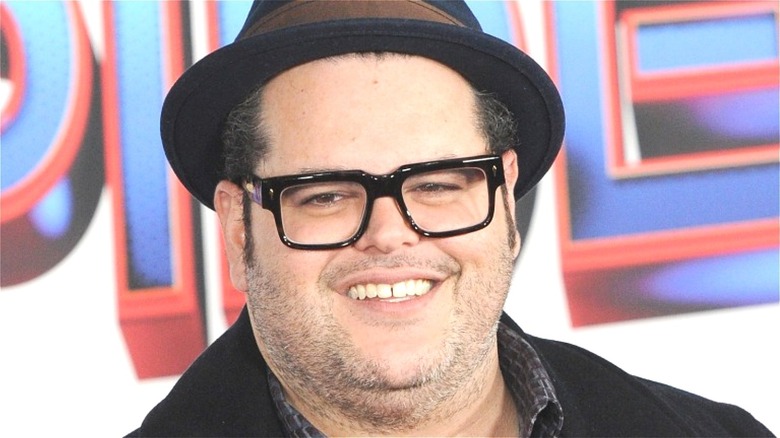 Albert L. Ortega/Getty
Josh Gad may be one of the biggest stars of "Avenue 5," but it turns out that working on the series' first season was a uniquely frustrating experience for the "Frozen" actor.
Created by "Veep" creator Armando Iannucci, "Avenue 5" takes place primarily in outer space and focuses on the chaotic lives of the passengers and crew members aboard the series' titular spaceship after its return to Earth is delayed by several years. Gad stars in the series as Herman Judd, the arrogant and obnoxious billionaire owner of the show's central spaceship. However, despite his status, Judd isn't the person in charge of actually managing Avenue 5's daily operations or keeping the collective morale of its passengers high.
Those duties fall to Hugh Laurie's Ryan Clark, the ship's appointed captain. Unfortunately, over the course of the show's first season, it is gradually revealed that Laurie's Ryan is a lot less qualified and equipped to lead his crew and passengers than he lets on. As a result, while Season 1 of "Avenue 5" received largely lukewarm reviews from both critics and casual viewers alike (via Rotten Tomatoes), the series still allowed Laurie to really showcase his versatility and comedic abilities as a performer.
That said, according to Gad, it was actually Laurie's presence on the show's set that made working on "Avenue 5" a hilariously irritating job for him.
Josh Gad thinks Hugh Laurie is too impressive for his own good
In a January 2020 appearance on "The Late Show with Stephen Colbert," Josh Gad opened up about what it was like working on "Avenue 5" Season 1. At one point in the conversation, Gad talked about working with Hugh Laurie, whom he jokingly described as a "pain in the a**." After noting that he wanted to fully explain the remark in case Laurie ever watched the interview, Gad went on to say that he found his "Avenue 5" co-star so impressive that it became irritating.
"Here's why he's a pain in the a**: He is the perfect specimen of a human being, he really is," Gad said. "He rides into work on a motorcycle, the guy from 'House.' He looks like he's built the motorcycle himself out of, like, used car parts like from something out of 'Ford v. Ferrari.' And then he comes and, while I'm washing my delicate hands, you hear him playing music and like recording an album for the masses. It's very strange."
Obviously, everything Gad says about Laurie in the interview is done in good fun, and the actor's comments, frankly, just make his reverence and admiration of his co-star undeniably clear. With that in mind, here's to hoping that Gad was better able to look past his own frustrations about being in Laurie's presence while working on Season 2 of "Avenue 5," which doesn't yet have a release date but did finish filming in November of 2021 (via Instagram).