The George Lucas Cameo You Might Have Missed In Revenge Of The Sith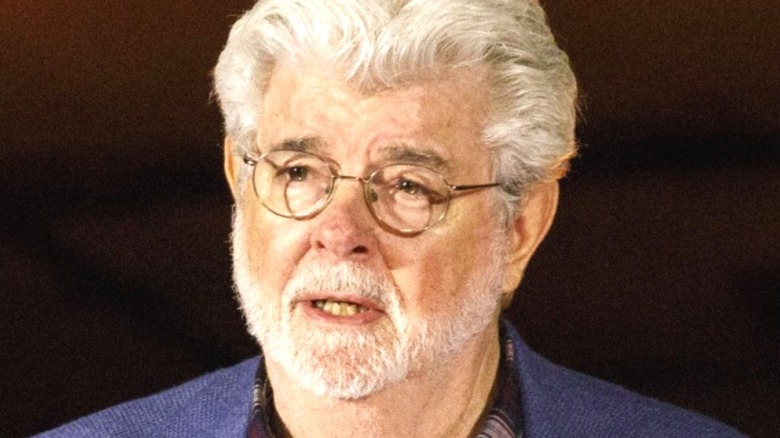 Bloomberg/Getty
Since the 1977 original, "Star Wars" has always been a movie franchise that's ripe with hidden details and Easter Eggs that viewers typically miss at first glance. And when it comes to the secret hat-tips and production nods, one of the biggest and most unknown ones actually came courtesy of the saga's mastermind himself, George Lucas.
Now, Lucas had never previously appeared in a "Star Wars" film or had a cameo before. But when it came time to make his prequel trilogy in the early 2000s, the legendary filmmaker decided to change all that. Donning full costume and makeup, the always-creative Lucas chose to be featured in his final movie of the trilogy, "Revenge of the Sith." While some eagle-eyed viewers may have been able to spot him at the time of the film's release, his inclusion was one that largely went unnoticed.
"Things I could have gone my whole life without knowing," wrote a Twitter user in response to a "fun fact" tweet about Lucas' cameo, which we discuss below.
George appeared as a blue-skinned baron alongside his daughter
It's a "blink and you'll miss it" moment, but once it's spotted, the cameo is almost impossible to forget.  
George Lucas, accompanied by his daughter Katie, can be seen very briefly during a "Revenge of the Sith"  wide shot that features Anakin Skywalker (Hayden Christensen) entering a room in the Coruscant opera house past some royals. The "Star Wars" director is off to the left talking with Katie's character, with them both being done up as blue-skinned Pantorans (via Screen Rant). George plays the Baron Notluwiski Papanoida, who later became a regular on the animated series "Clone Wars."  
"Can't believe that was George this whole time!" said a Twitter user. 
What's even cooler about the Lucas cameo is the fact that Disney has also decided to immortalize it with a "Hidden George Lucas" at Disney's new "Star Wars: Galactic Starcruiser hotel (via Blog Mickey). More specifically, the resort's Cargo Hold room is hiding a Notluwiski Papanoida ID card, which features a photo of Lucas in all his costumed glory. Using the Play Disney Parks app, guests are able to translate the Aurabesh writing on the card to find out more about the character.