Is Creed 2 Based On A True Story?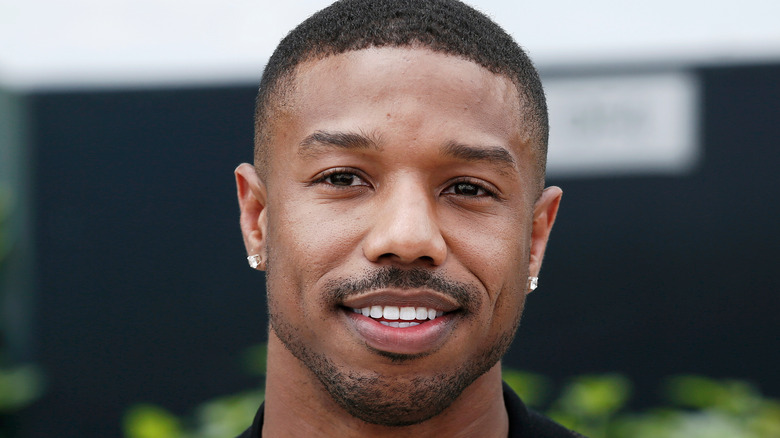 Andrea Raffin/Shutterstock
In 2015, director Ryan Coogler revamped and brought back the "Rocky" series to the silver screen. With Michael B. Jordan as the lead, "Creed" rebooted the "Rocky" franchise to critical acclaim. Currently, "Creed" sits at an impressive 95% critic score on Rotten Tomatoes, deemed "Certified Fresh" by the review site. The film was a box office success as well, bringing in over $173 million at the worldwide box office, as reported by Box Office Mojo. 
The film sees Rocky Balboa (Sylvester Stallone) return as a mentor to Adonis Johnson (Jordan). Adonis is the son of famous boxer Apollo Creed (played by Carl Weathers in the original films), but his father dies before he's born. Just like his father, Adonis has aspirations of becoming a boxer, so he seeks out Rocky to be his trainer. Rocky agrees to help Adonis achieve his dream, seeing potential in the young boxer.
In 2018, the franchise was extended further with the sequel "Creed II." The sequel sees Adonis accept a challenge from the son of the very man who is responsible for his father's death. With such an emotional and raw story, fans of the film franchise may ask the question: is "Creed II" based on a true story?
Creed 2 is inspired by the Rocky franchise, but it's not a true story
While "Creed II" is a truly moving story, it's based in fiction. Just like its predecessor, "Creed," it is inspired by the "Rocky" franchise rather than real-life events. As viewers may recall, Apollo Creed dies in "Rocky IV," and this is the basis for the "Creed" movies, as previously mentioned. With the help of Rocky, Adonis is able to take the limelight in the boxing world, but in "Creed II," his boxing career is suddenly in jeopardy.
With a new director behind the camera in Steven Caple Jr., "Creed II" gives Adonis the opportunity to avenge his father's death. The now-heavyweight champion of the world is challenged by Viktor Drago (Florian Munteanu) — the son of boxer Ivan Drago (Dolph Lundgren), the man who kills Adonis' father. Adonis ultimately accepts the challenge and wins the match, but only due to a technicality. 
Viktor throws an illegal headshot, which disqualifies him. This is a default win for Adonis, but it leaves his spirits crushed. The film sees his boxing career hang in the balance as he recovers from the Drago match and tries to find the fire within once again. This develops a touching storyline for Adonis, as the first movie sees him encouraged and inspired by his father, giving him the fire to fight. Then in "Creed II," this is all stripped away, and Adonis must discover if he really has that fire within himself.
Creed 2 may be fictional, but it has a heartwarming backstory
"Creed II" may not be based on a true story, but the story behind both "Creed" movies is truly heartwarming. As Coogler revealed in a BuzzFeed News article, he originally fell in love with filmmaking because of the "Rocky" franchise, repeatedly watching the franchise, and in particular, "Rocky II" and "Rocky IV," with his father Ira, allowing them to spend important time together. Unfortunately, in 2011, Coogler's father was diagnosed with a neuromuscular illness, but Coogler made that best of a tough situation by once again rewatching his beloved "Rocky" films with him.
In an interview with The Wrap, Coogler talked about what it was like to finally show his father "Creed" for the first time. He explained the emotional weight of the experience due to their bond over the films, saying, "It was emotional, man. You know, these are the only movies where I would see my dad cry watching them. And there's so much of me and him in the movie." Although "Creed II" is not directed by Coogler, in The Wrap's interview, he shared a personal question he tried to answer while making the first film that's a large theme in the sequel as well, stating, "I was questioning masculinity. Is your manhood defined by your strength and your ability to protect all you love?" It appears that Coogler and Jordan's Adonis may have more in common than just their love for their fathers.