Who Plays Kwan Ha On Halo?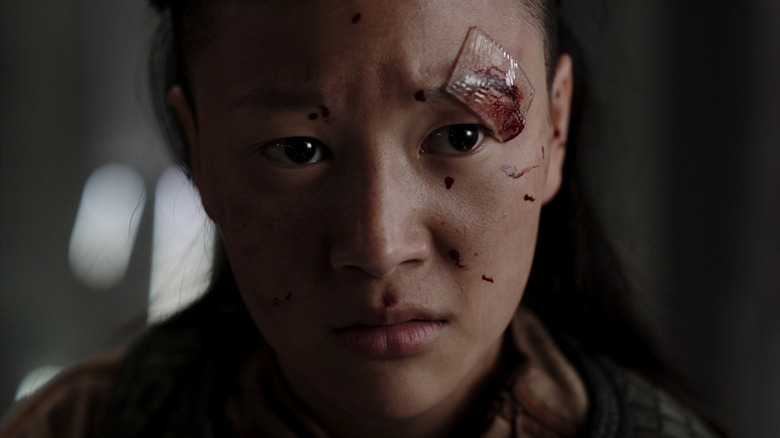 Paramount+
At long last, the perpetually delayed "Halo" TV series is finally within the grasp of video game enthusiasts (and all other Paramount+ subscribers) everywhere! Starring Pablo Schreiber as Master Chief, the live-action adaptation of the highly successful video game series invites audiences into a fictional universe unlike anything they've ever seen before (unless, of course, like this author, you've been playing "Halo" video games since the release of 2001's "Halo: Combat Evolved").
Word on this project first hit Hollywood trade outlets all the way back in 2013 (via Deadline). For many of the years since, the project has languished in so-called "development hell," only re-emerging in 2018 when Showtime ordered a 10-episode first season (via Entertainment Weekly). While the project has hit a number of bumps in the road since (including a "bump" over to Paramount+), the long wait for the series doesn't seem to have significantly diminished fans' levels of excitement. Indeed, although 2022 features a shocking number of new streaming series, "Halo" routinely appears towards the top of many fans' "most anticipated" lists.
Now that audiences are finally getting the opportunity to dig into the details of the live-action adaptation, let's take a look at one of the most important cast members at the heart of the new story.
Yerin Ha plays Kwan Ha in Halo
Actress Yerin Ha was one of the first names announced as part of the upcoming "Halo" series. Nearly three years ago, Ha was named as the actress set to portray Kwan Ha, a character entirely original to the "Halo" television series. Ha's character is described as "a shrewd, audacious 16-year-old from the Outer Colonies who meets Master Chief at a fateful time for them both" (via Twitter).
Of course, being cast in such a highly anticipated project is surely a momentous occasion for a performer of any experience, but Ha's role is particularly notable because she is a relative newcomer to Hollywood. Prior to her appearance in "Halo," Ha is only credited on IMDb with four other projects. Her first on-screen appearance came as a dancer in a 2016 music video for a song by Fluir & Jesse Marantz titled "I've Gotta Have You" (via YouTube).
Three years later, Ha appeared as a series regular named "Techie Jane" in "Reef Break," a short-lived ABC crime drama starring Poppy Montgomery (via IMDb). Sometime after "Reef Break" was canceled in December 2019 (via The Hollywood Reporter), Ha signed on for seven episodes of an Australian TV series titled "Troppo" (via IMDb). Her most recent credit comes from a supporting role in "Sissy," a 2022 film that screened at the South by Southwest (SXSW) festival (via RogerEbert.com)
The first episode of "Halo" premieres on Paramount+ on March 24 (via IMDb). It has already been renewed for a second season.