In Bridgerton, One Episode Stands Above The Rest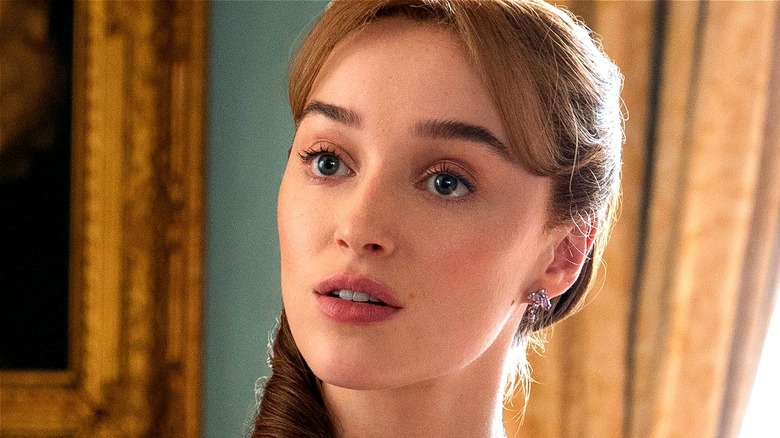 Liam Daniel/Netflix
Regency era Netflix drama "Bridgerton" takes viewers back to a period of history where, among the highest of London society, image is everything and scandal is a frequent subject of conversation. Still, that doesn't stop Anthony Bridgerton (Jonathan Bailey), the eldest son and head of his family, from seeing his off-and-on mistress Siena Rosso (Sabrina Bartlett), or from Bridgerton cousin Mariana Thompson (Ruby Barker) having (gasp) children out of wedlock. Narrated by anonymous newsletter columnist Lady Whistledown (Julie Andrews), who appears to know about everything happening in London, "Bridgerton" is a fun concoction of sex, romance, and bad behavior in gorgeous costumes.
The series is also set in an alternate, racially integrated London, which creator Chris Van Dusen said was because even though it's set in the 19th century, "we still wanted modern audiences to relate to it, and see themselves on screen no matter who they were" (via Collider).
Season 2 is set to premiere on March 25th, 2022 and has the rather daunting task of following up a smash hit first season. It will be especially hard for a sophomore outing to top this beloved episode.
'The Duke and I' is the standout episode of Season 1
Season 1, Episode 5, called "The Duke and I," is arguably the best "Bridgerton" episode thus far. Buzzfeed in fact called it "faultless ... the best version of 'Bridgerton:' a soapy, fun, soft, self-aware drama."
"The Duke and I" may get the best critical reception from fans, even ranking as the highest rated episode on IMDb, in part because it's involves a lot of plot momentum and climaxes the courtship of Simon Basset, Duke of Hastings (Regé-Jean Page) and Daphne Bridgerton (Phoebe Dynevor).
The couple have already decided to get married, but face the wrath of the Queen (Golda Rosheuvel) over Daphne's thwarted engagement to her nephew, Prince Friedrich of Prussia (Freddie Stroma). However, Simon's plea moves her to forgive Daphne, and the pair finally marry in a small church ceremony.
Really the true culmination of the episode isn't when Simon and Daphne marry, but when they finally consummate their matrimony, acknowledging that they're deeply in love. No wonder "The Duke and I" is so lauded when Paste called their wedding night "one of the most beautifully choreographed sex scenes I've ever seen."