Frank Reagan's Best Moment In Blue Bloods Season 9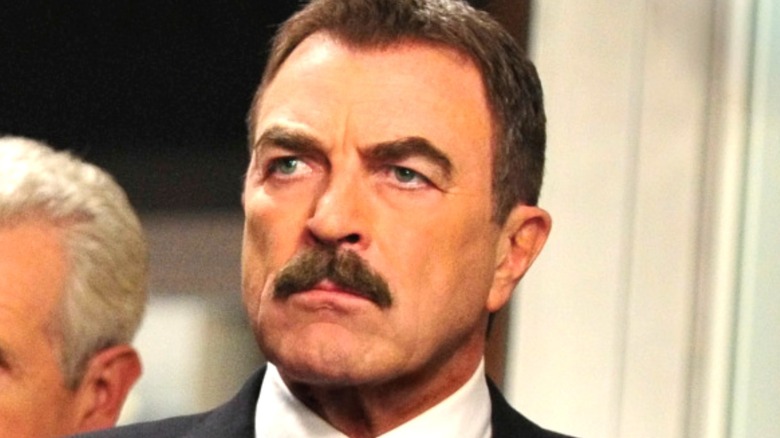 CBS/John Paul Filo
One of the main attractions of CBS' long-running "Blue Bloods" has always been its cast. The series is headlined by veteran actors like Donnie Wahlberg and Bridget Moynahan, but its biggest draw has always been "Magnum P.I." star Tom Selleck. The "Jesse Stone" actor has portrayed New York City Police Commissioner Frank Reagan throughout all 12 seasons of "Blue Bloods," and he's been at the center of more than his fair share of the show's best moments.
Frank often represents the voice of reason in "Blue Bloods," both when helping his law enforcement family with their difficulties, and in dealing with a public that is not always supportive of the department's efforts. Selleck brings the perfect amount of wisdom and experience to his character. When he decides to speak, it silences both his scene partners and, no doubt, the audience watching at home. While "Blue Bloods" and Frank have seen plenty of ups and downs since the CBS drama premiered in 2010, the dramatic Season 9 provided fresh challenges. The season saw Danny Reagan (Donnie Wahlberg) still dealing with the aftermath of losing his wife Linda (Amy Carlson), a dynamic that helped push Frank into stepping up to be the leader his family needs. 
Frank Reagan said just the right thing to welcome a new member into his family
The best moment for Frank Reagan in "Blue Bloods" Season 9 comes in Episode 22, titled "Something Blue." The season finale marks a major turning point for the series and Reagan family as Jamie (Will Estes) is getting married to fellow officer Eddie Janko (Vanessa Ray). It's a particularly poignant moment as the season was fraught with drama thanks to Jamie's brother Danny's continued difficulty coping with the loss of his wife Linda. 
There aren't many moments where audience members get to see Frank sweat, but his nerves almost get the best of him in "Something Blue" as he struggles through the episode to write a proper toast before Jamie's wedding. After numerous tries and plenty of advice from others, Frank delivers one of his signature speeches. Prior to the rehearsal dinner, Eddie finds herself nervous about losing her identity by joining the Reagans. Frank uses his speech to speak directly to her and say she will be a "hurricane of fresh air and candor and strength for our family." He also remarks that she "isn't anyone's to give away," a promise to her that while she is joining the Reagan family, her independence will be valued and respected. 
With a showstopping Frank moment like that, it's no wonder that the episode stands as the highest-rated for Season 9 on IMDb. The moment marked Eddie officially joining the Reagans, and it was an opportunity for Frank to bring his family together once more after so much hardship.