The Criminal Minds Character You Likely Forgot Cobra Kai's Martin Kove Played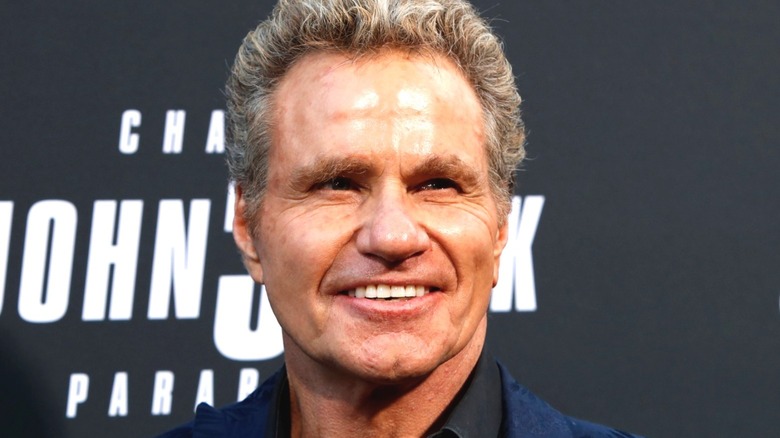 Kathy Hutchins/Shutterstock
Martin Kove has made a career out of being the merciless central antagonist in "The Karate Kid" franchise, including in the Netflix revival series "Cobra Kai." John Kreese is not only the head of the Cobra Kai dojo, but the poster child for using fighting skills to garner power over others, which is the antithesis of Mr. Miyagi (Pat Morita)'s teachings. He will never hesitate to "sweep the leg" when need be, and manage to make the lives of Johnny Lawrence (William Zabka) and Daniel LaRusso (Ralph Macchio) a living hell. 
Kove has had quite a history in Hollywood, appearing in countless films and TV shows including "Death Race 2000" and "Rambo: First Blood Part II" (via IMDb). He's also a professional marital artist, which is something often mixed in with his acting work. However, looking back at his decades in the business, he had one subtle role on a long-running crime procedural that some fans may have forgotten about.
Kove portrayed a good guy on Criminal Minds
Before "Criminal Minds" went off the air in 2020 (and before Paramount+ announced its Season 16 reboot), Kove starred in a single episode of the long-running show. He portrayed John Folkmore, a police officer, in the Season 10 episode "Scream" (via IMDb). The episode centered around the BAU investigating a serial killer Peter Folkmore (Brian Poth). As they unraveled the path that lead to his harrowing crimes, they learned Peter suffered from abuse as a child. 
John was a police officer who discovered Peter and his mom were in danger. In a flashback scene, he gives Peter a recorder to capture his dad's abuse and get him help. However, Peter ends up being witness to his father murdering his mom and then killing himself, setting him on a path of destruction. He did change his last name to "Folkmore" in honor of the officer who showed him kindness as a child. 
John assists the BAU in filling in the blanks about Peter's life. While Kove is an expert at being a menacing villain, he's also pretty good at being a heart-felt law enforcement official looking to do the right thing. If you're most aware of Kove for his portrayal of Kreese, watching him in the good-natured "Criminal Minds" role might take a brief adjustment.