Did The Walking Dead Just Reference Supernatural?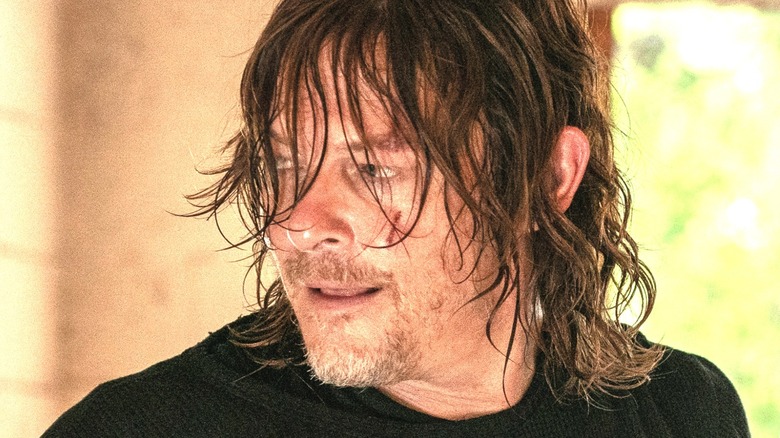 Josh Stringer/AMC
Over the course of its considerable run, "The Walking Dead" has ballooned into a series akin to network TV stalwarts like "NCIS" or "Law & Order" in that, while the mainline series may be ending soon, its producers have plans to keep the franchise going with a number of spinoffs some viewers have characterized as giving them spinoff fatigue.
Throughout its time on the air, the already large and continually growing "Walking Dead" franchise has paid tribute to other fictional works on a few different occasions. For example, original series showrunner Frank Darabont named a location after Stephen King, whose books he's adapted to film on multiple occasions. Jumping ahead a decade or so, Season 11, Episode 11 included a reference to the original "Ghostbusters" film.
This seems to have become something of a trend as Season 11 has progressed, as at least one viewer noticed, in the following episode, what is very likely a reference to the once long-running CW series "Supernatural."
The Walking Dead evoked a prior Lauren Cohan role
Since 2011, starting in the show's second season, actor Lauren Cohan has portrayed Maggie Rhee (née Maggie Greene) on "The Walking Dead" (via IMDb). A few years prior, she played Bela Talbot on "Supernatural" for a span of six episodes. After "The Walking Dead" Season 11, Episode 12 aired, ScreenRant writer Craig Elvy argued that the episode explicitly connected Cohan's current role to her past work with a subtle "Supernatural" reference.
In the "Walking Dead" episode, while rebuffing the efforts of the Commonwealth settlement to recruit her, Maggie mentions a lucky rabbit's foot that she used to carry. This is significant because, when Cohan first portrayed Bela Talbot on "Supernatural," her character was at the center of a storyline focused on a rabbit's foot. Maggie also describes how her dog dragged the rabbit whose foot she later carried. With Cohan's "Supernatural" character in mind, this imagery is evocative of Bela's final episode, in which she was dragged to the underworld by a pack of dogs herself.
While that all could theoretically be coincidence, "The Walking Dead" did something similar once before, linking Jeffrey Dean Morgan's character to a previous "Supernatural" role of his own. It's not a stretch, then, to think that the similarities between Maggie's story and Cohan's "Supernatural" work could be intentional too.