30 Shows Like The Mentalist You Need To See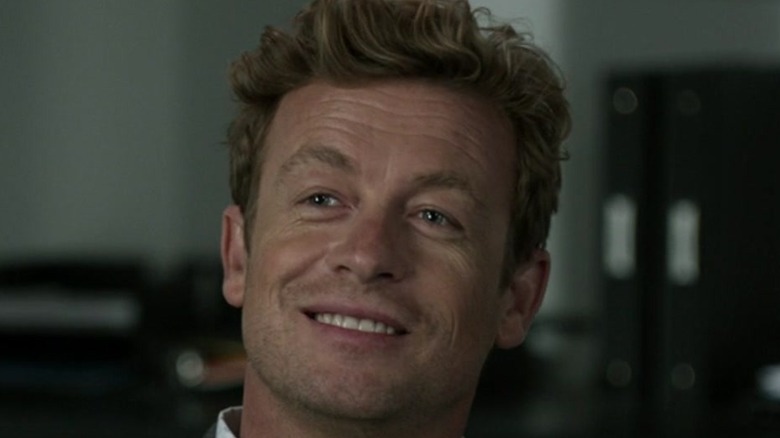 CBS
One of the most consistently popular shows of its era, "The Mentalist" ran on CBS from 2008 to 2015. The series followed Patrick Jane (Simon Baker), a former psychic working for the California Bureau of Investigation (CBI) to help solve murders. Though admittedly not "psychic," he possesses keen observational skills and a deep understanding of human psychology that allow him to profile witnesses and suspects. As it turns out, the real reason he started working for the CBI was so he could catch a serial killer known as Red John, who killed Jane's wife and daughter after he taunted the man live on television.
Joining Jane is his boss Teresa Lisbon (Robin Tunney) and her colleagues Kimball Cho (Tim Kang), Wayne Rigsby (Owain Yeoman), and Grace Van Pelt (Amanda Righetti). Like in any good law enforcement procedural, Jane and Lisbon have a sometimes antagonistic relationship with clear romantic undertones.
If you miss "The Mentalist," don't fret; the notion of a specialist helping solve crimes was around long before Patrick Jane, and the success of his show only enabled more greenlights in its wake. Below is a list of shows you'd likely love if "The Mentalist" is still on your mind. While not all of them are about law enforcement consultants, others have a similar focus on psychology or questions about supernatural abilities.
Psych (2006 - 2014)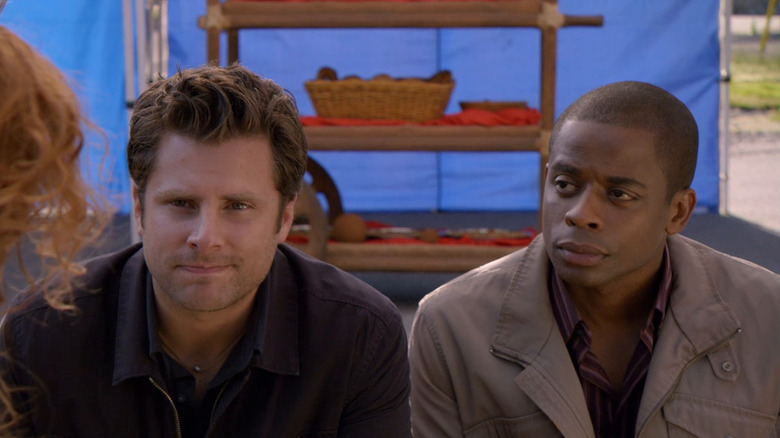 USA
Like "The Mentalist," "Psych" follows a police consultant who's not actually a psychic, despite what the show's title might suggest. "Psych" focuses on Shawn Spencer (James Roday Rodriguez), who happens to possess some pretty incredible powers of observation thanks to his father, a former detective who taught Shawn to always take note of every detail around him. Shawn also happens to have an impressive eidetic memory. Shawn uses these skills to help the police solve crimes by calling in tips, but they begin to suspect him of a crime he actually helped solve.
So, to assuage their suspicions, he convinces the police force he's actually a psychic, which is how he's been able to solve all these crimes. We know, of course, that this is not true, but the initially skeptical police eventually begin to believe his claims as he helps them with more and more cases. Shawn also ropes his best friend Gus (Dulé Hill) into his lie, even starting his own psychic agency to establish himself as a real psychic. "Psych" is similar in theme to "The Mentalist," albeit with humor and hijinks thrown in. With eight seasons and three movies out so far, there's plenty to dig your teeth into.
Monk (2002 - 2009)
USA
This USA series followed Adrian Monk (Tony Shalhoub), a former detective in the San Francisco Police Department. When Monk's wife is murdered and the crime goes unsolved, he develops obsessive-compulsive disorder, which causes him to lose his job. After neglecting to leave his house for several years, Monk eventually begins working as a private detective with the help of his assistant and nurse Sharona Fleming (Bitty Schram). His former colleagues, Captain Leland Stottlemeyer (Ted Levine) and Lieutenant Randy Disher (Jason Gray-Stanford) also call on Monk for assistance with their most difficult cases. Similar to "The Mentalist" and "Psych," Monk possesses sharp observational skills that allow him to see things others don't.
A critically and commercially acclaimed series, "Monk" won eight Emmy Awards and broke a cable ratings record during its final season. Like "Psych," "Monk" combines elements of comedy, drama, and mystery.
Elementary (2012 - 2019)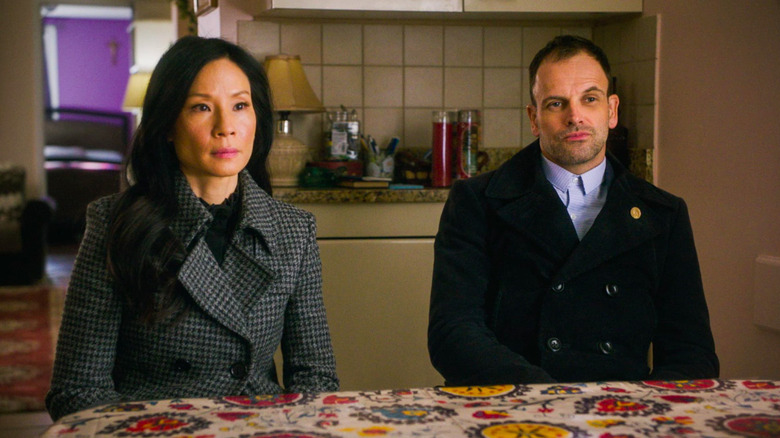 CBS
Though BBC's "Sherlock" is arguably the most well-known adaptation of Sherlock Holmes in recent history, CBS's "Elementary" is just as worthy of praise. The series starred Johnny Lee Miller as Sherlock and Lucy Liu as Watson, and was set in present-day New York City. 
A former drug addict, this Sherlock arrives in Manhattan to find that his father has hired a "sober companion" to live with him while he's in the city. That companion is Joan Watson, a former surgeon who lost her license after the death of a patient. Sherlock begins working as a consultant for the NYPD, and he soon finds that he and Watson make an excellent team.
One of the best things about the series is the relationship between Sherlock and Watson, who have one of the most well-written platonic relationships in recent memory. It's rare to see a procedural handle a team dynamic this way, and Sherlock and Watson together never got old, even after seven seasons.
Lie To Me (2009 - 2011)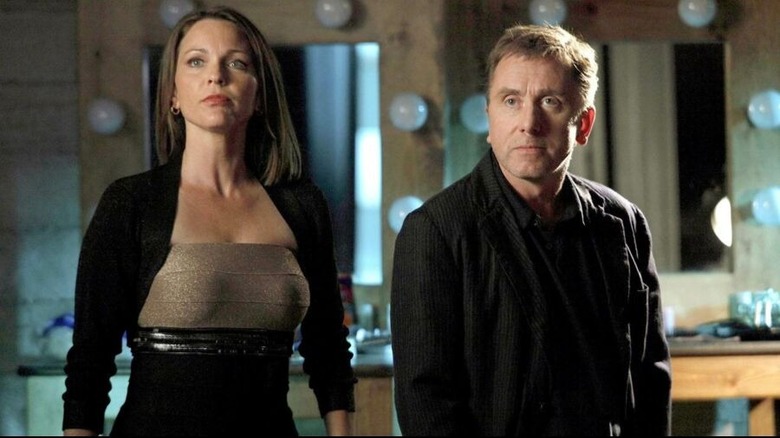 Fox
Another show that illustrated how psychology can be used to solve crimes, this Tim Roth starrer cast him as the owner of the Lightman Group, a company that assists various law enforcement agencies using applied psychology. 
Roth's Dr. Cal Lightman is an expert in the field of body language and microexpressions, giving him the unique ability to discover if someone is lying or not. Lightman works with Dr. Gillian Foster (Kelli Williams), a brilliant psychologist, and Ria Torres (Monica Raymund), Lightman's protégé who he deems a "natural" at reading people.
The problem with Lightman's immense skill in this arena, however, is that he is also very good at deceiving others, which means he's not always trustworthy himself. This contradiction makes for good television — so if mind games are your thing, you can trust in this late '00s TV drama.  
Medium (2005)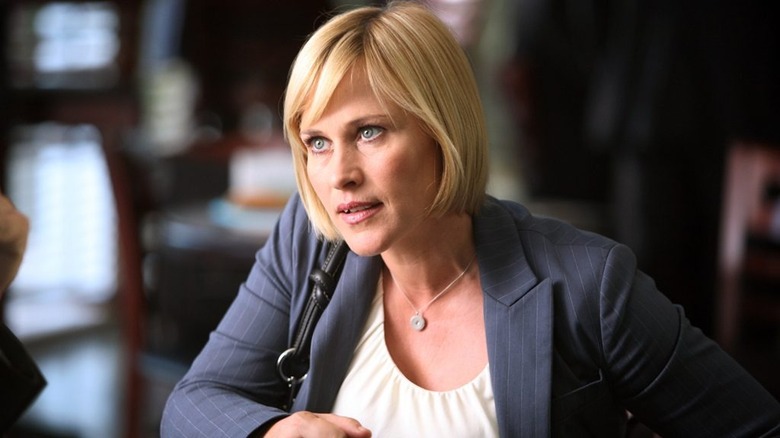 NBC
The shows thus far feature characters not actually psychic, but extremely observational; Allison DuBois (Patricia Arquette), the subject of this Glenn Gordon Caron series that lasted for an admirable 130 episodes, is the real deal.
A housewife and mother of three who begins working as an intern for the Phoenix DA when she has a dream about a murder, Allison's assistance in solving that crime endears her to D.A. Manuel Devalos (Miguel Sandoval) and colleagues — as well as her husband, Joe (Jake Weber) — that her psychic powers are legit.
"Medium" takes Allison's powers at face value, and we quickly learn that not only does she have prophetic visions and dreams, she can also speak to dead people. The series is based on the real-life "Medium" of the same name, who claims to have used her abilities to help law enforcement solve crimes. If you're able to accept the show's more-than-slightly outlandish premise, it might just become your newest television obsession.
White Collar (2009 - 2014)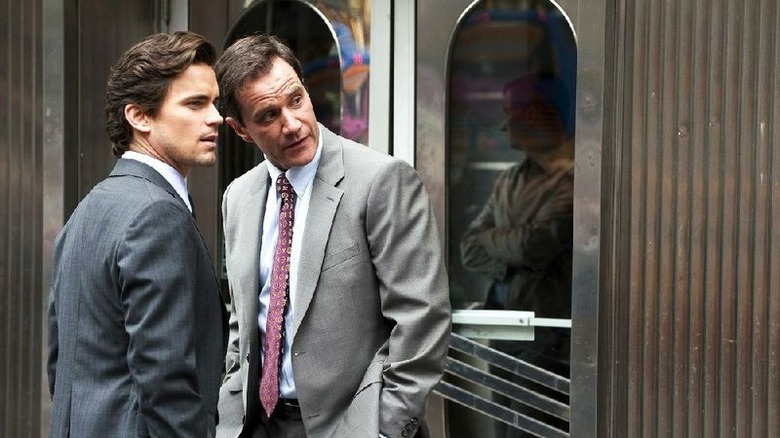 USA
Another classic procedural device is the former criminal who begins working with law enforcement to solve the same sort of crimes they once helped commit. A good example is this USA series, which followed Neal Caffrey (Matt Bomer), a talented con artist who has been evading determined FBI agent Peter Burke (Tim DeKay) for years. 
When Burke finally catches Caffrey, only for him to escape from prison, Caffrey grabs him a second time and proposes a deal: In return for his release, he'll help the FBI catch criminals using his special skill set.
While Burke is initially skeptical of Caffrey's proposition, he comes to learn that Caffrey's experience and unique insights are a rare gift the FBI can use to their advantage. From then on they form an uneasy partnership, one where trust is difficult to come by. It's no surprise that the series put Matt Bomer on the map, as he is charming and provocative as the slippery criminal, and the show's six seasons will keep you on the edge of your seat.
Numb3rs (2005 - 2010)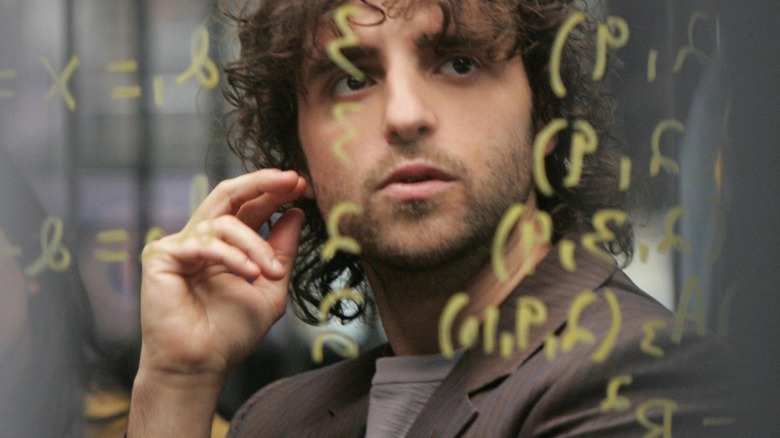 CBS
Your parents and grade school teachers always told you math would come in handy one day, but could it be used to ... solve crime?
Nerds reign supreme in this television procedural, which follows FBI agent Don Eppes (Rob Morrow), who hires his younger brother Charlie (David Krumholtz), to help solve his most difficult cases. Charlie is a math genius and a college professor, and while Don's colleagues at the FBI are skeptical of his involvement, Charlie's skills are essential in helping solve these crimes.
The charm of "Numbers" is that it combines two worlds: the fast-paced, regimented world of the FBI and the quirky, bookish world of the fictional California Institute of Science (CalSci), where Charlie works. Also along for the ride is Don and Charlie's eccentric father, Alan Eppes (Judd Hirsch), a former city planner. 
There's something uniquely satisfying about watching geniuses solve mysteries with only the power of their minds, and this show is more of a testament. Even if math isn't your thing, "Numbers" might just give you the mental jolt you need.
Body of Proof (2011 - 2013)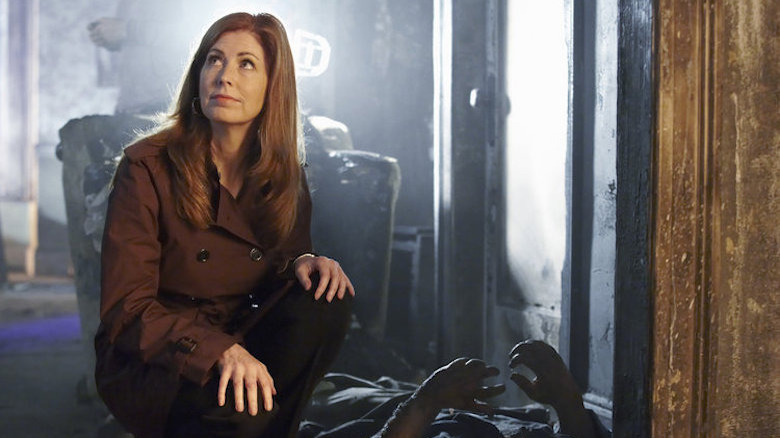 ABC
Though "Body of Proof" isn't technically a police consultant show like "The Mentalist," the two series do have some similar elements. Both center on a brilliant investigator whose behavior and methods sometimes put off their colleagues. "Body of Proof" follows Dr. Megan Hunt (Dana Delany), a medical examiner in Philadelphia. Previously a renowned neurosurgeon, Dr. Hunt left medicine following a devastating car accident, developing a talent for forensics.
Though Dr. Hunt is very good at her job, her arrogance and disrespect for authority often put her at odds with her colleagues. Dr. Hunt also struggles in her personal life as she works to rebuild her relationship with her estranged daughter, Lacey (Mary Mouser), and she tends to blur the lines between forensics and police work, with her unconventional methods not winning many friends in the department. If prickly main characters are in your wheelhouse, give "Body of Proof" a chance.
House (2004 - 2012)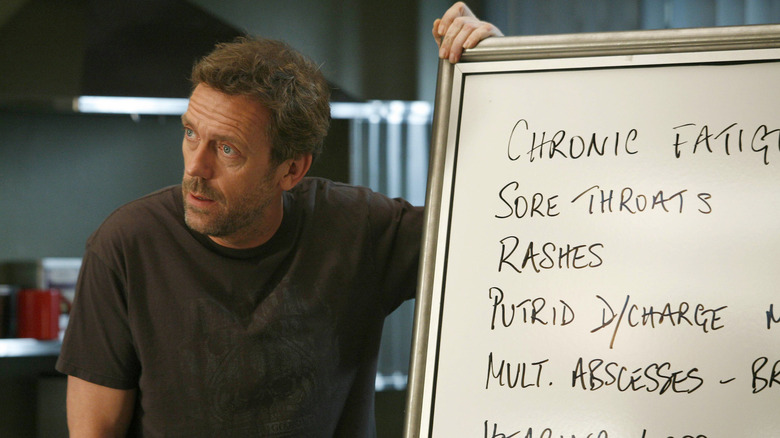 Fox
It's impossible to talk about hard-to-love main characters without mentioning Dr. Gregory House (played to 6 time Emmy-nominated perfection for 176 episodes by Hugh Laurie), a dominant character on TV for nearly a decade. 
Though "House" is a medical drama rather than a criminal one, it has a lot in common with law enforcement shows because of how the series is structured. The show centers on the titular Dr. House, a cantankerous, sarcastic infectious disease specialist who solves medical mysteries at a teaching hospital in New Jersey.
House spends his time berating his colleagues, which include Dr. Spencer (Robert Chase), Dr. Cameron (Jennifer Morrison), and Thirteen (Olivia Wilde), playing games with his best friend, Dr. Wilson (Robert Sean Leonard), and acting inappropriately towards his boss, Cuddy (Lisa Edelstein). A cross between "Grey's Anatomy" and "Sherlock Holmes," "House" ticks the boxes of both medical drama and mystery, making it a pretty unique series within the television landscape. If you can handle a series that features one of the meanest lead characters of all time, make a "House" call.
Rizzoli & Isles (2010 - 2016)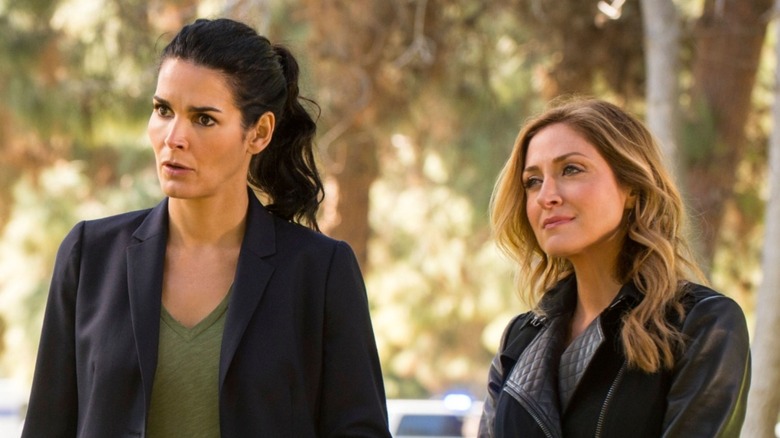 TNT
Though it's probably more similar to "Body of Proof" than "The Mentalist" due to its focus on forensics, "Rizzoli & Isles" would nonetheless be a compelling follow-up for fans of "the latter. For one thing, the series features an amusing push-and-pull dynamic between its two leads, and for another, it also depicts a compelling discussion about the relative merits of science versus gut feelings.
Set in Boston, "Rizzoli & Isles" follows our titular characters, Jane Rizzoli (Angie Harmon), a tough homicide detective, and Maura Isles (Sasha Alexander), a brilliant but at times socially inept medical examiner. Though their two exceedingly different temperaments at times creates conflict, the duo become fast friends, using their respective talents and their unique bond to solve crimes across Boston. A classic odd-couple pairing in the vein of "The X-Files" or "Bones," "Rizzoli & Isles" is sure to please fans of the genre.
Leverage (2008 - 2012)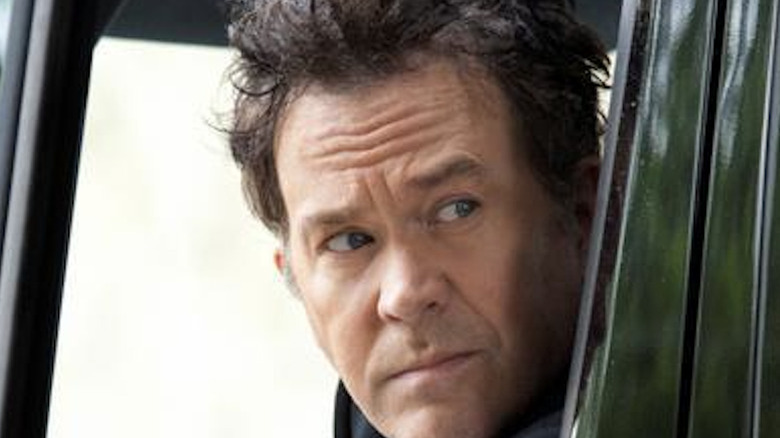 TNT
TNT's "Leverage" had a lot in common with classic investigative procedurals — albeit this time, the main characters are the ones perpetrating the crimes, rather than solving them. 
Like "The Mentalist," "Leverage" depicts a formerly successful man who switches careers following the tragic loss of his family. The series follows Nate Ford (Timothy Hutton), a former insurance investigator who now leads a team of thieves that carry out Robin Hood-like heists to steal from greedy, corrupt institutions.
Nate became a thief following the death of his son, who became terminally ill and died after the insurance company he worked for refused to cover his life-saving treatment. Now Nate works as the leader of a gang of thieves, which includes The Grifter (Gina Bellman), The Hacker (Aldis Hodge), The Hitter (Christian Kane), and The Thief (Beth Riesgraf). Nate and his team follow a set of rules, which is that they only steal from the rich and powerful in the service of working people who have no other choice. 
The series rebooted itself in 2021 (minus Hutton) with "Leverage: Redemption" on IMDb TV.
Ghost Whisperer (2005 - 2010)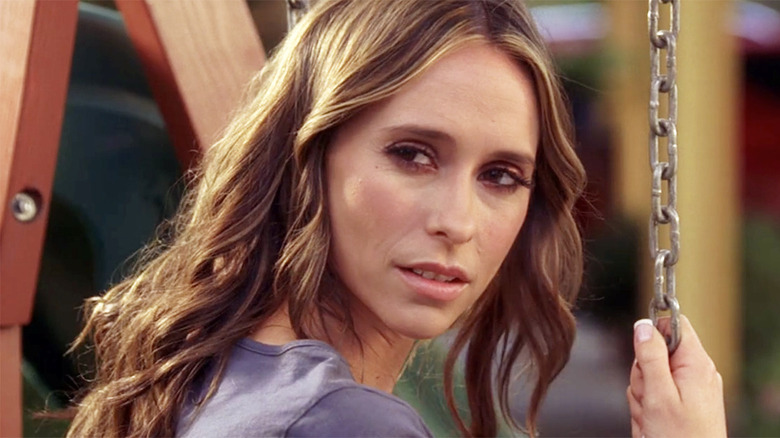 CBS
Another substantial TV hit that felt like the "Deep Impact" if "Medium" was "Armageddon," this Jennifer Love Hewitt series also took its supernatural elements very seriously. 
This ghoulish take on the procedural followed Melinda Gordon (Hewitt), a woman who lives in a quaint New York town and has an unusual talent: she can see and communicate with ghosts. While attempting to live a normal life — she runs an antique store and is married to a firefighter (David Conrad) — in her spare time she helps ghosts communicate with the living and resolve their problems so they can finally travel into the afterlife.
While it's certainly not the most realistic, hard-hitting show out there, "Ghost Whisperer" works mostly because of JLH's committed performance and the charming world that the show creates. Melinda splits her time between working with her best friend Delia (Camryn Manheim) in her antique shop and traipsing around town talking to spirits, trying to convince their loved ones that she's not crazy and is actually trying to help. Almost every episode ends with Melinda successfully resolving these ghosts' problems and allowing them to finally step into the light (usually a lot of tears on Melinda's part are involved), so you needn't worry about any loose ends with this one.
Luther (2010 - 2019)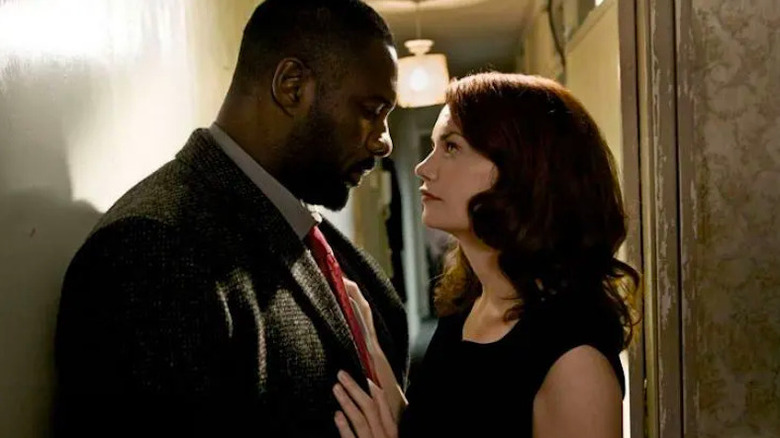 BBC
There really have been so many shows out there that followed a brilliant but tormented investigator trying to reckon with the dark side of human behavior (you could certainly add "The Mentalist" to this list) — yet "Luther" is a cut above the rest. 
This BBC One series follows John Luther (Idris Elba), an emotionally troubled, brilliant detective working in London. Luther is obsessive, impulsive, and frequently self-destructive, having paid a heavy toll for his dedication to the job.
The first season of the series follows his pursuit of Alice Morgan (Ruth Wilson), an ingenious psychopath and murderer who it seems he is unable to catch. Alice becomes increasingly infatuated with Luther, and he, in turn, is fascinated by her. Their relationship is incredibly compelling, as both characters are brilliant yet inscrutable people. Like many investigate procedurals, psychology is important to "Luther," especially as it concerns the beguiling psyche of one Alice Morgan. Is she a psychopath through and through? Does she have the capacity for feelings? That's for the viewer to decide.
Mindhunter (2017 - 2019)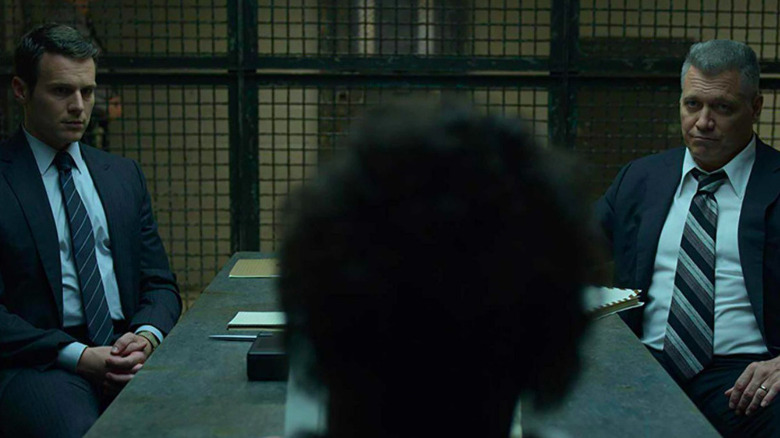 Netflix
Arguably the most tragically-canceled series of the last several years, this David Fincher-produced crime series was so dark and edgy you could practically smell the prisons and interrogation rooms where much of it took place.
Much of the modern obsession with psychology and law enforcement comes via stories about the real-life people who investigate these killers. The most prominent American department in this domain is the Behavior Analysis Unit, the real-life unit that inspired the wildly popular series "Criminal Minds" — "Mindhunter" looks at the origins of the BAU, which was founded within the FBI in the 1970s and coined the term "serial killer."
The series follows FBI Agents Holden Ford (Jonathan Groff) and Bill Tench (Holt McCallany), along with psychologist and professor Wendy Carr (Anna Torv), who operate what they call the Behavioral Sciences Unit at Quantico. Through their work there, they begin to develop a pioneering method of profiling serial killers, a method which many of us are familiar with today. In classic Fincher style the show is beautifully executed with a killer eye for detail, and its interrogation scenes are some of the most riveting of the medium. If you want a little history lesson with your entertainment, check out "Mindhunter" next.
Criminal Minds (2005 - 2020)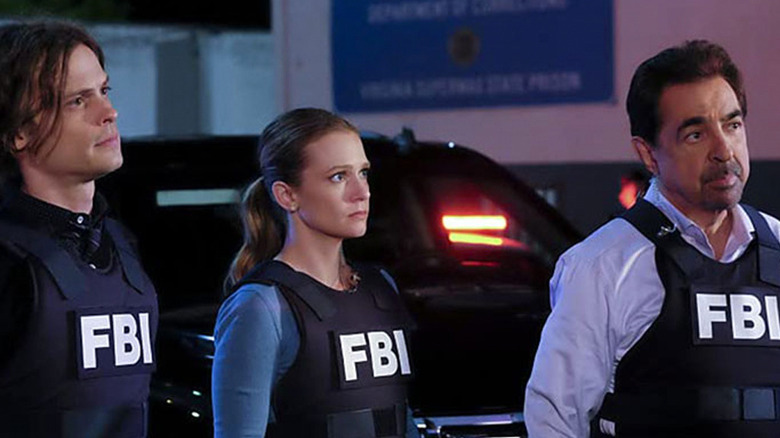 CBS
"Criminal Minds" centers on the BAU team brought to life in "Mindhunter," with each episode focusing on a new killer or criminal the team must profile and catch. The unit flies around the country on their private jet, quickly getting the lay of the land in every town they visit so they can accurately assess the situation.
While the cast of the show has changed numerous times over its fifteen seasons on air, the core cast is what many fans show up to see. There's Hotch (Thomas Gibson), the team's stoic leader, Dr. Spencer Reid (Matthew Gray Gubler), a brilliant wunderkind, JJ (A.J. Cook), an empathetic badass, and Penelope (Kirsten Vangsness), a former hacker and the team's tech specialist — to name only a few. While fifteen seasons is a long time for any show to air, fans remained invested primarily because of the aforementioned characters, who are more like a family than they are coworkers. If you're ready to commit to watching a grand total of 323 episodes, dive in.
The Closer (2005 - 2012)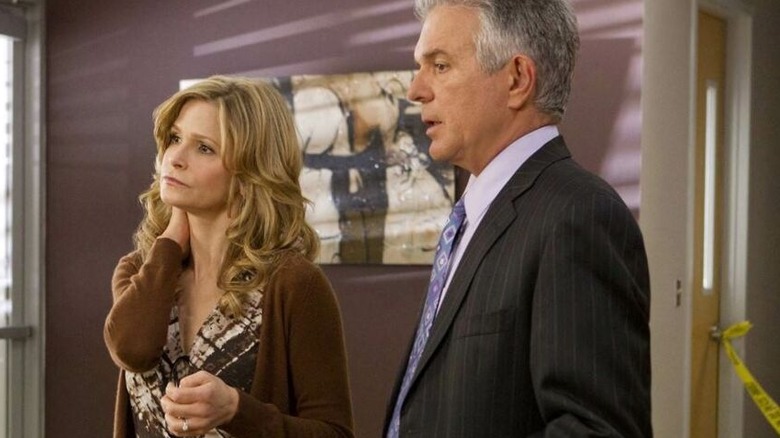 TNT
If you think about it, it does make a lot of sense that procedurals often depict characters that are unusual; after all, who wants to watch hundreds of episodes of a show about someone who solves mysteries by being normal? 
One such series about a typically unique figure was the TNT show "The Closer," starring Kyra Sedgwick as Brenda Johnson, a police detective originally from Atlanta. Brenda is known as a closer, meaning she not only solves cases, but also gets confessions from suspects, meaning she can officially "close" the case.
Brenda moves from Atlanta to Los Angeles to lead a team that focuses solely on the most high-profile, sensitive cases, known as the "Priority Homicide Division." Brenda is a CIA-trained interrogator who is brilliant at interviewing witnesses, and her unorthodox style — as well as her disregard for politics — make her a unique figure within law enforcement. "The Closer" was so successful that it led to a spin-off, "Major Crimes," which follows the same division, now headed by Mary McDonnell's character, Sharon Raydor.
The Blacklist (2013 - )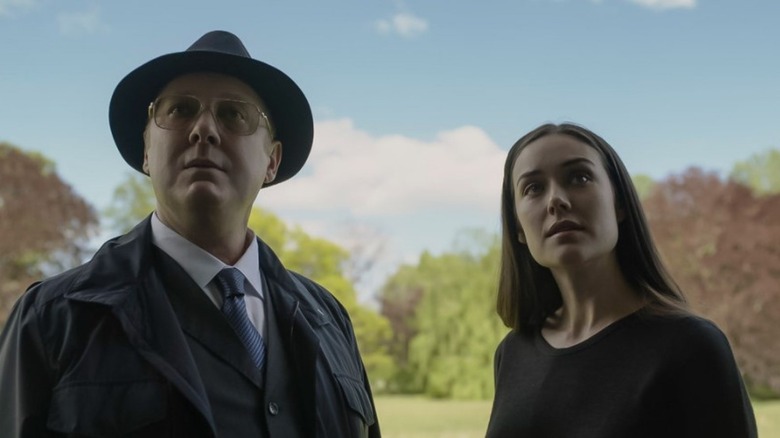 NBC
One of several shows where the police consultant is a former criminal, "The Blacklist" follows a man known as Red (James Spader), a former Navy officer who became a criminal and then evaded the authorities for decades. For unknown reasons, Red voluntarily gives himself up and agrees to work with the FBI under one condition: that he work with a profiler named Elizabeth Keen (Megan Boone), a woman with whom he has no apparent connection.
But the link between Red and Liz is slowly revealed over the course of several seasons, as each individual episode focuses on Red, Liz, and the rest of the team working to apprehend international criminals that Red has on his lengthy "Blacklist." The series features many twists and turns and only gets more complicated as it moves along, leading audiences on a wild ride. With nine seasons having already aired, "The Blacklist" has been renewed for its tenth, meaning the mystery isn't totally solved just yet.
Miss Sherlock (2018)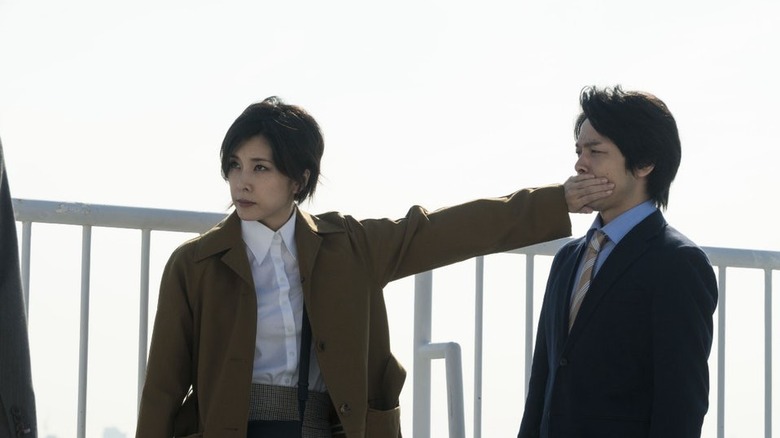 HBO Asia
Although there have been plenty of Sherlock Holmes adaptations as of late, "Miss Sherlock" is one you don't want to miss. 
It only aired for one season — in part due to the tragic death of lead actress Yuko Takeuchi — and this gender-swapped adaptation starred the magnetic Takeuchi as Sara Shelly Fubata (known as "Sherlock"), a consulting detective in modern-day Tokyo. Joined in investigations by her new flatmate, Dr. Wato Tachibana (Shihori Kanjiya) — aka "Wato-san" — a doctor who has just returned from providing medical aid in Syria, the show put a unique spin on a legendary pairing.
Like any adaptation of Sherlock Holmes, Sherlock and Watson's relationship is complex and at times mildly combative, yet they make a great team. Takeuchi's performance as Sherlock is especially compelling, and her strangeness feels totally unique to this new setting. If you've already seen "Sherlock" or "Elementary," it might be time to take a chance on "Miss Sherlock" next.
Person of Interest (2011 - 2016)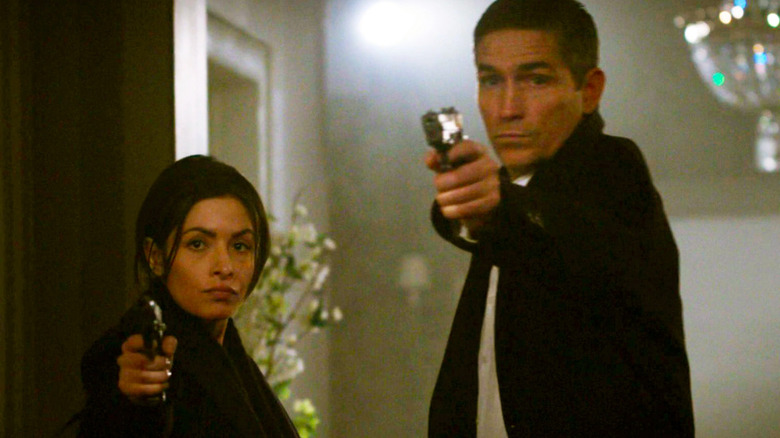 CBS
One of the most interesting things about "The Mentalist" was always how it illustrated ideas about psychology and the nature of the human mind. While CBS's "Person of Interest" wasn't necessarily a show about psychology, it did ask some similarly fascinating questions about human behavior. 
The series follows Harold Finch (Michael Emerson), a brilliant, billionaire computer programmer who has created a computer program intended to stop acts of terrorism before they happen. Predicting the exploitation of his creation — known as "The Machine" — Finch programs it to only provide tiny pieces of information about potential victims or perpetrators, which means The Machine is unable to act on this information on its own. 
Working in secret — the government considers any information not related to terrorism "irrelevant" — Finch and former CIA operative Reese (Jim Caviezel) work to stop crimes before they happen. The team working for The Machine eventually grows (Taraji P. Henson, Sarah Shahi, and Amy Acker are also cast members), as Finch must grapple with profound questions about the nature of humanity and the intentions of his beloved Machine. It's a thrilling, provocative series that will keep your mind turning even after the screen goes black.
Unforgettable (2011 - 2016)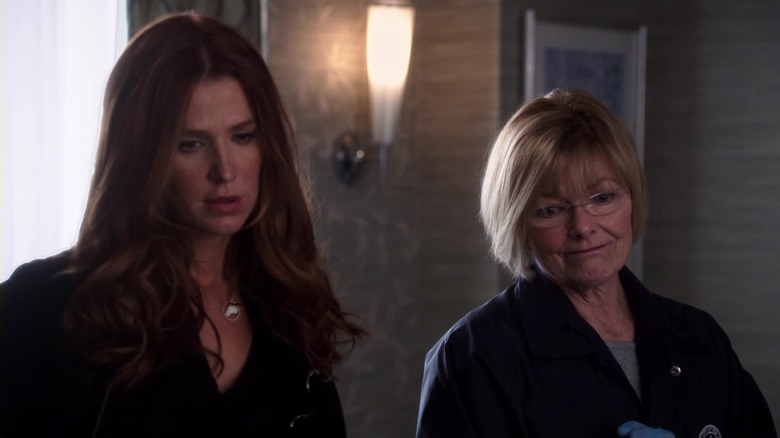 CBS
This CBS series followed Carrie Wells (Poppy Montgomery), an ex-detective with a rare condition called hyperthymesia, giving her the ability to remember everything she has ever seen or heard. When her ex-boyfriend (Dylan Walsh), a homicide detective with the NYPD, calls her in to consult on a case, she found herself reluctantly drawn back into law enforcement, eventually joining the homicide unit.
Wells hopes that by working with the NYPD, she will be able to solve the case of her sister's murder, which is the only thing her perfect memory won't allow her to access. In many ways, "Unforgettable" is similar to "The Mentalist" and "Psych" in that it follows someone who has uncanny powers of perception. Also like "The Mentalist," it tracks a character driven by a loss in their past, something that adds depth and propulsion to an otherwise familiar concept.
Castle (2009 - 2016)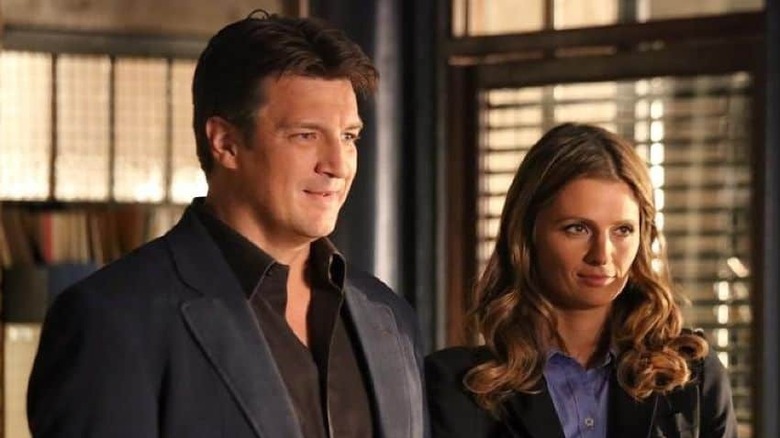 ABC
Another procedural following an unlikely pair as they try to work together and resolve their differences (sound familiar?), this well-remembered series followed Nathan Fillion's Rick Castle, a millionaire mystery novelist and playboy teamed up with NYPD detective Kate Beckett (Stana Katic) after a copycat killer begins recreating scenes from his novels. Finding her work inspiring, Castle decides to shadow Beckett, using her as research for his next book.
Like all good odd-couple pairings, Castle and Beckett initially clash. She is exasperated by his immature personality, which doesn't gel with her staunch professionalism. As you might be able to guess, feelings begin to develop between the pair, and they find that they actually made quite a good crime-solving team. If know-it-all men paired with stoic women is your thing (which it might be, if you're a fan of "The Mentalist"), clear some time in your schedule for "Castle."
Saving Grace (2007 - 2010)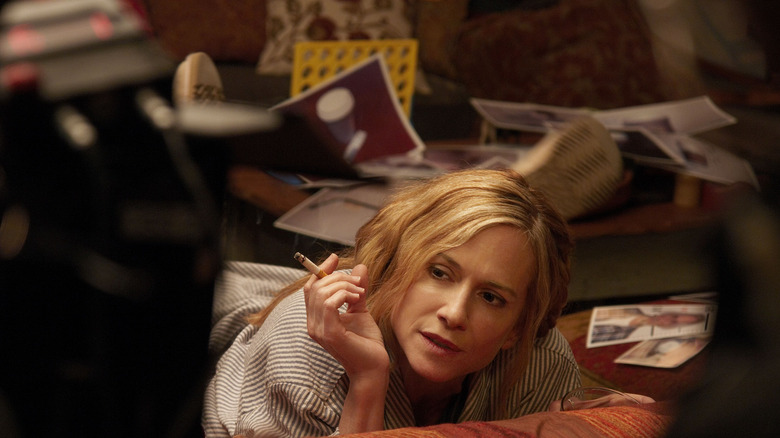 TNT
One of the central themes of "The Mentalist" is redemption. Feeling responsible for the death of his wife and daughter, Jane begins working with law enforcement primarily as a means to catch the man responsible for their death. Another show that set the idea of redemption in a law enforcement environment was "Saving Grace," which aired from 2007 to 2010 on TNT. 
The series follows Grace Hanadarko (Holly Hunter), an Oklahoma City police detective who is a heavy drinker and has terrible taste in men. Driving home one evening after a night of drinking, Grace hits a pedestrian with her car. Grace desperately calls out for help, and her call is answered by Earl (Leon-Rippy), a tobacco-chewing man who calls himself her "last chance angel." 
When Earl disappears, the man she hit with her car is gone with him, and Grace has to figure out what has just happened to her. Earl continues to visit Grace throughout the series, urging her to put an end to her self-destructive behaviors and give herself over to God. It's a great role for the always-brilliant Hunter, and her character feels like a true original. Just don't let her drive you home in her Porsche.
Bones (2005 - 2017)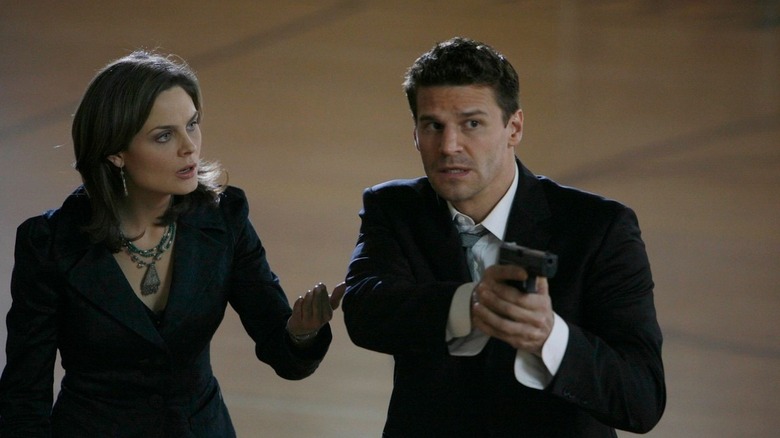 Fox
If we're going to keep referencing odd couples and police consultants, there's another show we're basically obligated to mention. Clearly modeled on the testy relationship between Mulder and Scully on "The X-Files," "Bones" was a classic in the pantheon of procedural pairings. 
The show follows Dr. Temperance Brennan (Emily Deschanel), also known as Bones, a forensic anthropologist who works at the Jeffersonian Institute (modeled after the Smithsonian). The FBI frequently calls upon her to assist with their most inscrutable cases, and this is how she teams up with Seeley Booth (David Boreanaz), an FBI agent and former army sniper.
Though Booth is skeptical of science and Brennan doesn't believe in any form of investigation except science, they eventually come to respect one another and are able to develop a good working relationship. And, because it wouldn't be a police procedural without it, they also begin to develop romantic feelings for another as the seasons go on (don't worry – it's a slow burn). The show also features a rotating cast of supporting characters — called "squints" or "squinterns" by Booth — which add a lot of amusement and humor to the series. With twelve seasons of the beloved show to get through, you better start watching now.
Hannibal (2013 - 2015)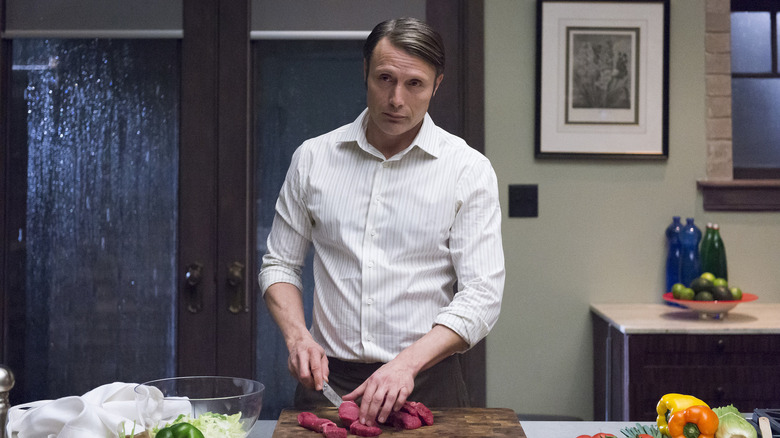 NBC
Technically, NBC's "Hannibal" is a police consultant show like many others we've discussed, but it's a slightly different take on the formula. Based on the novel series by Thomas Harris, the show follows FBI criminal profiler Will Graham (Hugh Dancy), who has the gift (or curse) of being able to get into the headspace and empathize with anyone, even psychopaths. When Will's boss, Jack Crawford (Laurence Fishburne) becomes worried about Will's state of mind, he sends him to Hannibal Lecter (Mads Mikkelsen), a forensic psychologist.
Unbeknownst to Jack and Will, Hannibal is actually a prolific serial killer and a cannibal who enjoys feeding his victims to his houseguests in elaborately prepared dishes (if you have a weak stomach, don't watch this show). Hannibal begins to manipulate Will, trying to get him to give in to his darker instincts. All the while, Will and his team at the FBI are trying to solve grisly murders, some of which are the handiwork of Hannibal himself. Certainly one of the darkest and most gruesome shows on this list, "Hannibal" combines elements of horror with a focus on psychology, a decidedly lethal combination.
Murder, She Wrote (1984 - 1996)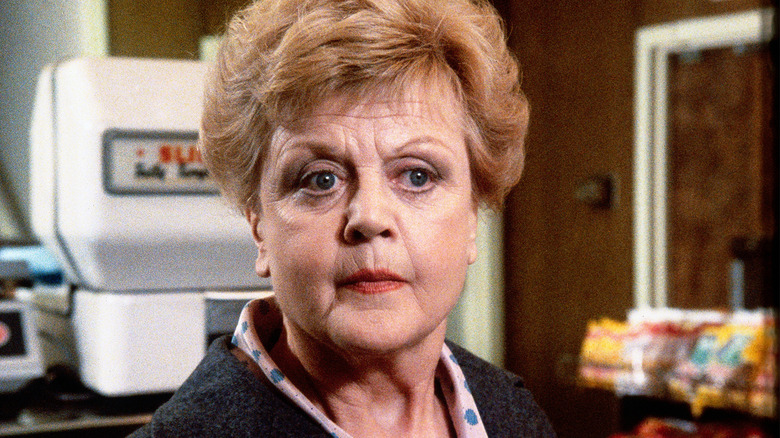 CBS
If "Hannibal" is a little too dark for you, may we suggest something more lighthearted? A progenitor of the genre, "Murder, She Wrote" dominated ratings and ran for an impressive 12 seasons from 1984 to 1996, in the process becoming one of the most beloved shows in the history of American television. 
Starring the great Angela Lansbury — who, incidentally was also nominated for 12 Emmys for the series — "Murder, She Wrote" follows Jessica Fletcher, a retired schoolteacher who becomes a successful mystery novelist following the death of her husband.
A long-time resident of the idyllic Cabot Cove, Maine, Jessica seems to attract murder wherever she goes, whether it be in her not-so-sleepy hometown or out on the road doing press for her books. Along with being a talented writer, Jessica also proves herself to be an excellent detective, often solving the case before the police have any idea what's going on. 
Along with a charming cast of supporting characters — her best friend and the town doctor, Seth (William Windon), the bumbling Sheriff Amos Tupper (Tom Bosley), and her nephew, Grady (Michael Horton) — Jessica somehow finds the time to solve murders while also banging out mystery novels on her typewriter. 
If you've already watched "Murder, She Wrote," perhaps give a read to this theory that Jessica was actually the killer all along — then re-watch the series with that possibility in mind.
Prodigal Son (2019 - 2021)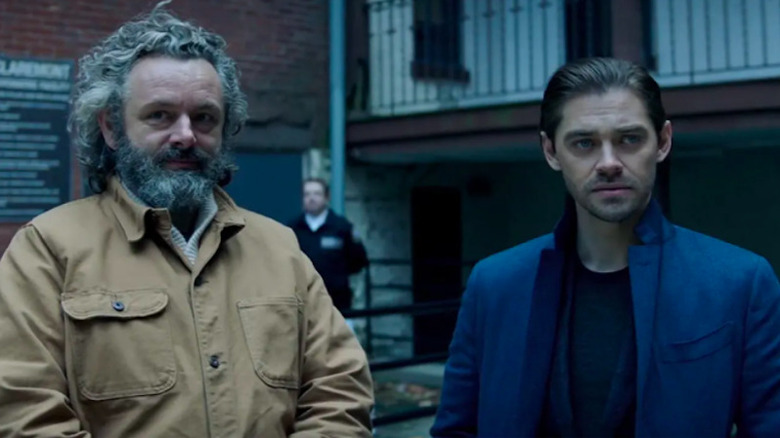 Fox
Family relationships are almost always complicated on police procedurals, and none more so than the relationships depicted in the Fox series "Prodigal Son." 
The series follows Malcolm Bright (Tom Payne), a brilliant criminal psychologist who works for the NYPD. Malcolm's life is rather complicated because, while trying to stop killers in his day job, he must also deal with his father (Michael Sheen), who happens to be a serial killer himself and attempts to bond with his son after they reunite during a case. Malcolm's mother (Bellamy Young) is a manipulative, high-class businesswoman, while his sister Ainsley (Halston Sage) is a TV news reporter who wishes Malcolm would find a different job.
Apart from his sister, Malcolm's only ally is his mentor, Detective Gil Arroyo (Lou Diamond Phillips). Others at the NYPD question whether or not Malcolm is a psychopath himself, and Malcolm, as well as the audience, begins to wonder that as well. If there wasn't enough family drama (and trauma) on "The Mentalist" for you, "Prodigal Son" might be a good fit.
Fringe (2008 - 2013)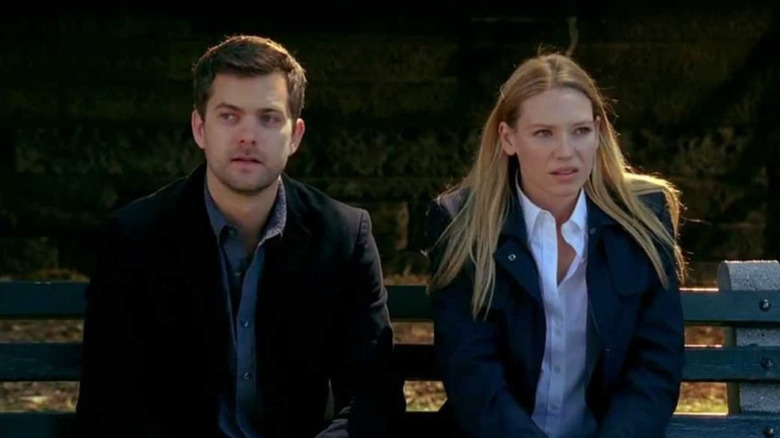 Fox
Yes, we know we've referenced Mulder and Scully from "The X-Files" on this list several times already, but they really were the blueprint for so many procedurals, from "The Mentalist" to many others. 
Another show that took the Mulder/Scully dynamic to new heights was the Fox series "Fringe," which aired from 2008 to 2013. "Fringe" follows FBI agent Olivia Dunham (Anna Torv) who is assigned to the Fringe Division, where she investigates unusual and inexplicable events. Olivia is joined by Dr. Walter Bishop (John Noble), a scatterbrained scientist, his son, Peter (Joshua Jackson), a former con man, and dedicated Junior Agent Astrid Farnsworth (Jasika Nicole).
What begins as a simple mystery morphs into something much bigger, as the team discovers secrets such as time travel and parallel universes, unlocking the secrets of their own pasts (and futures). It's a mind-bending show, but it never loses sight of what's important: the relationships between the characters. Olivia and Peter's complicated and at times heart-wrenching relationship is central to the show, and it's one of the most epic, time-bending relationships to ever grace our television screens. Peter and Walter's relationship is also of paramount importance, and, like in any good sci-fi show, the heart comes before the science. The talented cast does a tremendous job of bringing those characters to life.
The Dead Zone (2002 - 2007)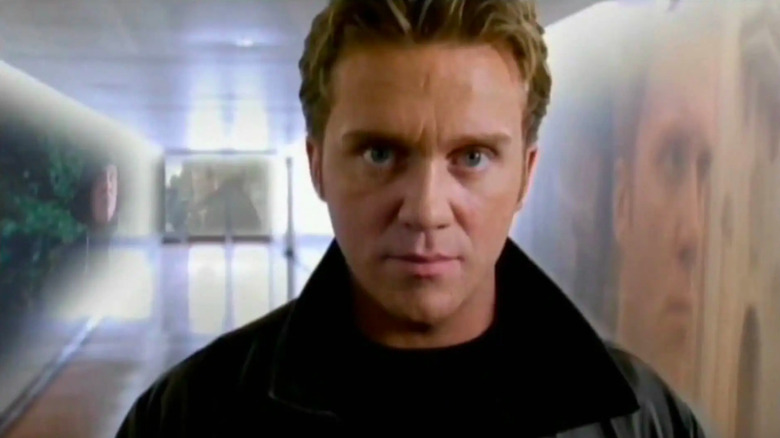 USA
Based on the classic David Cronenberg film, this USA series gave new life to the concept of a man who can know everything — just from a touch.
John Hughes mainstay Anthony Michael Hall stars as teacher Johnny Smith (Michael Hall), who wakes up from a coma after six years and discovers that he's now clairvoyant and able to see visions from the past and future.
Upon waking up, Johnny learns that his fiancée Sarah (Nicole de Boer), has given birth to his son and married another man, Sheriff Walt Bannerman (Chris Bruno). The doctors theorize that his newfound abilities come from the "dead zone" of his brain, which is now functioning in an attempt to make up for the parts of the brain that were impaired during the accident. Despite the shock of his new life, Johnny, with the help of his friend and physical therapist, Bruce (John L. Adams), decides to use his abilities to help solve crimes, finding an unlikely ally in the town sheriff. Based on the Stephen King novel that served as the basis for the Cronenberg film, the show is yet another addition in the crime-solving psychic genre.
Lucifer (2016 - 2021)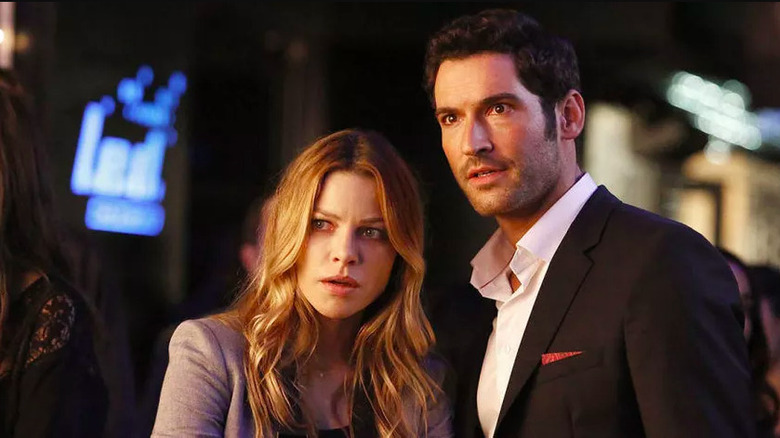 Fox
If you like the witty banter of "The Mentalist" but are looking for something a bit more fantastical, our next suggestion is the genre-bending series "Lucifer." Based on the character created by Neil Gaiman, Sam Kieth, and Mike Dringenberg, originally introduced in a DC comic series, the show followed Lucifer Morningstar (Tom Ellis), also known as The Devil. Bored of Hell, Lucifer instead ventured to Los Angeles, opening a nightclub called Lux, where he lives a hedonistic lifestyle filled with women, alcohol, and music.
Lucifer has the power to manipulate humans by seeing their deepest desires, but one day, he meets LAPD detective Chloe Decker (Lauren German), who changes everything. Chloe seems to be a thoroughly good person, and Lucifer is unable to manipulate her like he is everyone else. Together they begin an unlikely partnership as Lucifer uses his abilities to help solve crimes, all the while Chloe remains unaware of who Lucifer really is — the actual Devil. A star-crossed romance narrated by Lucifer's sardonic wit, "Lucifer" is sure to awaken a devilish pleasure within you.
Blindspot (2015 - 2020)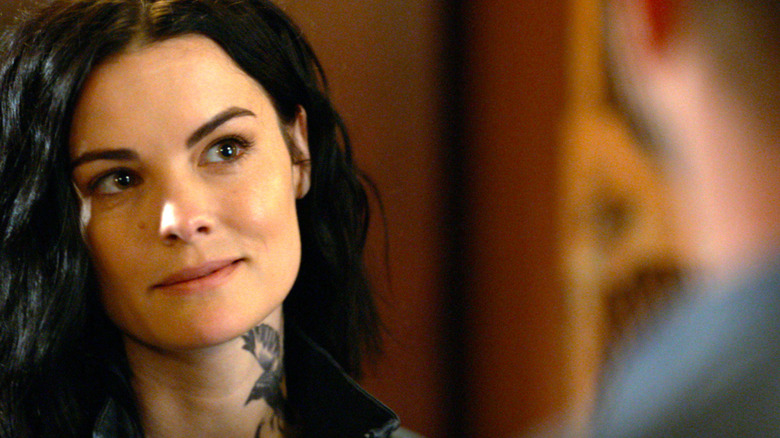 NBC
The last show on this list is not quite sci-fi or fantasy, but it does present some pretty complicated mysteries. NBC's "Blindspot" follows an unnamed woman (Jamie Alexander), known only as Jane Doe, who is discovered naked in Times Square with no memory of who she is or how she got there. Jane Doe is also covered in tattoos, and one of the tattoos is the name of an FBI agent, Kurt Weller (Sullivan Stapleton), who is, for obvious reasons, assigned to the case.
Weller and his team soon find out that each tattoo on Jane Doe's body is a clue to a crime they must solve, each leading them closer to the truth about Jane's identity and the vast conspiracy to which she is a part. As Jane and Weller become closer, the mysteries only become more complex and the answers harder to come by. 
It's clear that Jane is part of something much bigger than anyone on the team can comprehend, and Weller must decide if he can trust her or not (and vice versa). We can't say too much more than that without spoiling it, so you'll just have to watch and discover the truth for yourself.