The Jason Scene That Went Too Far On Bull
With the series finale of "Bull" airing this May (via TV Line), fans of the CBS legal drama may be feeling nostalgic about the end of the show. Despite several controversies behind the scenes, "Bull" had remained a strong ratings performer (via Deadline). After six seasons, it will be hard for some viewers to say goodbye to the Trial Analysis Corporation (TAC) team, including lead investigator Danny (Jaime Lee Kirchner) and Marissa Morgan (Geneva Carr).
Fans may also be curious too to see what fate holds in store for Dr. Jason Bull (Michael Weatherly) in the finale. Jason has his demons because of his failed legal career and rough childhood. But he's also repaired his personal life in recent years, remarrying ex-wife Izzy (Yara Martinez) and having a daughter, Astrid. Will the often impulsive but charming Bull squander his second chance, or could the finale even involve the character leaving TAC? We'll find out when the last episode airs this spring.
Bull almost always works on the side of justice, but he's also done some questionable moves over 116 episodes. This is the one scene where Dr. Bull truly crossed the line.
Bull sells out and works for a health insurance company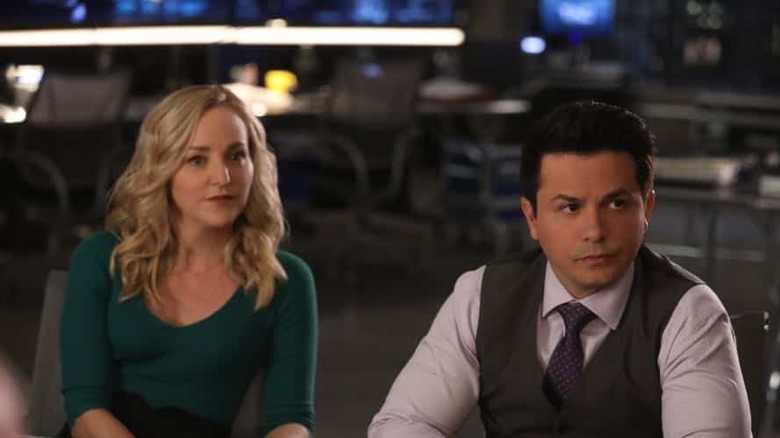 CBS Television
Throughout the series, Dr. Bull only represents clients who he believes are innocent and don't have the resources to get the justice they deserve. However, after Bull suffers a heart attack in the Season 2 finale, his behavior in the Season 3 premiere "The Ground Beneath Their Feet" is quite different and arguably compromises the integrity of the entire character. 
The psychologist shocks his team by taking a $2 million retainer from EquiSafe, an insurance company, after they're sued by a dying woman who needs a liver transplant. The case does prove to be more ethically complex than expected, as the company believed there were more deserving transplant patients, but Marissa still confronts Bull over his decision to represent them. She points out that he's also quite wealthy and that it's easy for him to believe, as he insists, that "everyone can't get everything."
The conversation, as well as news of Cable's (Annabelle Attansio) death rattles Bull, and he ultimately refuses EquiSafe's future retainers. He also gives the dying woman his EquiSafe payment so she can get the transplant herself. The doctor did recognize in time that he was going down the wrong path, but it was still shocking to see him taking a big insurance company as a client given everything his character had previously stood for.