Why Does Ming From Turning Red Sound So Familiar?
2022 has only just started, but the animated film of the year may already be among us: "Turning Red" is hitting Disney+ on March 11, and it's already opening to stellar critical reviews and enormous buzz among animation fans. Directed by the brilliant Domee Shi (who won a Best Animated Short Oscar for directing "Bao"), the latest Pixar outing tells the story of Meilin "Mei" Lee (Rosalie Chiang), a 13-year-old girl from Toronto who suddenly finds herself turning into a giant red panda whenever she feels strong emotion.
Mei is surrounded by one of the most endearing and charismatic casts of characters in a Pixar movie in years. In typical fashion for the studio, most of those characters are voiced not by box-office-draw superstars but by carefully chosen character actors and industry up-and-comers, including "Never Have I Ever" star Maitreyi Ramakrishnan as Mei's friend Priya, "First Cow" breakout Orion Lee as her father Jin, and the great James Hong as Mr. Gao. Aside from the silky-voiced singers in the 4*Town boy band, there is exactly one "Turning Red" cast member who could be accurately described as Hollywood A-list casting — and it's the one who voices Mei's overprotective mother, Ming. If you saw "Turning Red" and thought Ming's voice sounded familiar, you're probably right on the money. Here are a few of the places where you may have seen or heard this incredible Canadian-American actress before.
Sandra Oh is a multi-award-winning film and TV star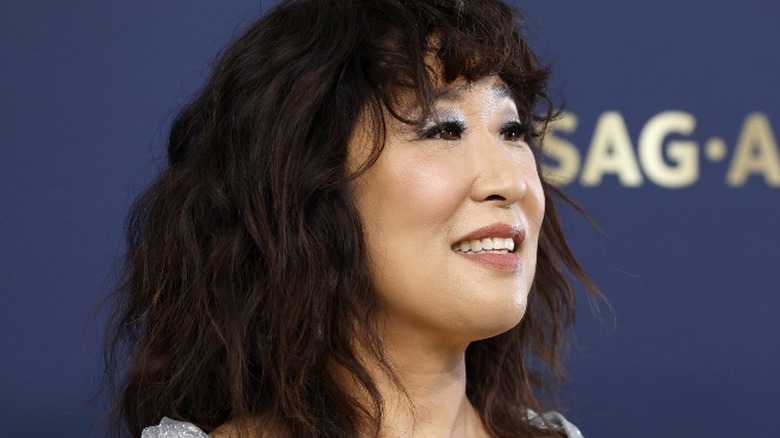 Frazer Harrison/Getty Images
The reason "Turning Red'"s Ming Lee sounds so familiar is that she is voiced by Sandra Oh, one of her generation's most prolific and acclaimed film/TV stars — and one who's particularly well-known for her deep, sturdy, distinctive voice.
Born in Nepean, Ontario, in 1971 to a South Korean immigrant family (via NPR), Oh is arguably best-known for the two very different hit TV series she has starred on: ABC's "Grey's Anatomy," which featured her for 10 seasons as the fan-favorite Dr. Cristina Yang, and BBC America's "Killing Eve," where she makes up TV's most captivating dueling duo alongside Jodie Comer. Both roles have netted her Golden Globe wins, multiple Emmy nominations (via IMDb), and an enormously devoted fanbase.
But Oh's 30-plus-year career also extends beyond those two shows, iconic as her performances in them may be. Among the many other live-action projects you may have seen her in are the HBO cult favorite comedy "Arliss," the classic indie film "Sideways," and, more recently, Netflix's "The Chair." And, in addition to her consistently top-tier live-action work, Oh has also built up some serious cred as a voice actor.
She made numerous guest appearances on animated shows throughout the years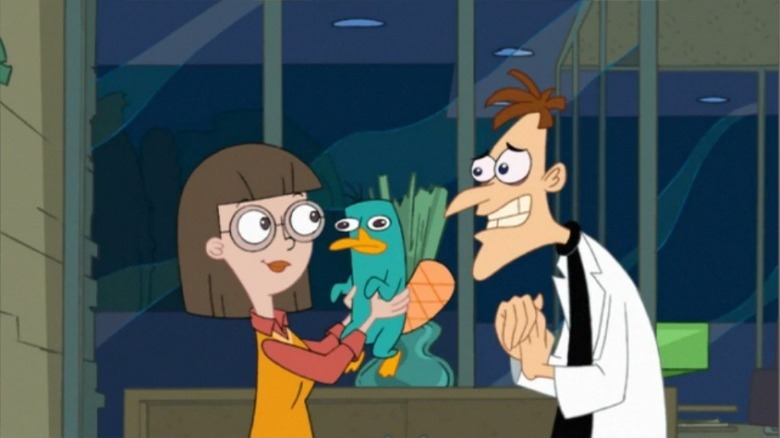 Disney Channel
Sandra Oh's first handful of voice acting roles came right around the turn of the 21st century, when she guest-starred on episodes of "Happily Ever After: Fairy Tales for Every Child" and "The Proud Family," and had a role in the direct-to-video Disney sequel "Mulan II." From there on out, she began to lend her voice consistently to a variety of animated TV series, often in a recurring capacity.
Not long after her stint as Marsha Mitsubishi on "The Proud Family," she made her first of what would become many appearances on "American Dad!" throughout the years. Following that, she voiced schoolteacher Sun Park on "American Dragon: Jake Long," had a guest role as a woman on a date with Dr. Doofenshmirtz's (Dan Povenmire) on "Phineas & Ferb," played both Kate Winslet and Sarah Connor on a 2009 episode of "Robot Chicken," and also popped up for a one-episode turn on the PBS Kids show "Peg + Cat." In between those roles, she also made the time to go into the recording booth for several animated children's films, including "The Land Before Time XIII: The Wisdom of Friends."
She voiced Queen Castaspella on She-Ra and the Princesses of Power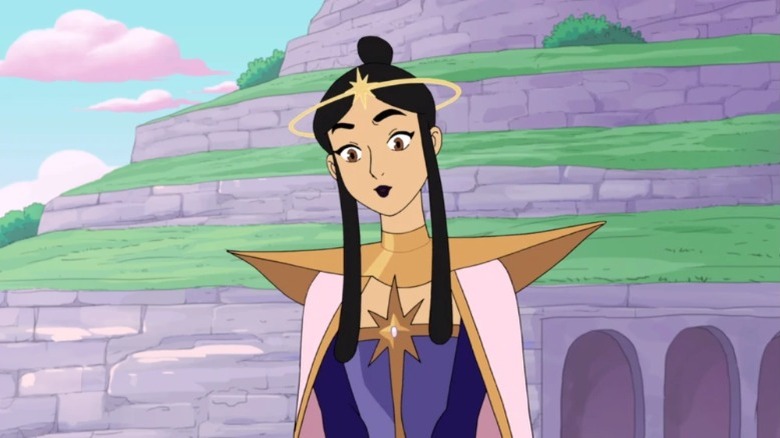 Netflix
One of Sandra Oh's most recognizable past roles as a voice actor is that of Queen Castaspella, head sorceress of Mystacor, on Netflix's short-lived but intensely beloved "She-Ra and the Princesses of Power." An enormously powerful sorceress who rules the kingdom of Mystacor with benevolence and sensibility, she takes an active part in The Rebellion from Season 3 onward and is otherwise seen as the loving but somewhat overzealous aunt of Glimmer (Karen Fukuhara).
The creator and mastermind of "She-Ra and the Princesses of Power," ND Stevenson, has had nothing but praise to offer to Oh on her contributions to the show. Speaking to the Dyking Out podcast in May 2020, Stevenson shared their awe about the depth of the actress' process when tackling the role of Castaspella: "She just comes in and sits next to us, and starts breaking the script down, doing this incredible critical analysis, all very complimentary, but being like, 'Here's these themes that I see, and all of these ways'... Like, she had thought about this, and it was some of the smartest breakdown of the themes in 'She-Ra' that I've ever heard," the writer and cartoonist recounted.
She broke handsomely into big-screen voice acting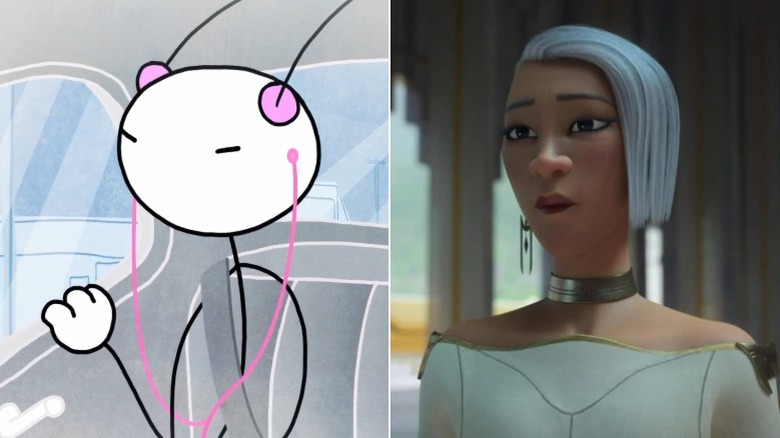 First Pond Entertainment/Walt Disney Studios
Given how fiercely dedicated Sandra Oh has proven to be in either her live-action or voice-only work, it was only a matter of time until she brought her craft into the realm of big-screen animation.
Her first major role in a theatrical animated film came in 2016 when she produced and starred in the acclaimed Canadian indie "Window Horses: The Poetic Persian Epiphany of Rosie Ming." The film, a passion project for Oh made through an Indiegogo crowdfunding campaign she herself promoted (via The Hollywood Reporter), tells the story of a young Canadian poet with Chinese and Persian ancestry who goes on a journey to Iran to take part in a poetry festival.
A few years later, Oh nabbed roles in two big-budget animated blockbusters — both of them, much like "Window Horses," themed around Asian culture. The first, Netflix's "Over the Moon," featured her as Ms. Zhong, the new fiancee of Fei Fei's (Cathy Yang) widowed father Ba Ba (John Cho), whom Fei Fei takes some time to warm up to. The second was "Raya and the Last Dragon," in which Oh joined a star-studded all-Asian cast in the role of Virana, chief of the Fang Tribe and mother of the conflicted Namaari (Gemma Chan).
She is one of the stars of Prime Video's Invincible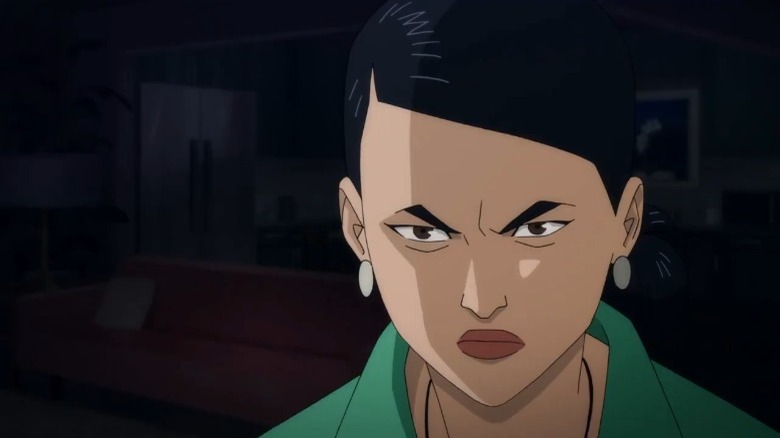 Amazon Prime Video
Based on the eponymous Image Comics series, "Invincible," now going on its 2nd season, has been the subject of much discussion due to its jarring, ingeniously effective blend of Saturday-morning-cartoon aesthetics and extremely dark and gruesome subject matter. And, although the central story of teen superhero Mark Grayson (Steven Yeun) and his fraught relationship with his mega-powerful extraterrestrial father Nolan Grayson/Omni-Man (J.K. Simmons) gets all the attention, the story of Mark's human mother, Debbie, who is voiced by Sandra Oh, is arguably even darker.
A successful, level-headed realtor who has learned to take life as a superhero's wife as it comes, Debbie proves from the start of the show to be both an incredible mother, always knowing just how and when to keep Mark's head screwed on, and the only human on Earth who's able to exert any sort of influence over Omni-Man. As the season develops and she makes a series of shocking discoveries about the true nature of her husband and their once-happy marriage, Debbie is hit with arguably the hardest emotional load out of anyone on the show, which almost sends her down a spiral of self-destruction. Yet, somehow, she manages to keep herself together and be there for Mark. It may be the strongest character arc in Season 1 of "Invincible," and Oh sells you on every step and every nuance of it. Talk about superpowers.