The Office's Brian Baumgartner Comments On Those Reunion Rumors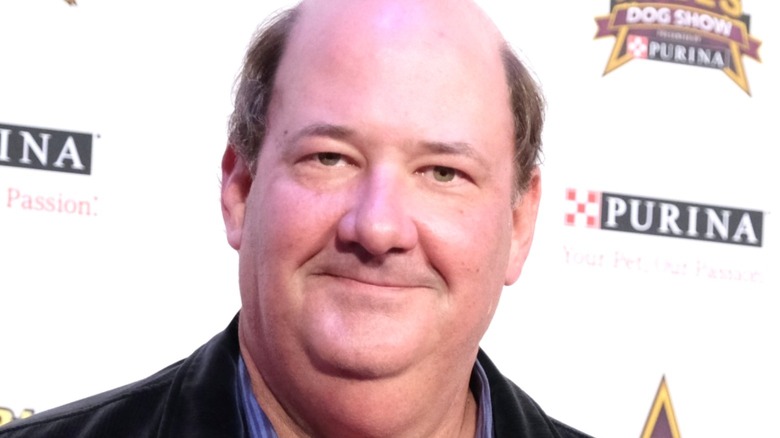 Sarah Morris/Getty
The hit NBC sitcom "The Office" has remained a perennial classic since its last episode aired in 2013. It found an entirely new and younger audience on streaming, and now in today's reunion/reboot/revival-choked marketplace it's only natural to wonder if such a reunion might be in the works for America's most beloved Dunder-Mifflin employees.
Rumors of some sort of cast reunion have been swirling for a while now, and there are plenty of fans out there eager for something, anything in the way of official news to confirm them. And even though it's debatable whether these recent comments from Brian Baumgartner (who played Kevin on the show) qualify, they are a reason to get excited for any devoted "Office" fanatics out there, despite his apologetic qualifier that they're "really boring" since they mirror what he's said on the subject in the past.
So could "The Office" be returning to our screens in some form in the near future?
Baumgartner says 'something's going to happen'
In an interview with Cheat Sheet, Baumgartner was asked about the possibility of a "The Office" reunion. First, he says, the execution of such a project is outside his purview as part of the supporting cast. Then he says his answer might be "really boring" because it doesn't contain any real new information against what he's said in answers to similar questions in the past.
But here's the good news: "I believe that something will happen," he says. "Do I believe that 'The Office' is going to come back on the air? No." When does the good news come in, you wonder? "But do I think something's going to happen? Yeah — I don't think that's a surprise."
Basically Baumgartner seems to be alluding to some sort of reunion or cast retrospective in the works. Not a new season of "The Office" but perhaps something in the vein of the recent "Friends" reunion show that arrived on HBO Max last year. For now, fans will just have to hang onto this faint glimmer of hope, and wait for more official news of whatever this turns out to be.