The Untold Truth Of Brian Baumgartner's Oral History Of The Office - Exclusive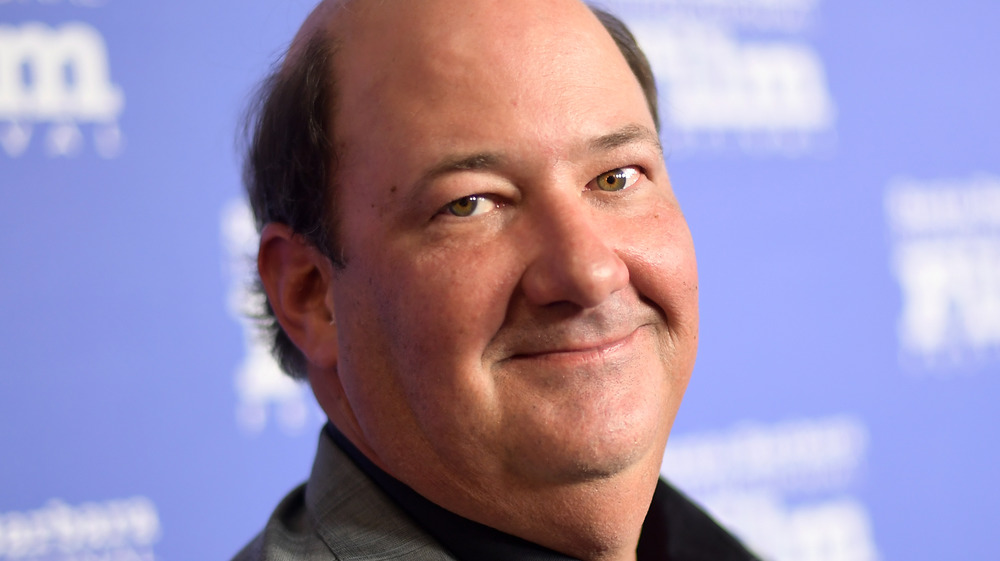 Matt Winkelmeyer/Getty Images
In 2020, Brian Baumgartner hosted the Spotify Original podcast An Oral History of The Office, about the show on which he starred for nine seasons as the lovably bumbling accountant Kevin Malone, who once famously dropped a pot of chili — an incident so memorable that it's led to the actor partnering with Bush's Beans to promote his very own chili recipe.
A remake of the short-lived U.K. series of the same name, the American version of The Office initially struggled to find an audience on NBC, but eventually became one of television's biggest hits that still resonates to this day. An Oral History of The Office delves into the creation of the series via interviews with the cast and crew, who pull back the curtain and reveal some never-before-heard stories about working on the hit show.
In addition to Baumgartner, the 12-episode podcast features interviews with The Office creator Greg Daniels and stars Steve Carell (Michael Scott), Rainn Wilson (Dwight Schrute), John Krasinski (Jim Halpert), and Jenna Fischer (Pam Beesly), among others.
In an exclusive interview with Looper, Baumgartner discussed what went into creating such an in-depth podcast and disclosed the untold truth of An Oral History of The Office.
The Office was almost canceled multiple times before really connecting with viewers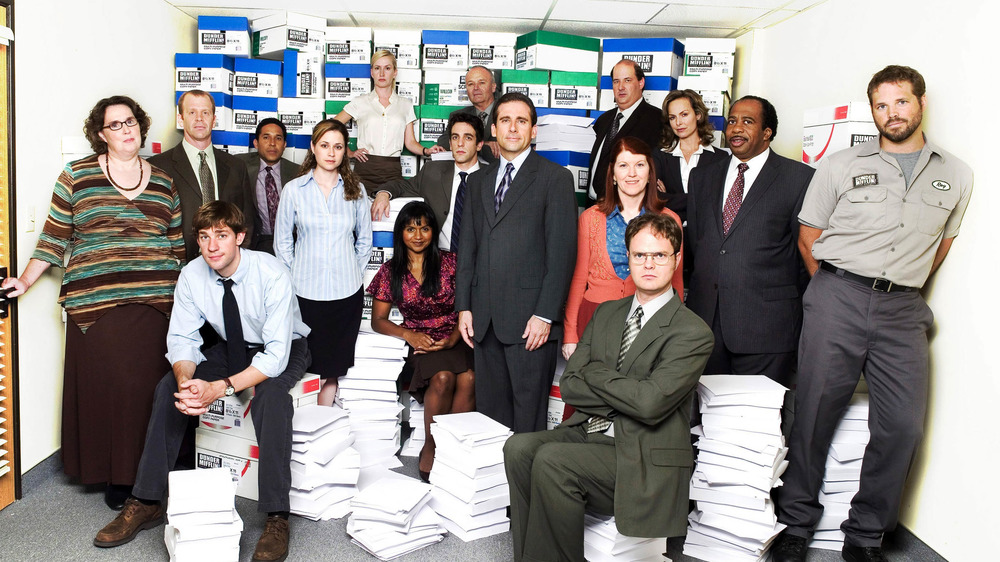 NBC
Baumgartner worked in conjunction with TV producer Ben Silverman to bring An Oral History of The Office to life. It was as much for the long-term original fans of The Office as the newer fans who discovered the show via binge-watching Netflix, years after its series finale in 2013.
"We wanted to put together a true oral history of the show ... to really tell the full story," says Baumgartner. "A lot of people who discovered the show on Netflix don't know that we were almost canceled multiple times. I mean, we were kind of dead on arrival, and we had some champions at NBC who fought to keep us on. And I just really wanted to tell that story, and to give people who had found the show later on a greater context of how the story played out."
Once The Office picked up steam, it became a trailblazer in the TV realm, paving the way for similar shows like 30 Rock and Parks and Recreation, and turning Carell, Krasinski, and Wilson, among others, into household names.
Brian Baumgartner amassed over 100 hours of interviews for An Oral History of The Office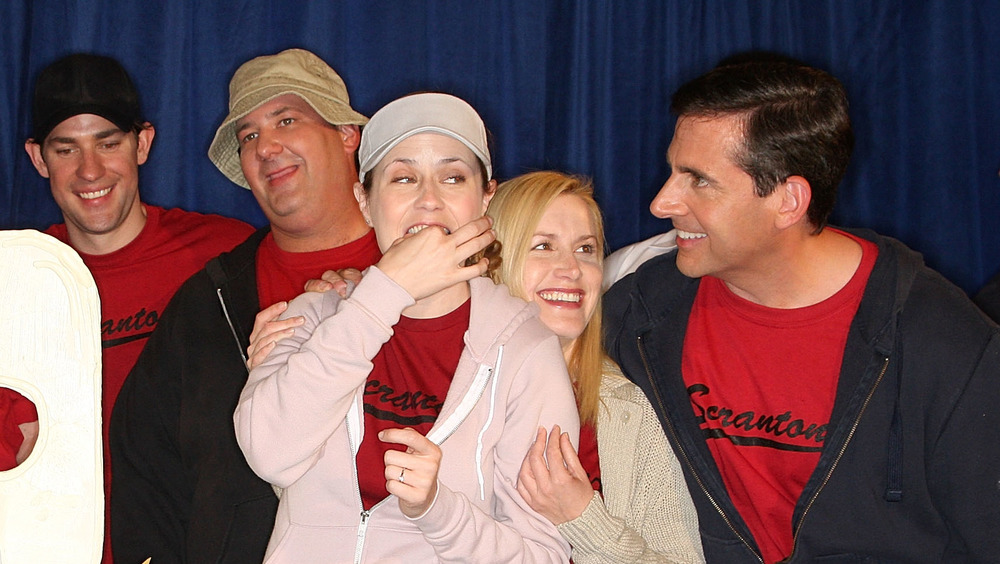 Frederick M. Brown/Getty Images
"First and foremost, I could not have done it without [my co-stars]," says Baumgartner of how An Oral History of The Office came together.
Recorded early in 2020, most of the 40-plus interviews were conducted from a studio assembled in Baumgartner's home office before the COVID-19 pandemic shut down production in Hollywood. More than 100 hours of interviews had to be edited down remotely before the podcast's release in July. Overall, though, the process went smoothly and generated more in-depth content than expected.
"What I found was people were so generous with their time and with their stories and recollections," says Baumgartner. "I was sitting down with people for two, three, four hours, and we accumulated over a hundred hours of recorded interviews, but we were putting together essentially an eight-hour history, so we had to cut up everybody's interviews [to pare it down]."
An Oral History of The Office spawned a second series of podcasts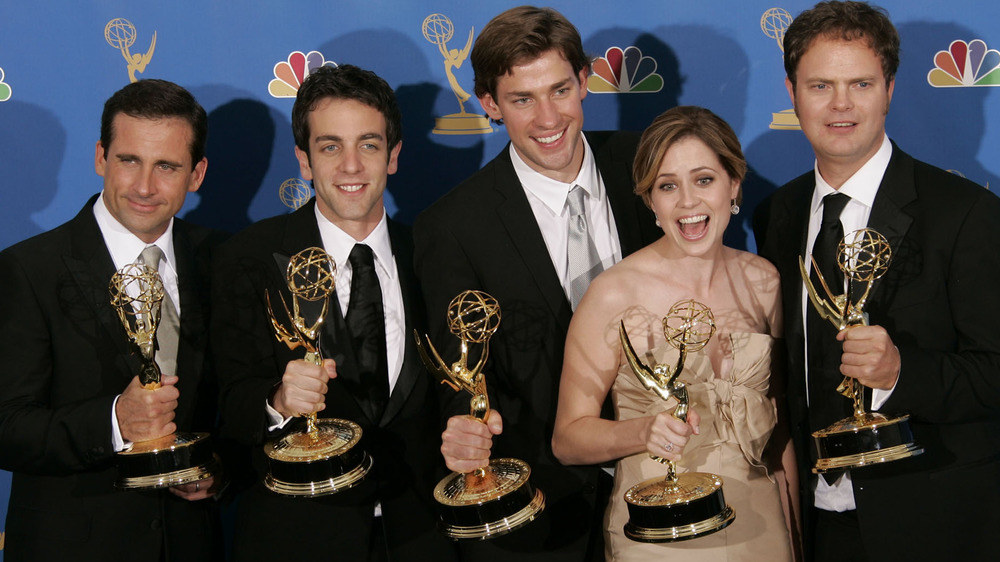 Bloomberg/Getty Images
Because of all the hours and hours of interviews amassed for An Oral History of The Office, a second series of podcasts was spawned in 2021: The Office Deep Dive with Brian Baumgartner. It features the full-length interviews of the cast and crew that were initially recorded for the oral history.
"From the very first [interview] I did, which was with Rainn Wilson, I went, 'Oh, people have got to hear all of this. How can I choose just a few minutes of this?'" says Baumgartner. "Now what I'm doing is going back and releasing those [full] interviews."
If you listened to An Oral History of The Office for its in-depth, blow-by-blow account of The Office's success as a series, you may want to turn your attention to Deep Dive, which focuses more on getting to know the people behind the scenes.
Says Baumgartner, "What you're coming to [Deep Dive] for is to really get to know the people [behind the series] in a deep, meaningful way, and hear their stories and experiences on the show and how different all of their personalities are and how connected we really are. I think it further accentuates and tells the story of us becoming a real family over the course of ten years."