You Won't Believe Who Nic Cage Wants To Play In A Sequel To The Batman
Nic Cage's affinity for comic book superheroes is a well-known part of his own formidable personal mythos at this point. After all, we're talking about the guy who named his son Kal-El, after Superman's Kryptonian name, not to mention the same guy who had to, according to a terrific piece of superhero movie lore (via Reddit), get his own tattoo of the Ghost Rider removed from his body when he actually ended up playing the character on screen.
So it's no surprise that Cage has a lot of affection for the current crop of superhero blockbusters, even if he hasn't quite managed to break into the MCU or its DC Comics equivalent just yet. He hasn't yet tackled the 21st-century actor's greatest challenge: that of a Batman villain. But he does have a certain Gotham City baddie in mind for if he ever gets the chance to step into the part of one of the Caped Crusader's infamous rogues in a sequel to "The Batman."
Cage thinks he can make Egghead "absolutely terrifying"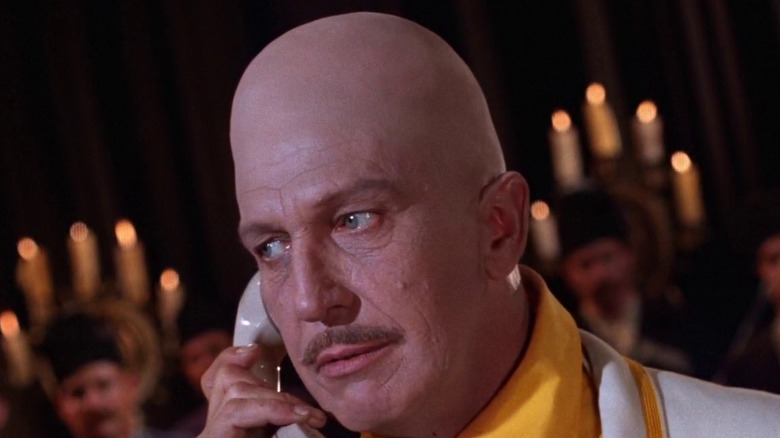 Disney Platform Distribution
At the South by Southwest premiere of Cage's new film "The Unbearable Weight of Massive Talent," Cage was asked by Fox 7 Austin if there were any roles he's always wanted to play. His first answer, though not Batman-related, is still interesting: Captain Nemo of Jules Verne's "Twenty Thousand Leagues Under the Sea," with which Cage says he shares an affinity for the ocean.
Cage as Nemo is an exciting enough prospect, but his next answer is the real jackpot. He says he hasn't yet seen "The Batman" but is excited to take it in, and that he already has a Batman villain lined up in his creative sights for a sequel: Egghead.
Batman fans know that Egghead was originally created for the 1966 "Batman" TV series, on which he was memorably played by Vincent Price as a bald lunatic obsessed with both eggs and egg puns. But Cage says he can make the character "absolutely terrifying," a nod to the dark and often horrific tone established by "The Batman."
While Egghead probably isn't very high up on WB's prospects for future big-screen Batman villains, it might not be wise to bet against the prospect of Cage making this particular dream come true. For that reason, a sequel to "The Batman" featuring Cage as Egghead is definitely something to get egg-cited about.