The Real Reason Evan Peters' Character Was Cut From Pose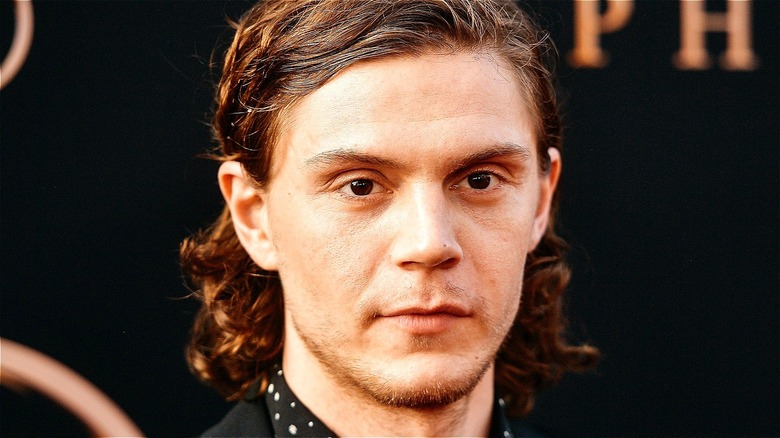 Matt Winkelmeyer/Getty
Created by Ryan Murphy, Brad Falchuk, and Steven Canals, "Pose" is set in 1980s New York City and follows several LGBTQ+ characters as they participate in the drag ball scene and navigate the onset of the HIV/AIDS epidemic. MJ Rodriguez stars as Blanca Rodriguez-Evangelista, a trans woman who decides to start her own house to become a "mother" to LGBTQ+ folks, including Angel (Indya Moore), a trans woman sex worker, and Damon (Ryan Jamaal Swain), a talented dancer who was kicked out of home by his parents when they found out he was gay. Billy Porter also stars as Prayerful "Pray" Tell, an emcee of the balls and a close friend to Blanca.
In the first season, "American Horror Story" star Evan Peters also played a major role in "Pose." He portrayed Stan Bowes, a Trump Tower employee who begins a secret affair with Angel, despite already being married. Their affair lasts the whole season until Angel ends the entanglement, fed up with being kept a secret.
When "Pose" returned for Season 2, Peters' character was nowhere to be seen. Many fans likely assumed it was because Stan and Angel's storyline had wrapped up — but was there more to the decision? 
Stan left the show because Pose went in a different direction for Season 2
While speaking with Digital Spy, "Pose" showrunner Steven Canals explained that the creative team decided to take the show in a slightly different direction for Season 2. Because of that, the series moved away from characters like Stan Bowes. Canals explained, "When I pitched Pose originally, the show was always supposed to be grounded in everything that was happening socio-politically in New York, in the 1980s ... You had Black and brown people who were struggling to survive. And then over in Wall Street, you had all the white people who were doing well, and were making massive amounts of wealth in the middle of Ronald Reagan's presidency." 
Originally, Canals wanted the show to highlight what he referred to as "a huge disparity in terms of experience." However, as the series progressed, it appears that the creative team decided to streamline the focus so that it was more clearly on the "beating heart" of the story: Blanca and her house kids. Blanca's storyline was also what audiences seemed to be the most invested in, according to Canals. Thus, they decided to zero in on just one side of New York City. Still, Canals is proud of what they did in the first season.
He concluded, "I actually really love the Angel/Stan storyline. That's a very real experience that I've heard from a lot of trans women about, that they'll date these men, and they're kept in a corner, or the men are not proud of them. So that storyline was really important."