What Winona Ryder Really Thinks About Beetlejuice 2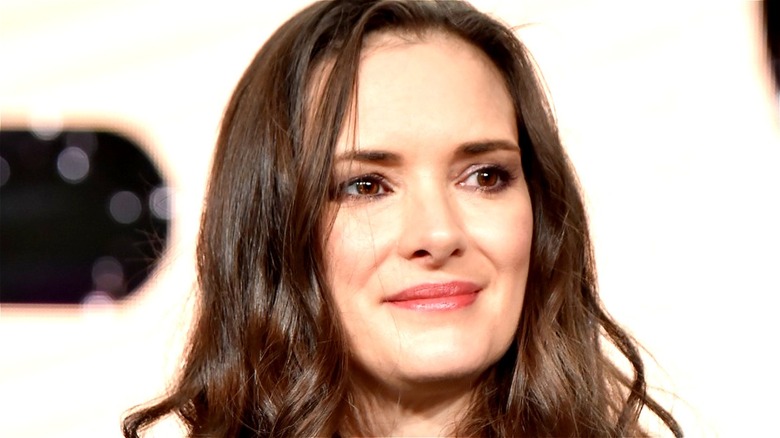 Jeff Kravitz/Getty
In February, The Ankler broke the news that Brad Pitt's production company, Plan B, is developing the long-awaited sequel to "Beetlejuice" for Warner Bros. The original film centers around a recently-deceased couple, Barbara (Geena Davis) and Adam Maitland (Alec Baldwin), who find their afterlives invaded by the eccentric Deetz family. To get rid of the interlopers, Barbara and Adam enlist help from a malignant ghost and self-professed "bio-exorcist," Beetlejuice (Michael Keaton).
Reports of a second installment of the 1988 Tim Burton film have circulated for years. In 2013, Variety reported that Burton and Keaton were attached to the "Beetlejuice" sequel, and Seth Grahame-Smith had penned a script. In February 2014, Keaton told MTV News, "I've e-mailed Tim a couple of times, talked to the writer a couple of times, but all really, really preliminary stuff" (via Variety). In December 2014, Burton told IGN there was a script and that he would "love" to work with Keaton again. "I think it's closer than ever," Burton said. However, forward momentum on "Beetlejuice 2" appeared to have stalled until Pitt's Plan B entered the picture, as there is still no word on a script at the time of reporting (via Deadline).
Winona Ryder, who played Lydia Deetz — the only member of her family who can see and communicate with the Maitlands — shared her thoughts on reprising her role and what she really thinks about "Beetlejuice 2."
Winona Ryder would return for Beetlejuice 2 under 'the right circumstances'
The Ankler reported that Winona Ryder is set to reprise her role as Lydia in "Beetlejuice 2." However, per Empire, her participation hasn't been confirmed. During a 2016 interview with Collider, Ryder had this to say about the "Beetlejuice" sequel: "I don't really know what's going on with that. Obviously, it was an iconic film. The only way it could really ever be done is with Tim [Burton] and Michael [Keaton]. ... I think it would be great if it happened, if it was the right circumstances." In 2017, The Daily Beast shared an update on Ryder's possible involvement with "Beetlejuice 2." The actress told the outlet, "I'm kind of sworn to secrecy. But it sounds like it might be happening." Since then, however, no clear updates have been given on her role in the sequel.
Ryder is an icon in her own right, having starred in a slew of beloved films in the '80s and early '90s, including the cult classic "Heathers," "Reality Bites," and "Edward Scissorhands." The two-time Oscar nominee's career lagged in the early 2000s, but she began to mount a comeback in 2009, appearing as Spock's (Zachary Quinto) mother in J.J. Abrams' "Star Trek" and as an aging ballerina in Darren Aronofsky's 2010 mind-bending drama "Black Swan." However, her role as single mom Joyce Byers in Netflix's "Stranger Things" thrust Ryder firmly back in the spotlight. Despite her prolific career, the actress told The Daily Beast that her role as Lydia holds special significance for her. "That's one of those movies where little kids stop me. I'm so associated with it. I think it gave me my career. I was such a weird-looking kid," Ryder said.