Beetlejuice 2 Release Date, Cast, Director, Writer And More Details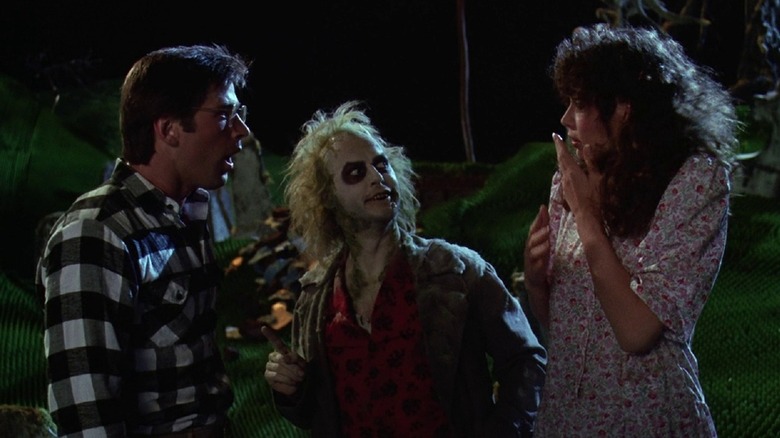 Warner Bros.
We may receive a commission on purchases made from links.
Coming off the delightfully bizarre "Pee-Wee's Big Adventure," Tim Burton side-stepped the dreaded sophomore slump with "Beetlejuice," a 1988 black comedy that became the 10th highest-grossing movie at the domestic box office. Absolutely loaded with Burton's trademark quirks — from the nightmarish set design and gothic costumes to Danny Elfman's quirky score — the film tells the story of Adam and Barbara Maitland (Alec Baldwin and Geena Davis), a lovable couple who die in a terrible car wreck and come back as ghosts.
Even worse, a bunch of obnoxious yuppies have moved into their dream home and plan on turning it into an gauche '80s hellscape. With brooding teenager/fashion icon Lydia Deetz (Winona Ryder) watching on, the Maitlands do their best to scare off her clueless parents. When that fails, they foolishly turn to the sleazy, fast-talking bio-exorcist Beetlejuice (Michael Keaton) — but his services come at quite the hefty price. The result is an eclectic, creepy, and delightful comedy that's stood the test of time, and diehard fans have been begging for a sequel ever since.
And now, after decades and decades of waiting, it's looking like Tim Burton fans are about to get their wish. "Beetlejuice 2" will indeed haunt a theater near you, but who's returning for the long-anticipated film, and which new stars will be dancing to the tunes of Harry Belafonte? And is Burton himself coming back? Well, put down your "Handbook for the Recently Deceased," and get ready to learn everything you need to know about "Beetlejuice 2."
When will Beetlejuice 2 be released?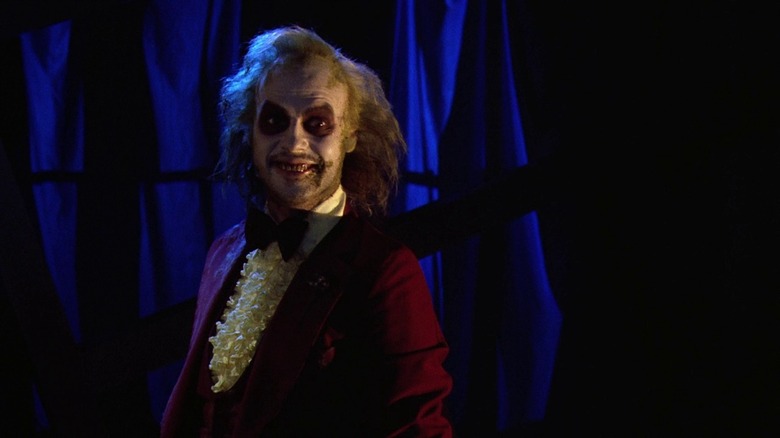 Warner Bros.
Rejoice, "Beetlejuice" fans! The ghost with the most is almost here. Shooting for "Beetlejuice 2" began in May 2023, and the film already has a release date. Currently, the sequel is slated to land in theaters on September 6, 2024.
Originally, the spooky sequel shared that 9/6 release date with the MCU's "Blade." And while it would've been interesting to see these two horror-ish titles fight it out for box office supremacy, it looks like "Beetlejuice 2" has exorcised the vampire hunter. Due to production delays and the Writers Guild of America strike, "Blade" has now been kicked back to 2025, so "Beetlejuice 2" won't need to worry about any Marvel competition. 
However, we do wonder if it'll hit that September date as shooting has been put on hold due to the SAG-AFTRA strike. Fortunately, Tim Burton told The Independent that when they return to work, they won't have much left to film. "Literally, it was a day and a half," he said when discussing how much they had to shoot for before production shut down. "We know what we have to do. It is 99% done."
What is the plot of Beetlejuice 2?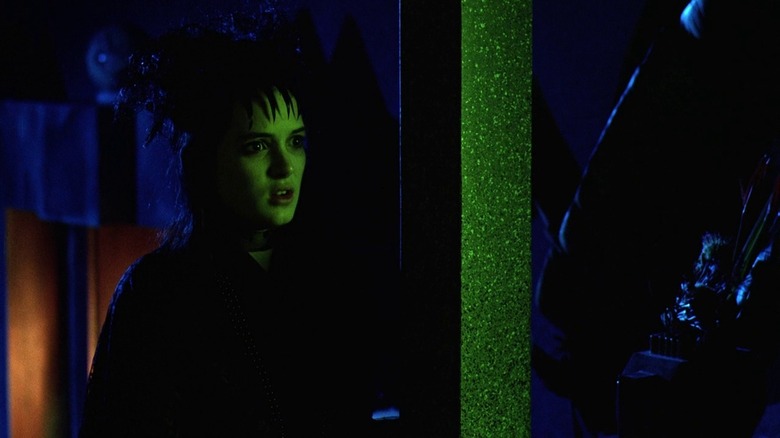 Warner Bros.
We don't yet know very much regarding what "Beetlejuice 2" is going to be about. However, we have been given a few interesting tidbits. In July 2023, People released exclusive photos of stars Jenna Ortega and Winona Ryder in costume. Ortega wears a white wedding dress with intriguing accents of pinkish-red tulle, recalling Lydia's iconic red dress from the first film. Ryder is wrapped in a body-obscuring black coat, which may or may not be an in-character costume. Notably, she sports the character's classic spiked bangs. We can't tell much, but we can assume some sort of wedding will figure into the plot.
We also know that "Beetlejuice 2" will share the first movie's bizarre, irreverent, and hilarious spirit. During an event hosted by Empire, Michael Keaton said, "We're doing it exactly like we did the first movie. There's a woman in the great waiting room for the afterlife literally with a fishing line — I want people to know this because I love it — tugging on the tail of a cat to make it move." In September 2023, the film's director of photography, Haris Zambarloukos, told The Direct the film will balance supernatural mayhem and a warm heart. "So although it's a fantastical story, it, again, at the heart of it [is] a brilliant, warm family story," he remarked. "It is the story of a family and how it's progressed over for 30 years."
Who is starring in Beetlejuice 2?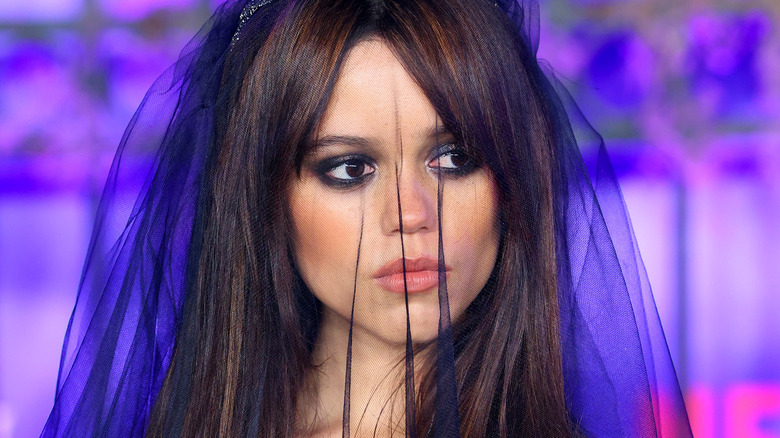 Leon Bennett/Getty Images
Michael Keaton is having quite a moment reprising his biggest Tim Burton-crafted characters. In 2023's "The Flash," he dons the rubbery cowl that made him famous back in 1989's "Batman." Then, in 2024, he'll be back as undead antagonist Beetlejuice. He couldn't be more excited about this, telling Empire, "Beetlejuice is the most f***in' fun you can have working. It's so fun, it's so great." Of course, he won't be the only OG from the '88 comedy to make their grand return. We can also expect to see Winona Ryder back as Lydia Deetz. We're curious if she'll still be a brooding goth or more of a responsible mom — because, yes, this time around, it seems Lydia will indeed have a daughter.
So who will be playing the younger Deetz? According to The Hollywood Reporter, it's none other than Jenna Ortega. The rising star found international fame by starring as the title character in Tim Burton's Netflix series "Wednesday." She's definitely got that "Beetlejuice" vibe, and we can't wait to see her trading barbs with Keaton's slimy character. Word has it that Catherine O'Hara is returning as Delia Deetz, Lydia's mom, so it looks like we're getting three generations of Deetz women. Monica Bellucci — "The Matrix" sequels, "Spectre," and "Mafia Mamma" is also in talks to play Beetlejuice's wife. Also joining the cast, we'll see Justin Theroux, who's previously starred in projects like "The Leftovers," "Mulholland Drive," and "White House Plumbers." At the moment, however, we don't know who he'll be playing. We do know, however, who Willem Dafoe will be playing. The star of projects like "Spider-Man: No Way Home," "The Lighthouse," and "Inside," Dafoe will appear as some kind of cop who works in the afterlife.
Who is directing Beetlejuice 2?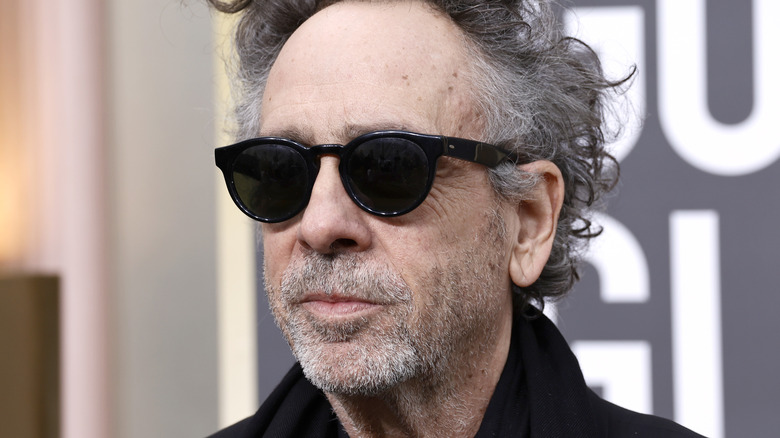 Frazer Harrison/Getty Images
Perhaps the most recognizable auteur to ever sit behind a camera, Tim Burton has directed some all-time classics. With his love for 1950s pop culture, gothic horror, and goofy comedy, Burton has delivered beloved titles like "Edward Scissorhands," "Ed Wood," and — of course — "Beetlejuice." And while some of his more recent cinematic offerings aren't exactly critical darlings, pretty much everyone on planet Earth loves his directing and producing work on the "Addams Family" Netflix series, "Wednesday."
With Burton riding a wave of popularity that he hasn't had in the last few years — combined with the recent wave of legacy sequels like "Top Gun: Maverick" and "The Matrix Resurrections" — it makes sense that he's coming back to helm "Beetlejuice 2." Yep, according to Deadline, the master of all things kitschy and macabre is indeed directing the "Beetlejuice" sequel, and we're hoping it will be a return to feature-length form after disappointing titles like "Dumbo" and "Miss Peregrine's Home for Peculiar Children." We're also psyched to see him working with three of his most popular collaborators — Jenna Ortega, Michael Keaton, and Winona Ryder.
We're also excited to hear that Burton seems to be genuinely enjoying the filmmaking process. Speaking to The Independent, the director explained, "On this last one, 'Beetlejuice 2,' I really enjoyed it. I tried to strip everything and go back to the basics of working with good people and actors and puppets. It was kind of like going back to why I liked making movies. ... It's the most fun I've had working on a movie in I can't tell you how long."
Who is writing Beetlejuice 2?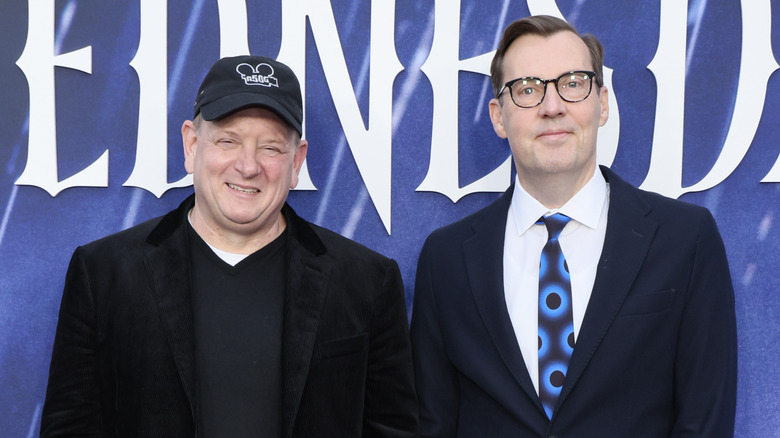 Rodin Eckenroth/Getty Images
While we're not exactly sure what "Beetlejuice 2" is going to be about, we do know that quite a few screenwriters have taken a stab at getting the script just right. At various points, David Katzenberg (producer on "IT Chapter Two"), Seth Grahame-Smith ("The Lego Batman Movie"), and Mike Vukadinovich ("Runaways") have all taken a pass at the story.
Now, the most recent iteration of "Beetlejuice 2" has been crafted by Alfred Gough and Miles Millar. Previously, these two developed The CW's Superman series "Smallville," AMC's "Into the Badlands," and the fantasy series "The Shannara Chronicles." But most importantly for Burton fans, these two are the ones who created "Wednesday," the show that put the spotlight on Jenna Ortega. If they can make Wednesday Addams popular again, we can't wait to see what they can do for Beetlejuice.
Who else is working on Beetlejuice 2?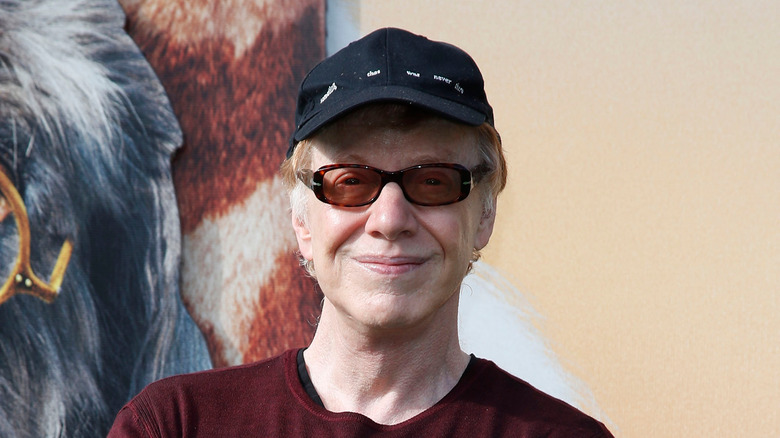 Kathy Hutchins/Shutterstock
Making a movie requires a whole lot of work from a whole lot of people. Directors, actors, and screenwriters tend to receive the most credit for a job well done, but they're really just the tip of the movie-making iceberg. Luckily, "Beetlejuice 2" boasts major names in every possible role — especially when it comes to costume design and music.
Oscar-winning designer Colleen Atwood will be crafting costumes for "Beetlejuice 2." Her body of work is staggeringly vast and varied: She's responsible for the sartorial brilliance of "Chicago," "Alice in Wonderland," "Gattaca," "Into the Woods," and "Top Gun: Maverick," among other flicks. She also has a long history working with Tim Burton, having collaborated with the auteur on everything from "Edward Scissorhands" to "Ed Wood." The creepily elegant aesthetic she's always brought to Burton's movies is sure to shine brightly in "Beetlejuice 2."
She's not the only longtime Burton collaborator hard at work on "Beetlejuice 2": Legendary composer Danny Elfman will be lending his macabre melodies to the film. The ever-busy artist has worked on a dizzying array of movies, including the first "Beetlejuice" flick.
Who's stealing props from the Beetlejuice 2 set?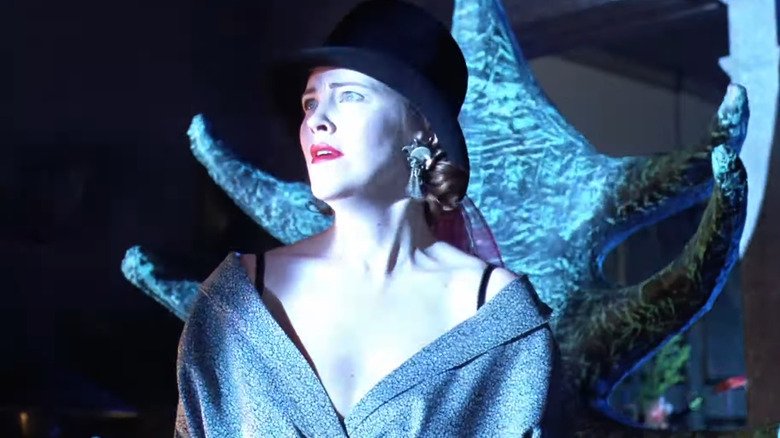 Warner Bros.
Beetlejuice is known as a troublemaker, but he may have met his match in some real-world thieves. The "Beetlejuice 2" set in East Corinth, Vermont has suffered not one, not two, but three thefts. The first theft is especially notable, as the perpetrator was seen in the act of stealing. On July 14, Vermont police were told that a mysterious person driving a pickup truck had been seen loading a pilfered pumpkin-topped lamppost into their vehicle's bed. Three days later, the ante got upped: A 150-pound sculpture disappeared. Remember Delia's goofy-looking creations from the first movie? The stolen piece looks a lot like the one that accidentally smashes a hole in the house.
News of the third theft broke on July 27. This time, someone made off with six windows. These windows weren't stolen from the set, however; they'd already served their purpose and been donated to ski tow Northeast Slopes. So far, this theft is the last, but as no one's been caught and the items haven't been returned, the people of East Corinth would do well to keep their eyes peeled. 
Where to watch the original Beetlejuice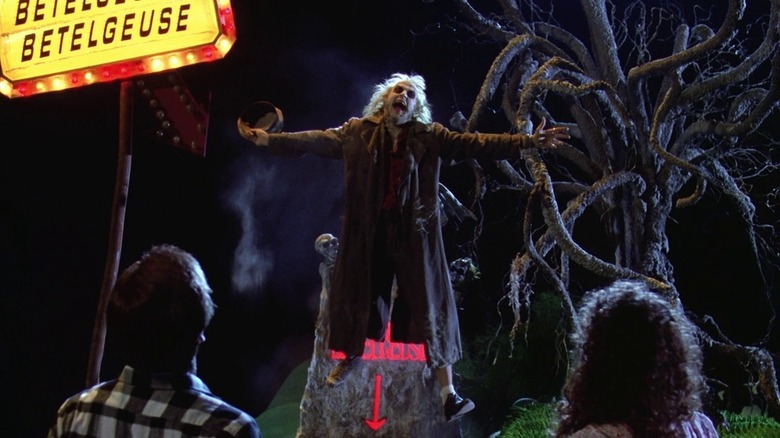 Warner Bros.
Maybe you're in the mood to watch Catherine O'Hara dance to "The Banana Boat Song." Maybe you just adore Michael Keaton's little monologue about his love for "The Exorcist." Perhaps you just want to sit there and stare at the wonderfully over-the-top sets by Bo Welch or the incredible costumes from Aggie Guerard Rodgers. Or maybe you've never seen "Beetlejuice," and you've decided it's time to check out this classic '80s comedy. Well, if you're looking for the film, we've got you covered. You can rent "Beetlejuice" on sites like Apple TV, Prime Video, Google Play, Vudu, and YouTube.