The Best Better Call Saul Episode According To IMDb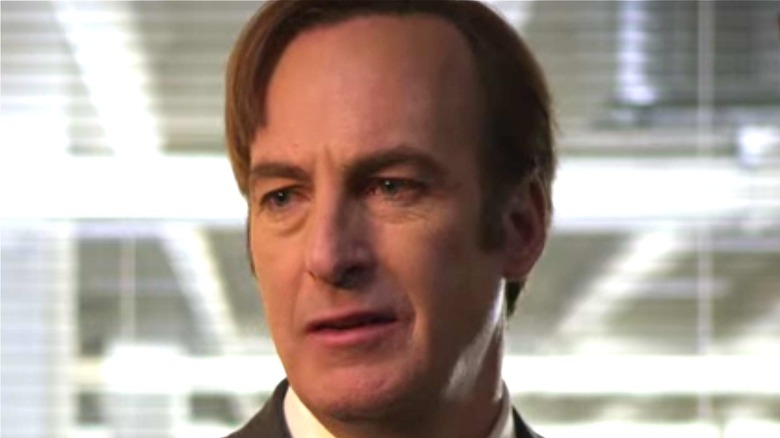 AMC
Sometimes you need a lawyer who is intimately familiar with roguish elements of society and the dark underbelly of crime, and sometimes you just need a lawyer that'll play on people's heartstrings, while at the same time providing a good laugh to everyone. Jimmy McGill checks off all of the above on "Better Call Saul," the spin-off prequel series of another AMC property, "Breaking Bad." Jimmy aka the future Saul Goodman (Bob Odenkirk) is a con-man and lawyer who made his first appearance on "Breaking Bad," and due to the character's popularity, eventually earned himself an entire series that takes place six years before the original series (via EW).
"Better Call Saul" has been a huge success thus far and has been nominated for an amazing 210 awards, managing to win 36 of those (via IMDb). The show has featured several intense and darkly humorous plots over its tenure and has seen Jimmy come to blows with his much more successful brother, the Albuquerque legal community, and some truly dangerous cartel criminals. But what episode of "Better Call Saul" is the best, according to IMDb rankings? 
Bad Choice Road is the highest rated episode on IMDb
The Internet Movie Database, better known by its shorthand IMDb, is an online resource that is created and maintained with information that is user-submitted. According to this particular cornucopia of user reviews, the highest-rated episode of "Better Call Saul" comes to us from Season 5, Episode 9, titled "Bad Choice Road." The episode has a 9.7 out of 10 on IMDb, and it is the current top dog of the series.
Premiering in April 2020, "Bad Choice Road" picks up a plot that sees Jimmy struggling with post-traumatic stress disorder after a shootout in the desert due to a dangerous cartel client, Lalo (Tony Dalton). Kim (Rhea Seehorn), who is Jimmy's wife at this point in the series, is left to consider her own position in the world and her working relationships. The episode culminates in a show-stopping moment from Kim, who berates Lalo and somehow flips the tables from him intimidating Jimmy to Kim yelling at Lalo, "you need to get your house in order." All the while, Mike (Jonathan Banks) is waiting in the wings with a sniper rifle in hand, in case things go south. 
Overall, it's an extremely intense episode full of memorable performances. This episode had tons of character development and it was easy to see how every character was adapting to the increasing pressure coming from all angles. While "Bad Choice Road" definitely earned its right to be called the current best episode of "Better Call Saul," it may be upset from its position soon with the upcoming final season.