The Best Find On American Pickers Season 22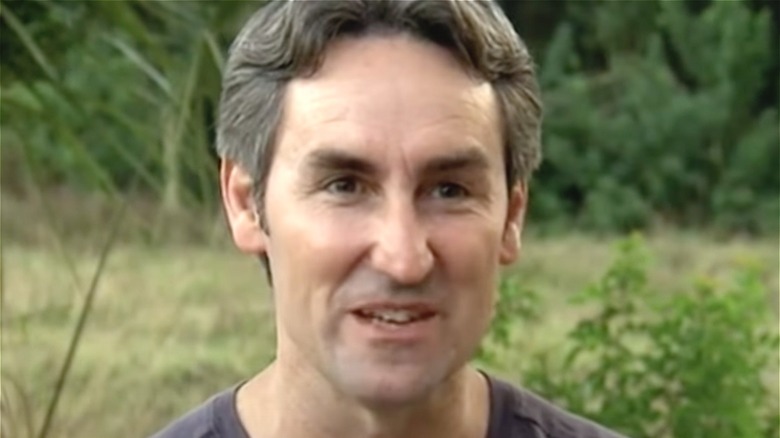 History/YouTube
History Channel's "American Pickers" has long been teaching its audience that looking just beyond the surface can pay off in a big way, because pieces of the past are all around us. The series follows antique store owner Mike Wolfe — and used to also star Frank Fritz, who recently left the show — along with the occasional friend and colleague, as he travels around in search of historical items that have been tucked away in various corners of the country.
The hunt is only half the battle on the show, because once Mike finds something he can't live without, he has to make an offer that the seller can't refuse. While it doesn't always work out for the cheapest rates like Mike would like, he's almost always able to cut a deal and take these artifacts to a new home.
Each season, pieces are dug up and rediscovered that blow the minds of not only the cast of "American Pickers" but the audience, too. Season 22 is no different, and something particularly rare and unexpected was found by the long-time shop manager and locator of great places to pick, Danielle Colby.
Danielle finds a Batman legend hiding in a garage
In Season 22, Episode 8, "Bombshells and Silk," audiences get to watch one of the beloved episodes featuring Danielle Colby. She has been a part of the show from the beginning, but usually holds down the shop rather than joining the crew on picks.
In this episode, Danielle comes face to face — or rather, face to garage — with a collection of mint-condition movie replica cars, including a DeLorean modeled so perfectly after the "Back to the Future" franchise that it has its own hoverboard attached. It's while admiring the DeLorean that Danielle comes across the real treasure, though: A framed and autographed photo of the late Eartha Kitt donning her full Catwoman costume and sitting in The Reactor, a vehicle made by custom car designer Gene Winefield and seen on shows like the 1960s "Batman" (via Motorious). 
Kitt was an actress, singer, dancer, and activist, as well as one of three women who played Catwoman in the '60s. Danielle sums her up perfectly in the episode when she says, "Eartha Kitt is formidable." From Batman to Broadway, formidable is the perfect word for such a Hollywood legend. The signed photograph is unbelievably rare and appears to be in near perfect condition. Danielle makes a deal and buys it for $250 to add to her own personal collection of prized pieces of history.