The Best Season Of CSI: Miami According To IMDb
"CSI: Crime Scene Investigation" was incredibly popular when it first debuted on CBS back in 2000, so much so that it stayed on the air for 15 years, with 15 seasons and 336 episodes under its belt. But in 2002, the network decided to capitalize on its success by launching a spin-off series called "CSI: Miami," which was also hugely popular among audiences. It follows Horatio Caine (David Caruso), who leads a team of detectives as they try to solve bizarre murders, assaults, and gang-related incidents that happen in the Magic City.
Surprisingly, Caine is actually based on real-life LAPD detective John Haynes, who also had extensive experience as a bomb technician (via CSI Files). He was friends with "Miami" producer Elizabeth Devine, and she "modeled" the lieutenant on his experiences working in the LAPD.
The writers clearly created a character so charismatic that it kept the spin-off series going for 10 seasons, eventually coming to a close in 2012 after 232 episodes. But there's one season that ranks higher than the rest.
Season 8 has the most highest-rated episodes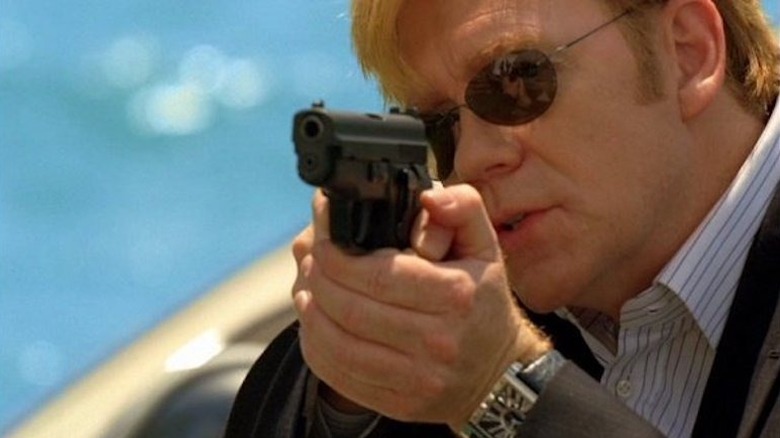 CBS
Although there are a couple hundred episodes of "CSI: Miami," only a few are among the top-rated of the entire series — and Season 8 has the most episodes on the list. In the number one spot is the Season 8 finale, "All Fall Down," which has an 8.3 rating on IMDb. The episode sees the team investigate a grad student who seemingly murders everyone responsible for her own failure. However, things take a turn for the worse when the killer targets the CSIs themselves, leaving audiences on a pulse-pounding cliff-hanger as the team collapses in the lab due to some kind of chemical attack.
Tied for fourth place are the season premiere, "Out of Time," which takes us back to one of Delko's first cases as a CSI, and Episode 23, "Time Bomb," which follows what happens when an attorney is killed with a car bomb in a car that was previously locked up in evidence. Both have an 8.0 rating. It's a tense season, and it's no surprise that fans voted these episodes as among the best of the bunch.