Mads Mikkelsen Cast As The Villain In Chaos Walking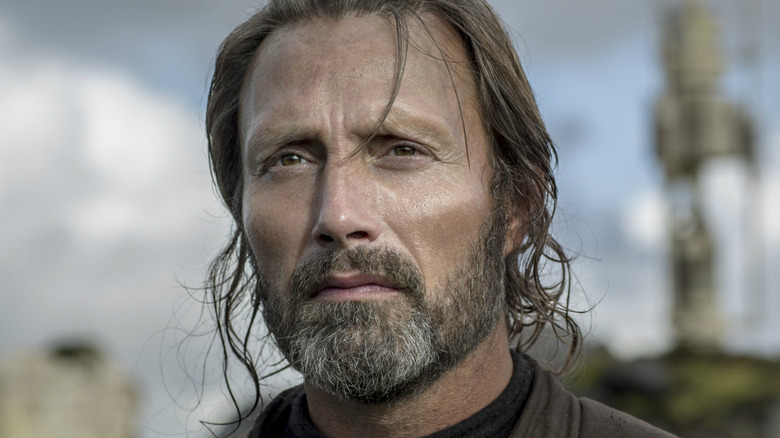 Lucasfilm
Mads Mikkelsen has officially signed on to bring the Noise to Doug Liman's film adaptation of the popular book series Chaos Walking. 
Joining stars Tom Holland and Daisy Ridley, Mikkelsen will step into the role of the tyrannical Mayor Prentiss, as confirmed by book author Patrick Ness. "It gives me great pleasure to (at last) confirm that Mayor Prentiss in Chaos Walking is going to be played by the amazing Mads Mikkelsen," said Ness.
Star of fan favorites and blockbusters such as Doctor Strange, Rogue One: A Star Wars Story, and TV's Hannibal, Mikkelsen will play the chief antagonist to the rebels of the planet New World, who lead their lives contending with an ever-present psychic phenomenon known as the Noise. 
Mikkelsen's character, Mayor Prentiss, rules over a New World settlement called Prentisstown, populated only by men under the belief that they are the last survivors of a great war. Todd Hewitt, the young hero played by Holland, discovers the Mayor's deception when he happens across a a rare patch of silence, along with a girl, played by Daisy Ridley, who is immune to the plague of the Noise. Their search for the truth puts them square in the sights of the madman Mayor as he plots to extend his rule from his settlement to the entire world.
Directed by Liman, whose last foray into science-fiction was the well-received 2014 time-bending action movie Edge of Tomorrow, Chaos Walking is slated for release on March 1, 2019. Lionsgate hopes the film will launch a franchise. 
With production still in the early going, genre fans will have to wait to see if the adaptation lives up to its source material. In the meantime, check out these sci-fi movies that will blow you away in 2018.